Enchanted Forest Wedding Venues
The Pines is the perfect forest wedding venue
nestled in the pines with a cedar arbor
GORGEOUS MANICURED PINE FOREST SETTING FOR YOUR CEREMONY
One of the most gorgeous woodland wedding venues. The most recently completed ceremony site called the Pines is located in the pine forest complete with a cedar arbor and seating capacity of 250.
rustic elegance; woodland setting for your celebration
this all-natural site overlooks the 20-acre lake and is a most gorgeous forest wedding venue. This outdoor venue is one of our wedding couples' favorite outdoor spaces and makes for the most gorgeous wedding photos. Well-manicured pine forests line the lake's edge. The venue boasts open fields and isolated areas along the lake's edge and throughout the property to exchange vows, no matter the type or size of wedding celebrations or wedding ceremonies. Perfect ceremony sites for a weekend getaway. or to match any woodland wedding themes.
 ENCHANTING WOODLAND SETTING • MANICURED FOREST • UP TO 250 SEATED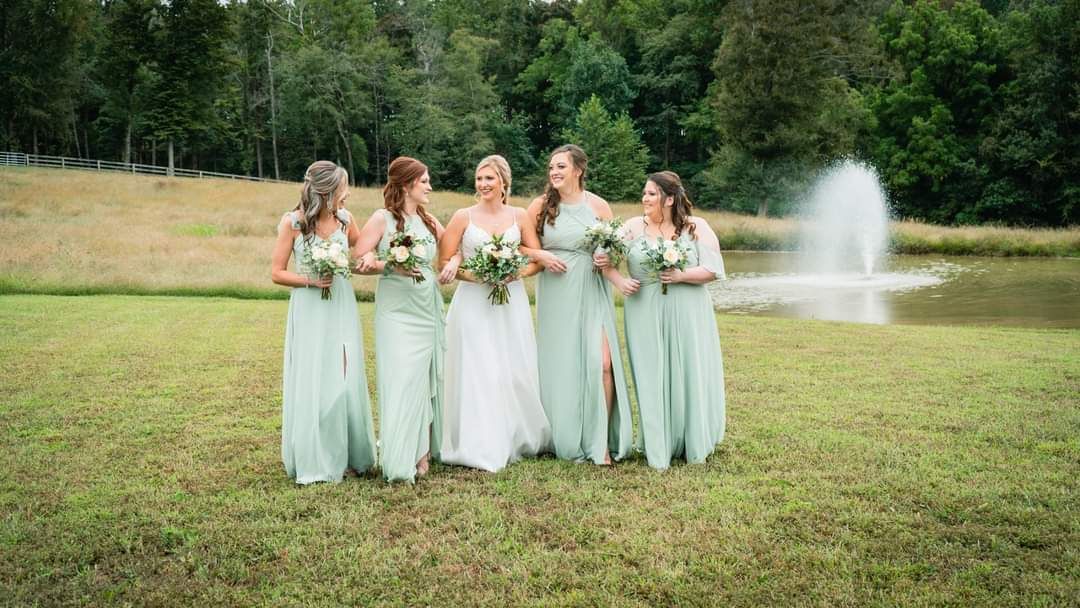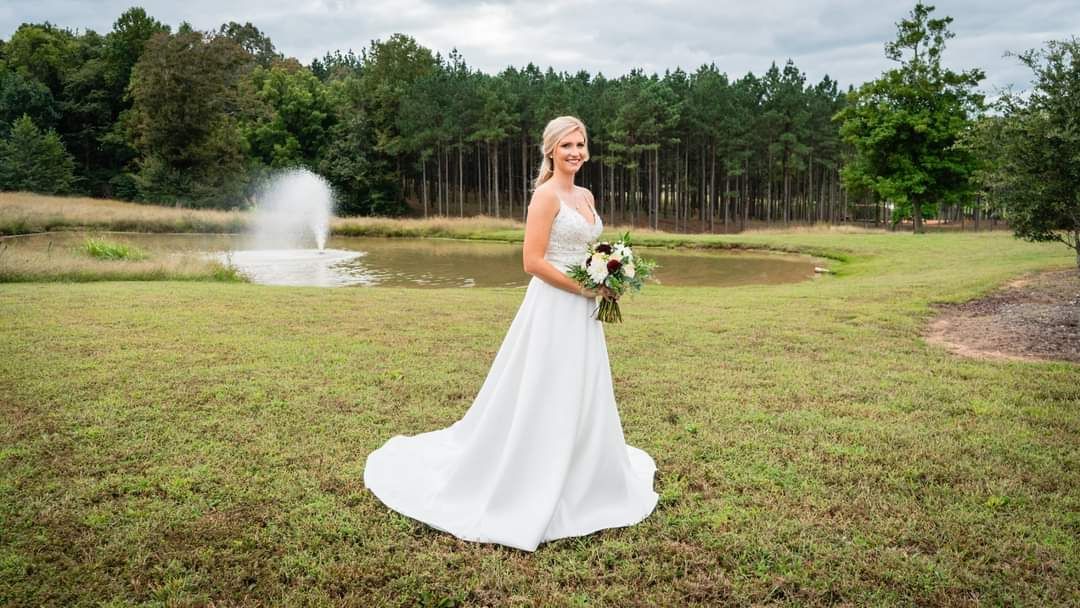 An enchanted forest with towering trees is an unforgettable place to say "I do."
Trees are important for weddings.
They give a feeling of beauty and there are many kinds of trees to celebrate your love with. If you want an arboreal-inspired wedding, The Pines is the best place to do that.
Our indoor and outdoor spaces (including The Pines) make for an intimate wedding day…or weekend.
Don't settle for hotel, golf club, or country club wedding venues that also hosts weddings – your wedding isn't a priority to them like it is here at Sandy Creek Farms.
Choose a wedding that is outside in nature.
This will be a beautiful and strong start to your marriage. Trees are strong and give life and vitality to people. Planting a new tree on your wedding day is a beautiful ceremony idea.
The first reason you will want to consider a woodland venue for your wedding in Tennessee is a matter of convenience.
Some couples find themselves traveling from across the world to our venue, but many come from Nashville, Atlanta, Miami, and Kentucky. If you don't want to travel too far, but want to have a destination wedding in the forest, our venue is a prime location.
Our forest wedding venue is fit for your magical wedding.
Another reason why you will want to consider a woodland wedding venue for your ceremony is because of the serene beauty that surrounds you and your guests.
Our outdoor space is private nature.
You don't have to deal with strangers or unwanted guests wandering around!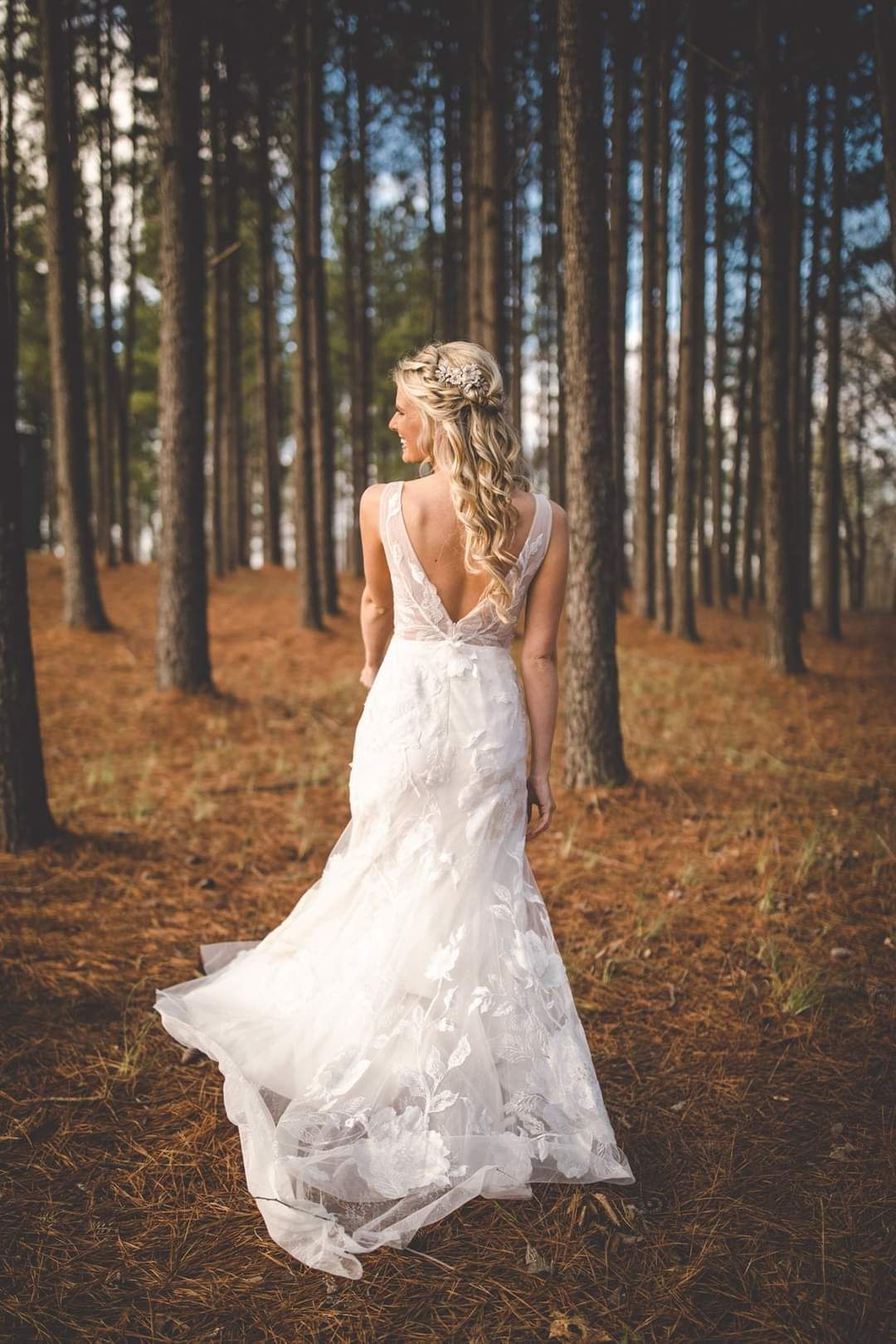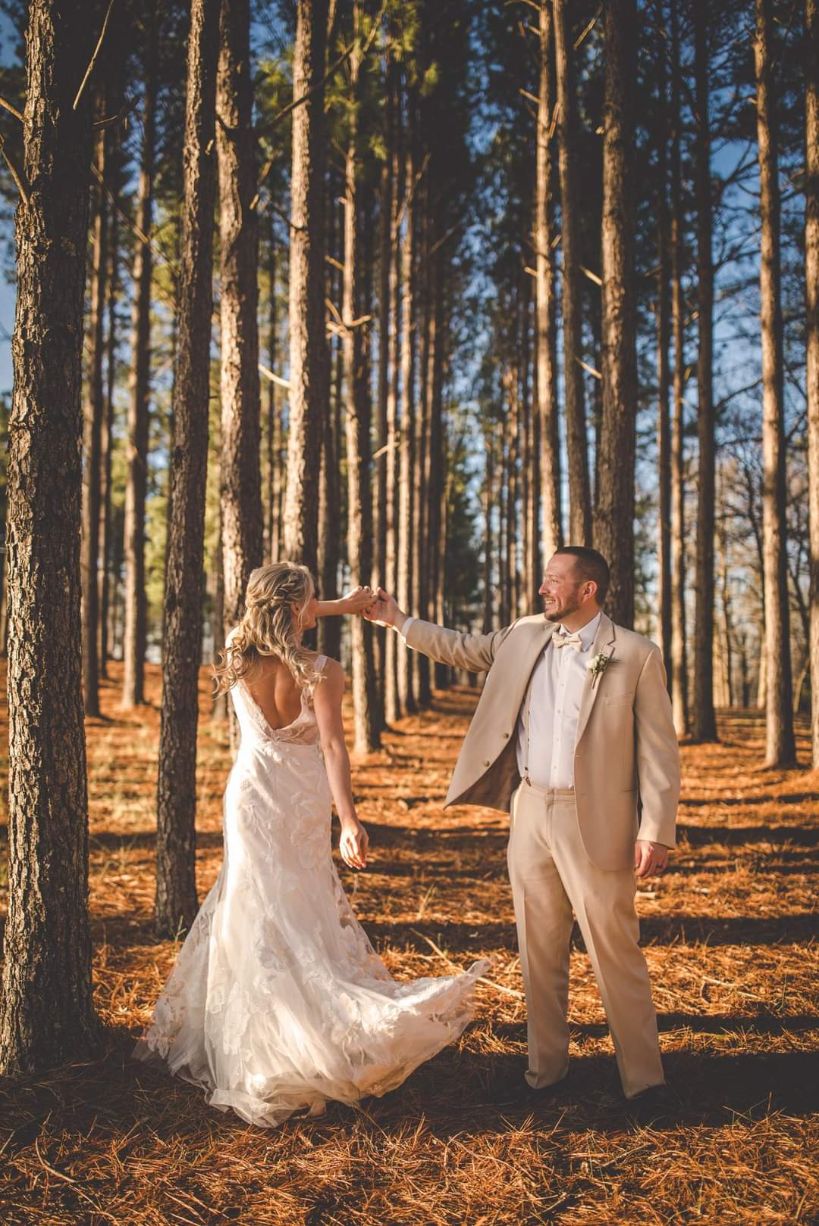 The tree will grow like your love and you will see evidence of how it is blossoming each time you look at the tree.
Planning a wedding can be one of the most exciting moments of your life.
It can also be one of the most stressful if you are working with a secondary wedding venue that is corporate-owned (we're family-owned). P.S. – We provide a wedding coordinator in some of our wedding packages!
If you choose a woodland wedding venue like our Pines ceremony spot as your wedding location, you'll enjoy a stress-free wedding celebration.
There are many reasons why The Pines is one of the best woodland wedding venues in Tennessee – including our forests that are manicured and look beautiful no matter the season.
Some people like to show the beauty of the season in their wedding through one single picture, but others like to add elements throughout. They often do this with evergreen spruce at the ceremony and head table.
Natural beauty and towering pine trees are the best decor.
All the natural forestry you could want is right here at a woodland wedding venue.
location
A wedding in the forest is a dream for many. But that dream can be a reality! Located along the lake, our forest wedding venue is perfect for couples looking to incorporate their natural love into their wedding ceremony.
comfort
This means that all your guests will have no problem finding a place to sit, and there will already be chairs set up for them because we take care of set up and clean up in most of our packages. You won't have to worry about renting those out or bringing in anything extra – which makes it a lot easier on you and your guests.
flexibility
You can control what kind of mood or feel you want to have at your wedding with just one simple thing: where you stand when exchanging vows. Your ceremony arch or the style you decorate your chairs can dictate the mood and atmosphere of your wedding.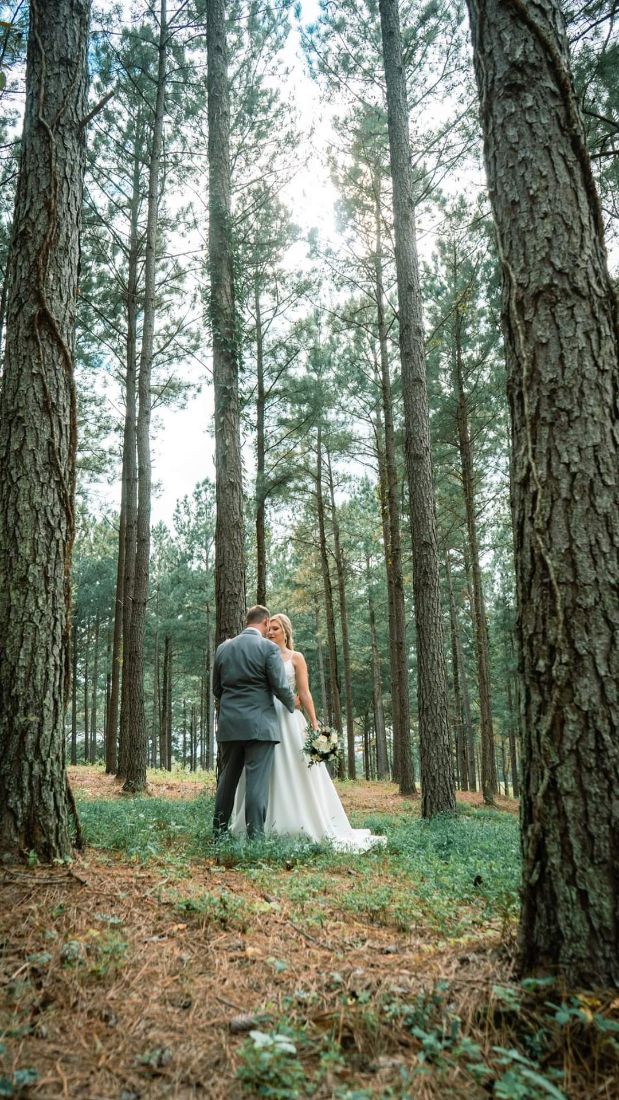 Another reason why having a woodland wedding is the best choice for couples is because of how versatile it can be.
As the weather changes in the fall and winter, you can either choose an indoor ceremony space or an outdoor woodland wedding venue – it's your choice!
We have six ceremony and reception wedding venue sites to choose from at our private estate.
We also have a private island that is very popular and features an open-air pavilion. Other guests love our greenhouse area and rustic barn (The Stables) to exchange vows.
But if you love the smell of pine trees and the woodland vibe, you can't beat The Pines!
A woodland setting is serene and calming for all your wedding party members.
It's an ideal choice for couples looking for a more intimate wedding. Our Pines ceremony spot is a great option for couples who want to have their vows in a serene forest setting.
There are so many reasons why having your wedding at one of our wooded venues will be the best choice you could ever make!
In addition to being convenient, beautiful, and versatile, you will have so many options for your indoor and outdoor wedding ceremony and reception.
Do your research and consider venues that will help you make the best memories.
Alongside mature shade trees, you can have fun wedding pictures.
It will look amazing.
Enjoy our orchards and meadows. You can walk through them and find flowers like white roses which are beautiful and have a long history in different cultures.
Trees mean a lot for love. They provide protection from the sun, air, and food. Their long lives show that relationships can last a long time.
Trees are important because they can represent things like love, gratitude, protection, and happiness. Forests are very special for this reason.
The magic and wonder of life is in the trees. That's why we think that the best place to have your wedding is in the woods.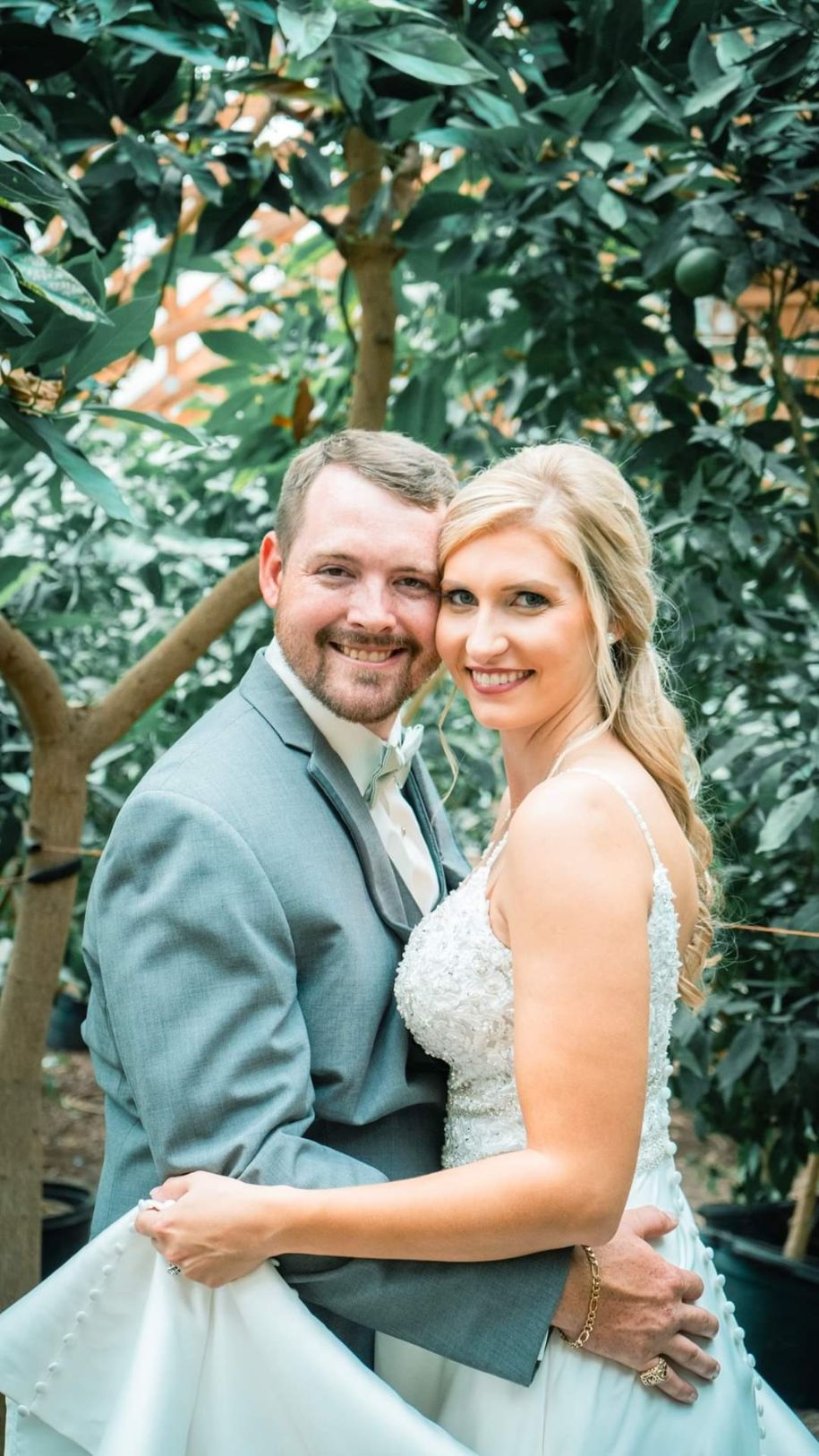 If you love The Pines ceremony site, check out our other sites as well.
Our intimate venues/event spaces are the best place to tie the knot with your significant other. From the time you exchange vows to your cocktail hour and reception, you'll love our versatile options at our event center.
Contact us today for more information about packages and availability for your special event!
If you want to have a woodland wedding, work with the natural beauty of your surroundings.
You can use flowers and other things that grow in the woods. Also, use take advantage of wood and nature! Sandy Creek Farms loves helping couples plan their weddings, so we are open to creative ideas. Adding pinecones to your wedding decor is a way of saying that you believe in love and fertility. It also symbolizes the Goddess Venus.
When you are booking a wedding at a venue, think about the date carefully.
May to September is the most popular time of year for outdoor weddings because it will likely be warmer outside. But if you want an outdoor autumn or winter wedding, Sandy Creek Farms has those options as well!
Visit the venue or ask for seasonal photos.
No matter what season you are getting married, we want you to visit the wedding venue around the same time of year that your wedding is in, or ask for season-specific photos. This will show you the lighting and colors in that season.
You can get married at many different locations.
Sandy Creek Farms is beautiful, even when it rains or when the weather is cold. Bring your phone with you to take pictures of any place you want to think back on for your venue and site choices because you will want to remember it.
Planning a woodland wedding doesn't have to be hard, but you need to be careful.
If you are having your ceremony outside, make sure that anything with decorations or stationery is tied down so it won't fly away in the wind.
If you're concerned about location and guests who are coming from afar, 'woodland' doesn't necessarily mean "middle of nowhere".
Sandy Creek Farms is only a few hours from Nashville. Once you arrive, you'll be transported from an urban setting to an outdoor paradise with singing birds, twinkling lights, and even marshmallows around the fire (we have a fire pit).