The 12 Best Forest Wedding Venues: TN Forests and Woodland Vibes Enchanting Forest Wedding Venues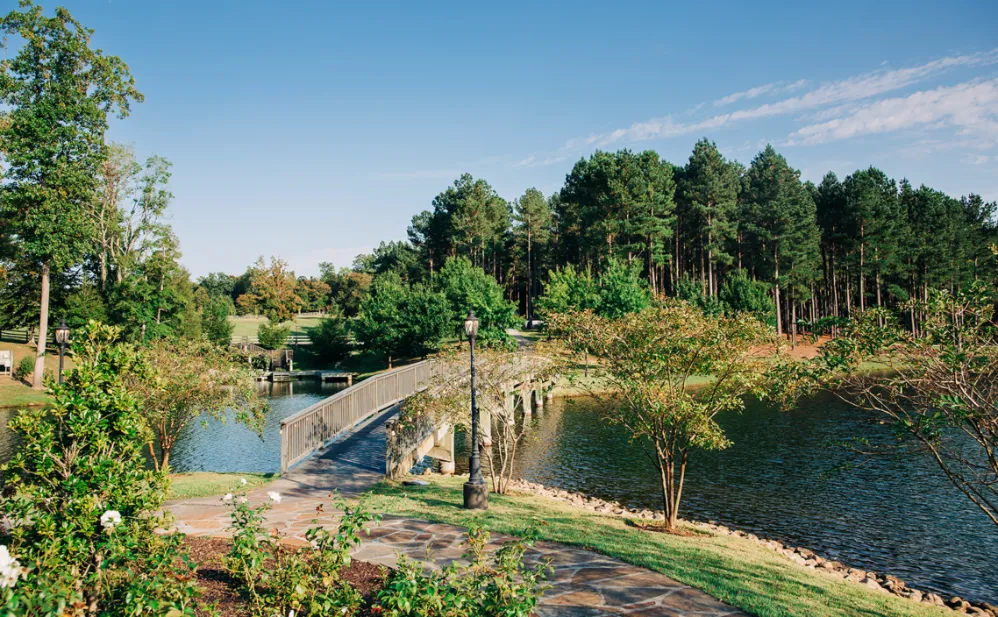 Faren and David Sandy Creek Farms Wedding
You're getting married, and you want everything to be perfect. But finding the right venue is proving to be a challenge. There are so many options, and you don't know where to start.
The search for the perfect wedding venue doesn't have to be complicated. You can find the ideal place for your big day with our list of the 12 most beautiful forest and wooded wedding venues in Tennessee.
Start your search here with our top forest wedding venues. From enchanting forest settings to rustic barns, we've got you covered.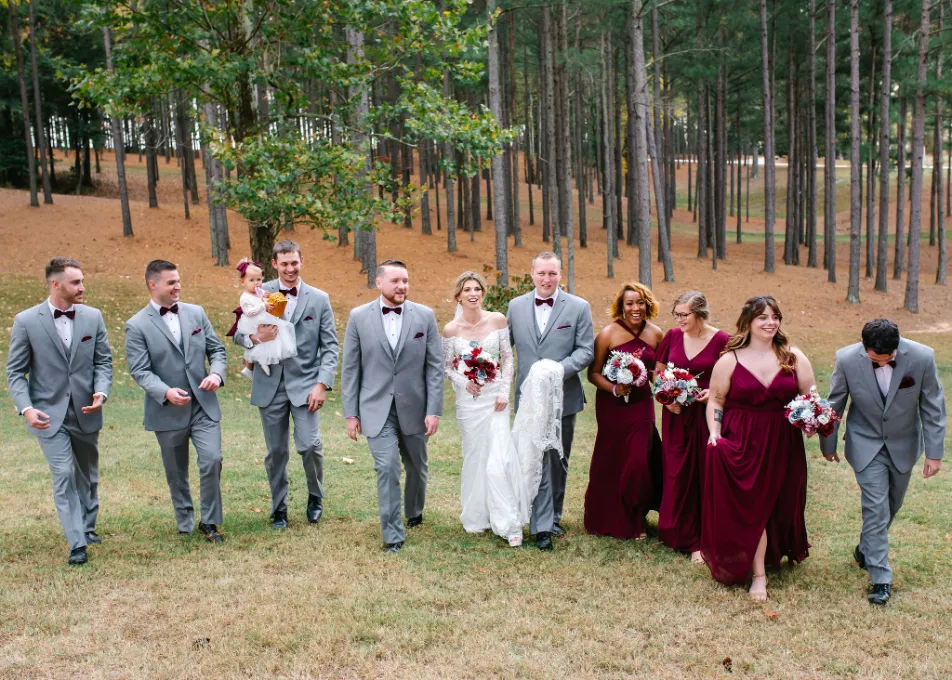 1. Sandy Creek Farms Wedding Venue | Paris, TN
Sandy Creek Farms is one of the newest wedding venues in Tennessee. It's also the only wedding venue with a private island and dozens of acres of Pine forests.
It's definitely one of the most gorgeous woodland wedding venues. The most recently completed ceremony site, the Pines, is in the pine forest, complete with a cedar arbor and seating capacity of 250.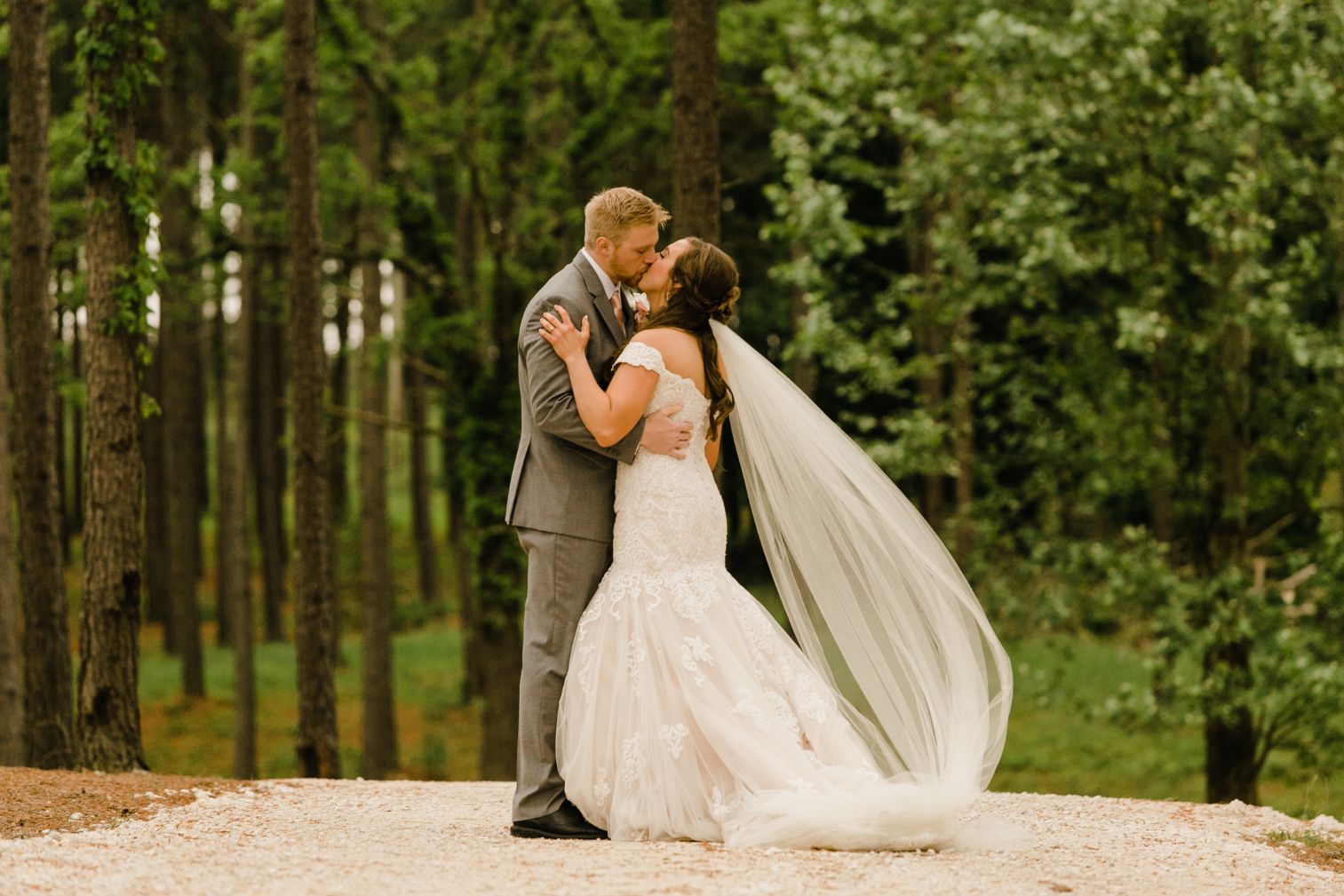 This all-natural site overlooks the 20-acre lake and is a gorgeous forest wedding venue. This outdoor venue is one of our wedding couples' favorite outdoor spaces, making for the most gorgeous wedding photos. Well-manicured pine forests line the lake's edge.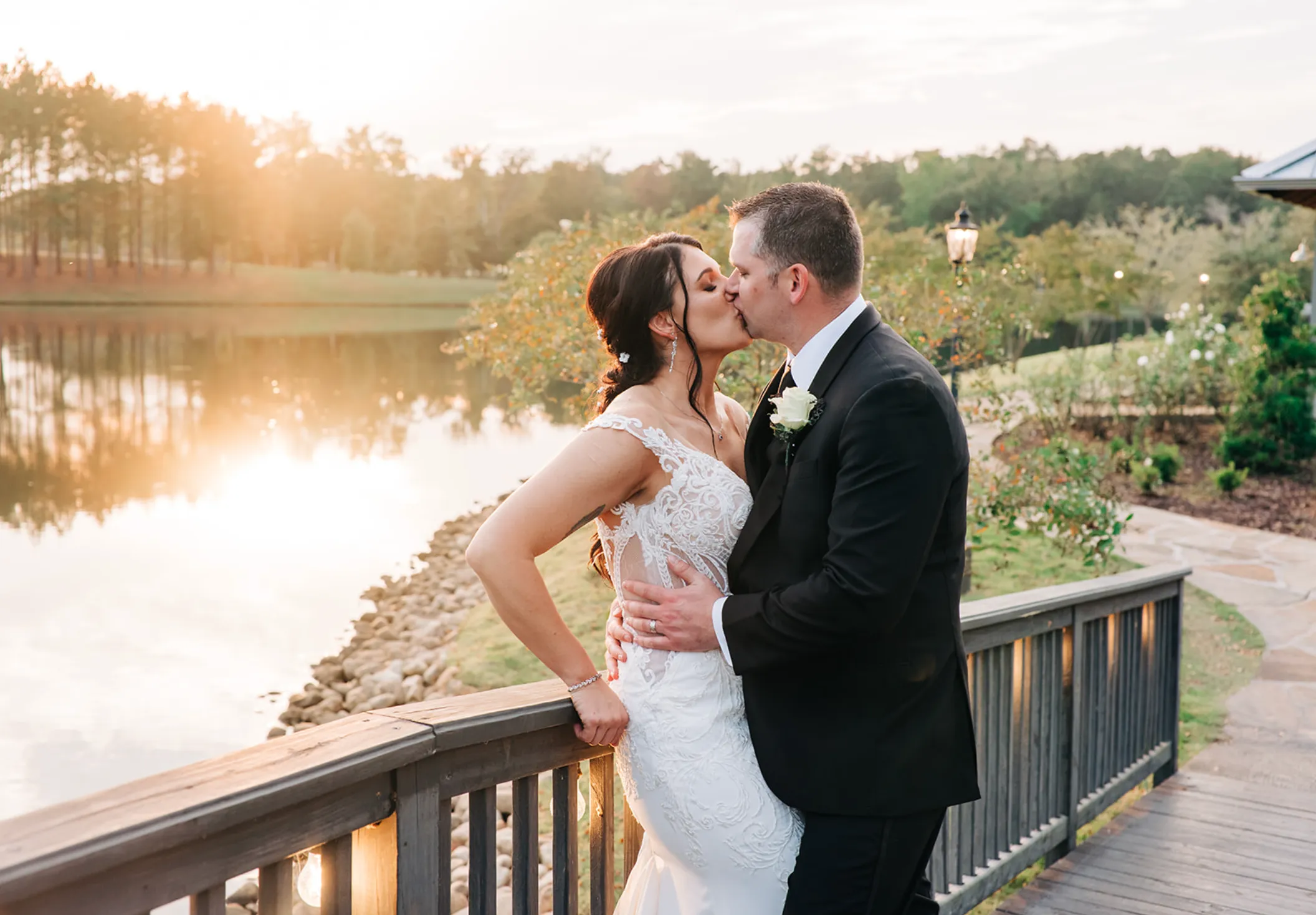 The venue boasts open fields and isolated areas along the lake's edge and throughout the property to exchange vows, regardless of the type or size of wedding celebrations or ceremonies. Perfect ceremony sites for a weekend getaway. or to match any woodland wedding themes.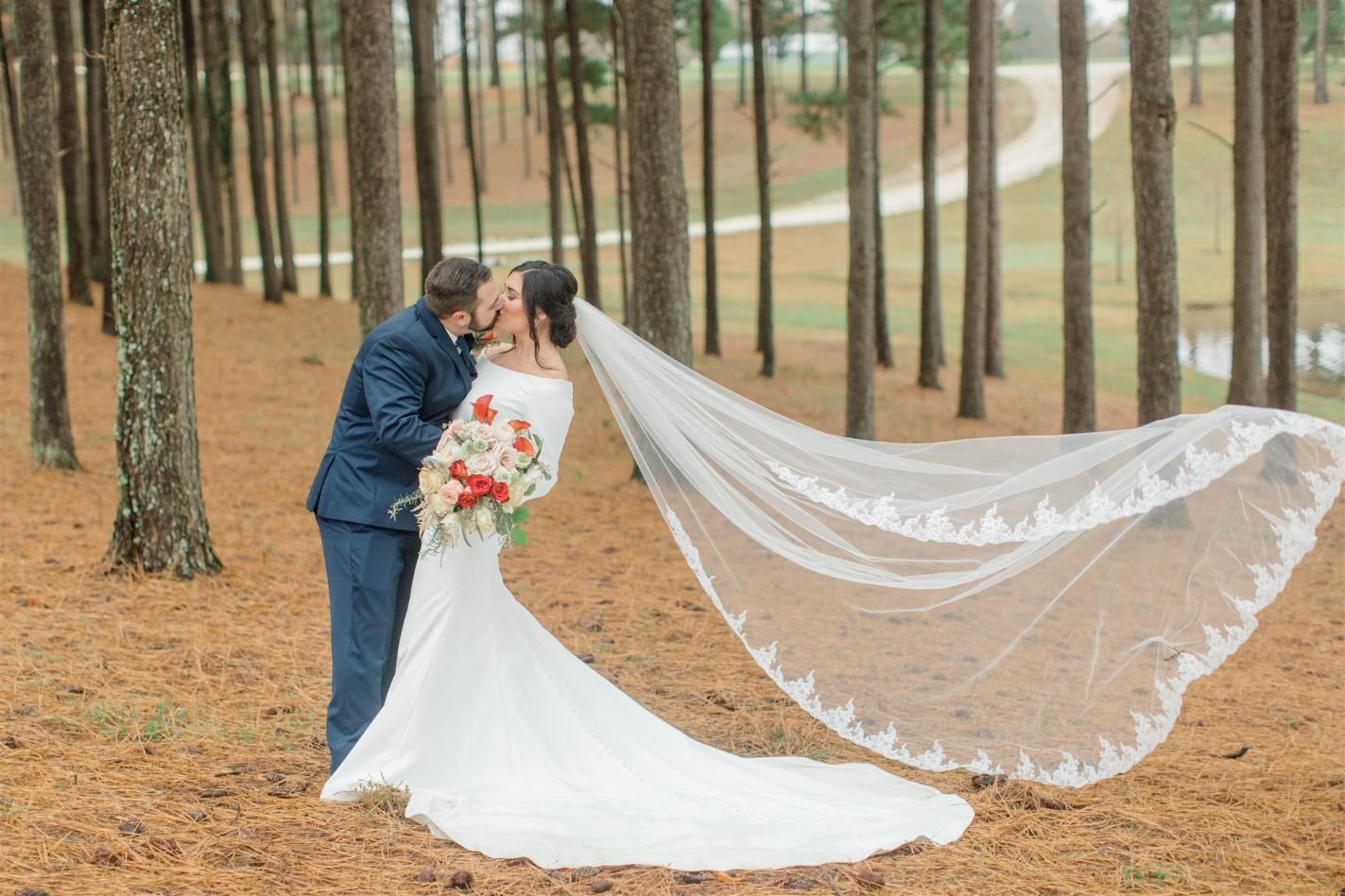 2. Howe Farms | Georgetown, TN
Howe Farms wedding venue in Georgetown, TN, is one of the top wedding venues in Tennessee, and it's easy to see why. Located on 130 acres of breathtaking beauty, Howe Farms boasts five separate venues that fit nearly any wedding style. From luxurious barns like the Vineyard and the Apple Barn to the modern and industrial loft and the elegant Highlands Chapel and Pavilion, Howe Farms has something for everyone. Three of the five venues are brand new, so you can have a unique wedding experience for you and your guests. With a Best of the Best award in 2019, Howe Farms is the perfect place for your dream wedding.
2. 14Tenn Event Space | Nashville, TN
14Tenn in Nashville, TN, is an industrial-vibe wedding venue with exposed brick, concrete floors, and string lights, making it truly distinctive. It's fairly close to downtown Nashville, so if you want an urban wedding venue, this might be your best bet.
3. Castleton Farms | Loudon, TN
Castleton Farms in Loudon, TN, is a 110-acre estate with gorgeously manicured lawns and bucolic pastures, perfect for a luxurious, elegant wedding. Featuring a Greek Antebellum Manor, a restored Equestrian Barn, and a Tuscan Vineyard, Castleton Farms has a variety of spaces to choose from and offers wedding planning and design services to help take the stress off.
4. The Venue | Chattanooga, TN
The Venue Chattanooga is a unique event space located just 8 minutes away from downtown Chattanooga, TN. With a 9,000-square-foot area, this venue features iconic copper gas lanterns, a walk-up mahogany bar, and a panoramic balcony accommodating up to 300 guests. It also offers a tremendous separate bridal suite, gardens for the ceremony, beautiful bistro lighting, tons of natural light, and a balcony for larger gatherings.
5. Ramble Creek Reception Space, Athens, TN
Ramble Creek is one of the best wedding venues in Tennessee, with reasonable wedding packages. The on-site accommodations are breathtaking, and one astonishing detail is that from the bridal suite, you can look out over the venue and watch all the details of your special day come together. If you peek at their website, you'll see that they handle most of your wedding details, including catering, and can refer some fantastic hair & makeup stylists, florists, decor & more.
P.S. – The best florist in Chattanooga, TN, is Lang Floral Designs!
6. Hiwassee River Wedding Venue | Delano, TN Riverside Ceremony Spot
Looking for a riverfront venue in the foothills? Hiwassee River is a magical, enchanting forest wedding venue that looks out over the river. One of the most fantastic details is that they draped Edison light bulbs across the canopy of trees at the ceremony site.
7. The Cordelle | Nashville, TN
The Cordelle (recently taken over by the same company that owns Saint Elle) is a wedding venue near downtown Nashville. Although you'd never know from the front that it has a secret garden! When you're ready to dance the night away, The Great Hall is an open-air option that can be decorated to your liking.
8. Chattanooga Whiskey Event Hall | Chattanooga, TN
The Chattanooga Whiskey Event Hall is in downtown Chattanooga, a prime location. Fun fact: it's Chattanooag's only distillery event hall at the time of writing this. But sadly, whiskey is not included in the event hall package! However, the venue price is so affordable we're sure you can afford a tasting (or two)!
9. Avon Acres | Memphis, TN
It's tough to come by info about Avon Acres on the internet since their website has little info, but all you need to see is their Insta to be wowed. Grand wooden gates open to this beautiful new event venue with over 5,800 sq. ft of dramatic rustic elegance. Gorgeous iron chandeliers dangle from the lofted shiplap ceiling. The giant glass doors open to a covered patio and expansive lawn, allowing the inside space to blend seamlessly with the outdoors. Avon Acres' simple elegance allows for limitless creativity and style.
10. Cheekwood Estate & Gardens | Nashville, TN
Botanical garden? Check. Towering canopies and forests? Check. A reflecting pool? Check! Cheekwood is hard to beat when it comes to gorgeous venues – there are so many options to choose from within the property. That's what makes it one of the best wedding venues!
11. Whitestone Inn and Event Venue | Kingston, TN
Whitestone Inn is a perfect destination wedding venue on 360 acres of rolling hills overlooking Watts Bar Lake with the mountains in the distance. With its horse-drawn carriage ride, a peaceful chapel, and a charming gazebo, your wedding day will be nothing short of magical.
12. Tennessee RiverPlace | Chattanooga, TN riverfront space
Another Chattanooga wedding venue makes the top 12! Chattanooga is a gorgeous place in Tennessee, and Tennessee RiverPlace is no exception. With stunning mountain and river views, this venue offers four spaces to accommodate your dream wedding. From the ceremony spot with its gorgeous mountain backdrop and arbor to the Spanish-style building that houses the bridal and groom's suites to the tent and patio perfect for receptions and cocktails, Tennessee RiverPlace is an excellent venue for an earthy cottage-style wedding or any other type of wedding.
BONUS + Honorable Mention: The Bell Tower
The Bell Tower is a stunning Nashville wedding venue near the heart of downtown at 400 4th Ave South. It's recently renovated to provide a unique open floor plan with exposed beams and a stunning balcony. With the ability to accommodate seated dinners for up to 400 and cocktail-style receptions for 700, The Bell Tower is the largest free-standing venue in downtown Nashville. Couples are also provided with a full on-site kitchen, bridal lounges, state-of-the-art light, and sound, and services from Infinity Events & Catering, a full-service event planning and design company.
We hope you enjoyed these swoon-worthy wedding venues in Tennessee!
If you're looking for an enchanting forest wedding venue, schedule a tour to see Sandy Creek Farms. With its stunning views and natural setting, Sandy Creek Farms is the perfect place to host your fairytale woodland wedding. You can keep reading to learn more about forest wedding venues and things to consider for your forest wedding ceremony.
Wedding Venue Styles: Woodland Wedding Venues
Some couples travel worldwide to Sandy Creek Farms for a woodland wedding venue, but many come from Nashville, Atlanta, Miami, and Kentucky. Sandy Creek Farms is a perfect location if you don't want to travel too far but want a destination wedding in the forest.
Our forest retreat wedding venue is fit for your magical wedding.
Another reason you will want to consider a woodland wedding venue for your ceremony is the serene beauty surrounding you and your guests.
Our woodland wedding venue, the Pines, is the perfect ceremony spot
There are many reasons why The Pines is one of the best woodland wedding venues in Tennessee – including our forests, which are manicured and look beautiful no matter the season.
Some people like to show the season's beauty in their wedding through one picture, but others like to add elements throughout. They often do this with evergreen spruce at the ceremony and head table.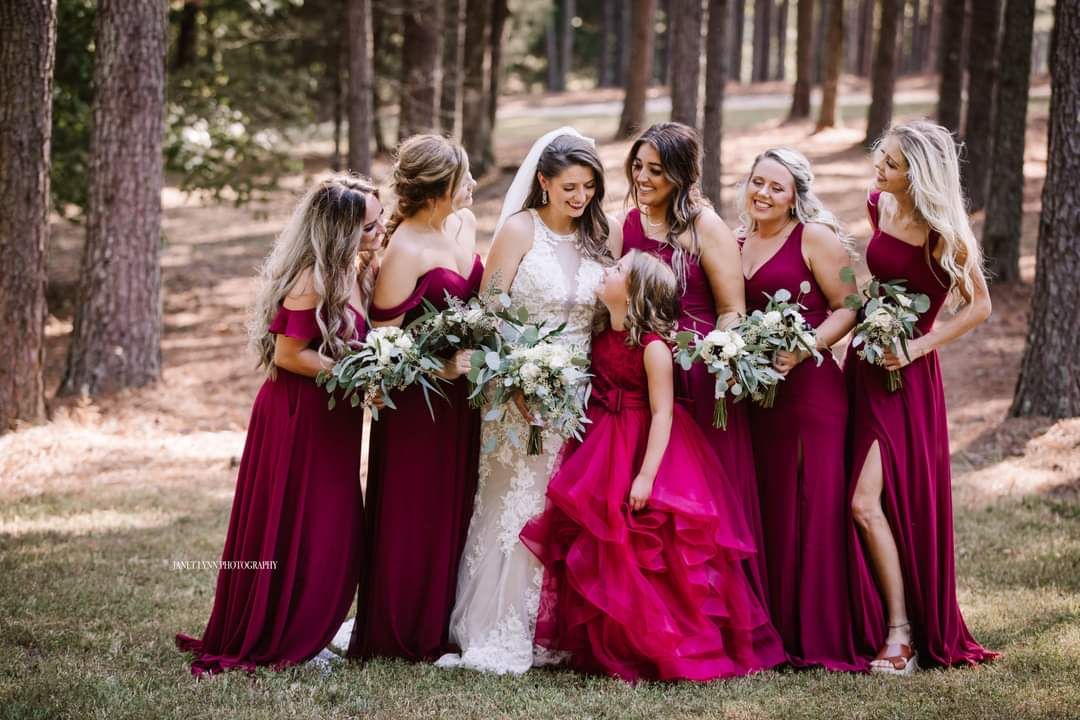 All the natural forestry you can want is at our woodland wedding venue.
Natural beauty and towering pine trees are the best decor. A wedding in the forest is a dream for many. But that dream can be a reality! Located along the lake, our forest wedding venue is perfect for couples looking to incorporate their natural love into their wedding ceremony.
This means that all your guests will have no problem finding a place to sit, and there will already be chairs set up for them because we take care of set up and clean up in most of our packages. You won't have to worry about renting those out or bringing in anything extra, making it much easier for you and your guests.
You can control what kind of mood or feeling you want at your wedding with just one simple thing: where you stand when exchanging vows. Your ceremony arch or the style you decorate your chairs can dictate the mood and atmosphere of your wedding.
Another reason why having a woodland wedding is the best choice for couples is because of how versatile it can be.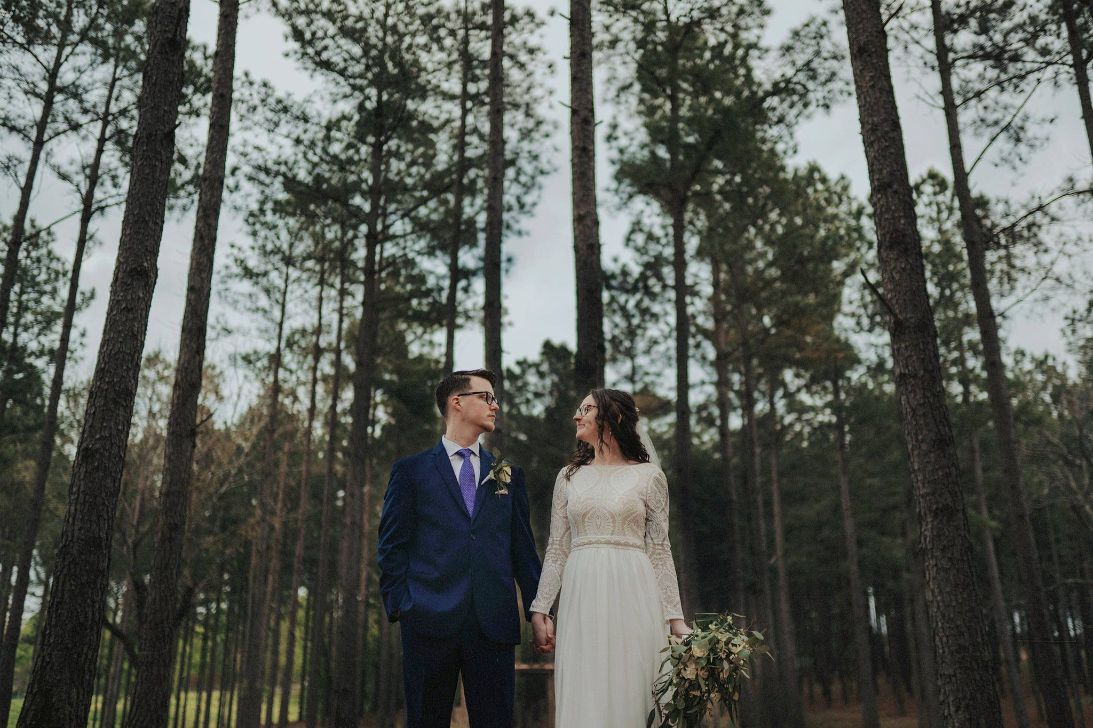 Barn Venues AND a forest ceremony? We can do that.
We also have a private island that is very popular and features an open-air pavilion. Other guests love our greenhouse area and rustic barn (The Stables) to exchange vows.
But you can't beat The Pines if you love the smell of pine trees and the woodland vibe.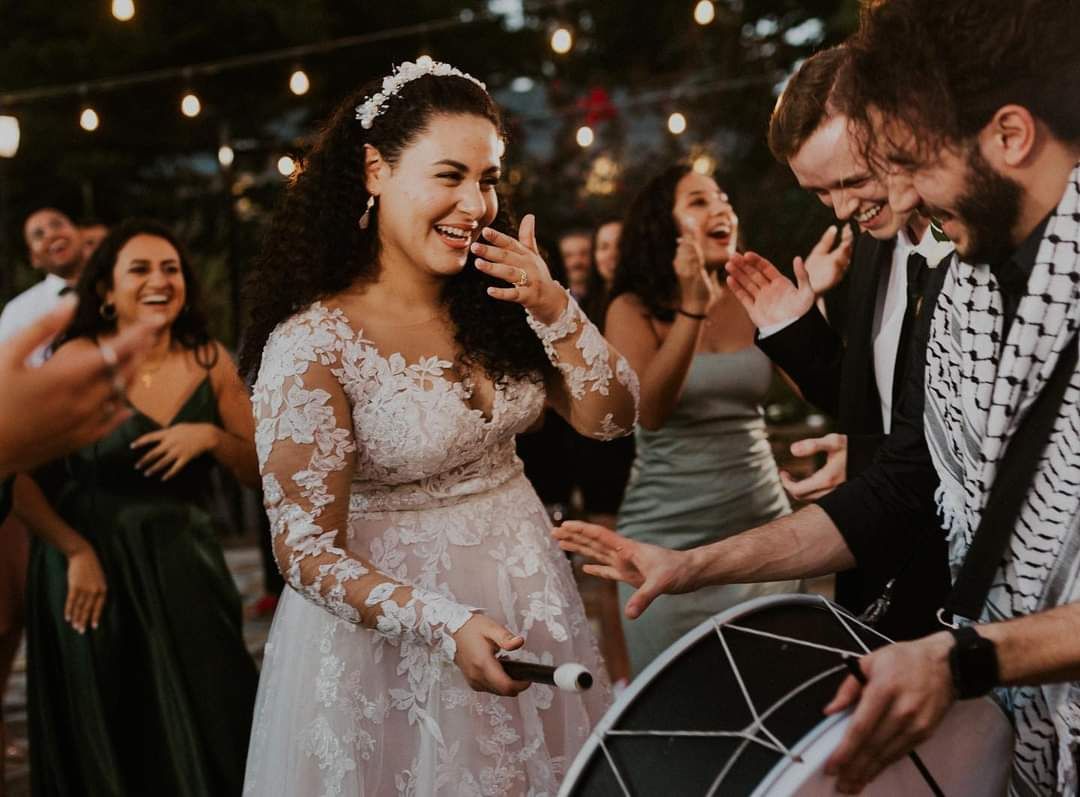 Outdoor forest venues create the perfect backdrop for your dream space.
Trees mean a lot for love. They protect themselves from the sun, air, and food. Their long lives show that relationships can last a long time.
Enchanted forest wedding reception at our property.
Trees are important because they can represent things like love, gratitude, protection, and happiness. Forests are exceptional for this reason. The magic and wonder of life is in the trees. That's why we think the best place to have your wedding is in the woods. If you want to continue celebrating, we recommend taking your party to the Stables or the Pines, where you can dance the night away and still enjoy the beauty of the pine forests in the moonlight.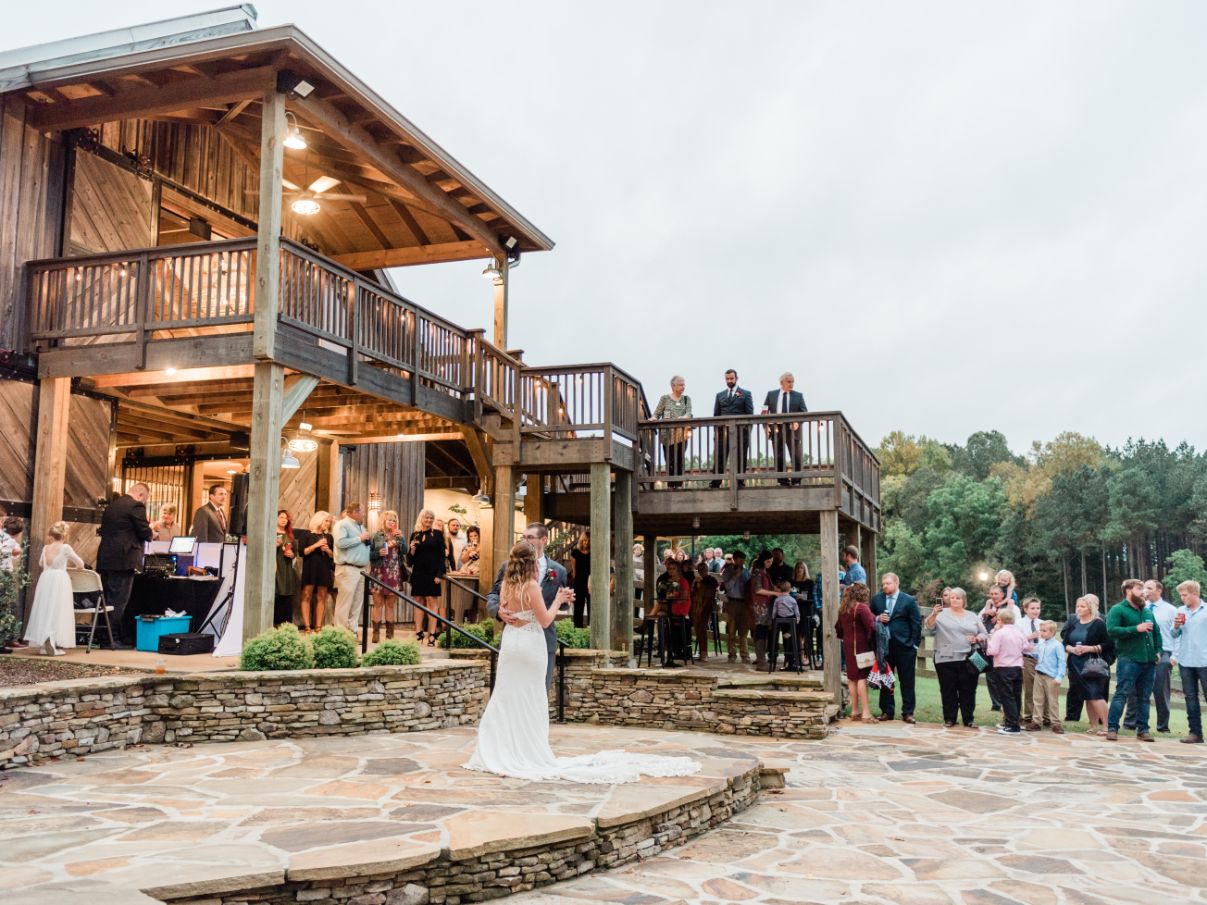 If you want to have a woodland wedding, work with the natural beauty of your surroundings to create your simple forest wedding.
You can use flowers and other things that grow in the woods. Also, use take advantage of wood and nature! Sandy Creek Farms loves helping couples plan their weddings, so we are open to creative ideas. Adding pinecones to your wedding decor is a way of saying that you believe in love and fertility. It also symbolizes the Goddess Venus.
Visit the enchanted forest wedding venues or ask for seasonal forestry wedding photos.
No matter what season you are getting married, we want you to visit the wedding venue around the same time of year that your wedding is in or ask for season-specific photos for an idea of what your forestry wedding will look like. This will show you the lighting and colors in that season.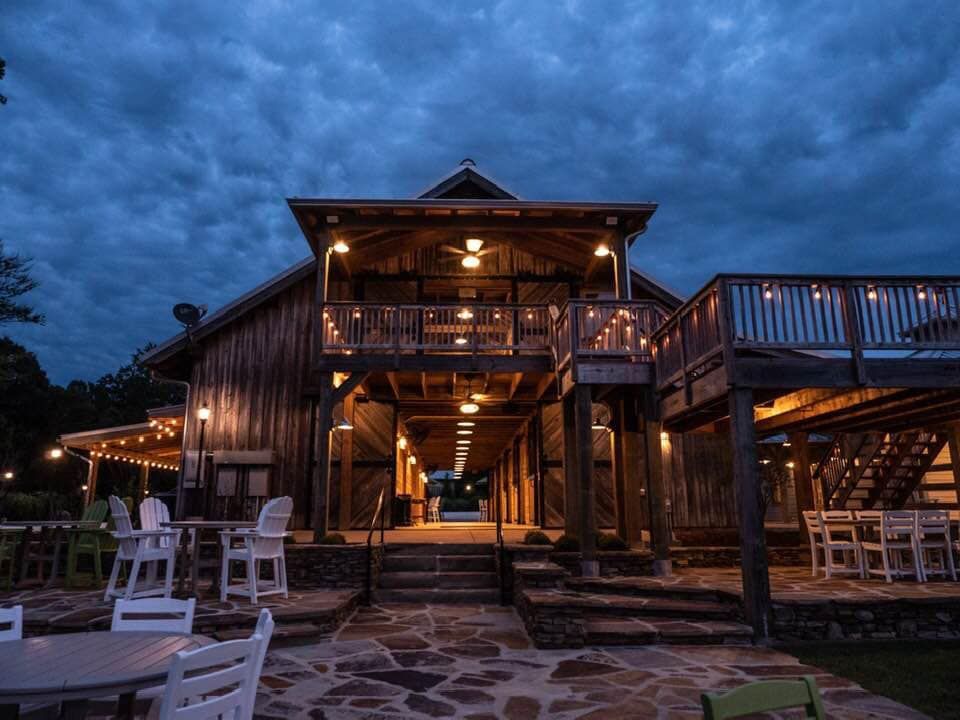 You can get married at more different locations, including our meadows.
Sandy Creek Farms is beautiful, even when it rains or when the weather is cold. Bring your phone to take pictures of any place you want to reflect on for your venue and site choices because you will want to remember it. We boast over six ceremony and reception options, so you won't be short of locations here.
Planning a woodland wedding and searching for forest wedding venues doesn't have to be challenging, but you must be careful.
If you are having your ceremony outside, ensure that anything with decorations or stationery is tied down so it won't fly away in the wind.
Tennessee Wedding Venues with Forest Views
Sandy Creek Farms has 430 acres of gorgeous property. Our pine forest is one of our best features, where we host wedding ceremonies under a canopy of towering pines.
Weddings in a Forest and Wooded Wedding Venues Near Me
If you're concerned about guests coming from afar, 'woodland' doesn't mean "middle of nowhere." Sandy Creek Farms is only a few hours from Nashville. Once you arrive, you'll be transported to an outdoor paradise with singing birds, wildlife, and a bright night sky.
Can you get married in the woods?
You can get married in the woods, technically. However, suppose you want to have a grand, organized, and not chaotic celebration that is stress-free. In that case, we recommend working with a Tennessee wedding venue with a forest on the property, such as Sandy Creek Farms. You won't have to sacrifice the rustic, woodland feel and get an organized wedding day with indoor spaces and lodging.
Where are the best forest wedding venues in Tennessee?
Tennessee's best forest wedding venues are usually in the Great Smoky Mountains. But if you're near Nashville, our wedding venue is unbeatable because we offer a gorgeous forested ceremony area that will give your wedding an excellent woodland vibe.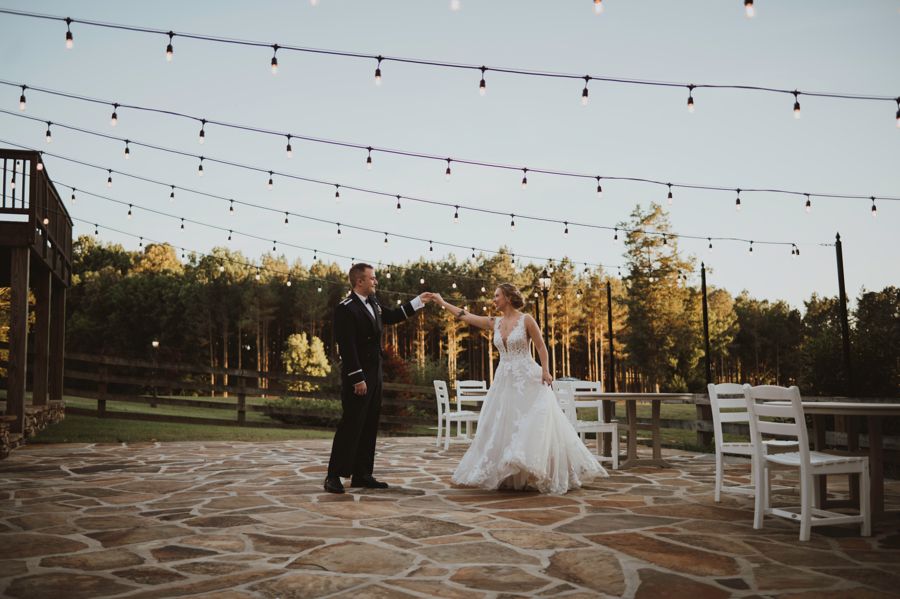 Can I have a magical forest wedding?
Yes, you can have your magical wedding in a forest. Of course, if you aren't having it at a wedding venue, you will have to pay a lot of money to set up, decorate, and pay for potential permits.
An enchanted forest with towering trees is an amazing place to say "I do."
There is no dreamier aesthetic than a gorgeous, natural forest. It touches all of your senses on your most important day.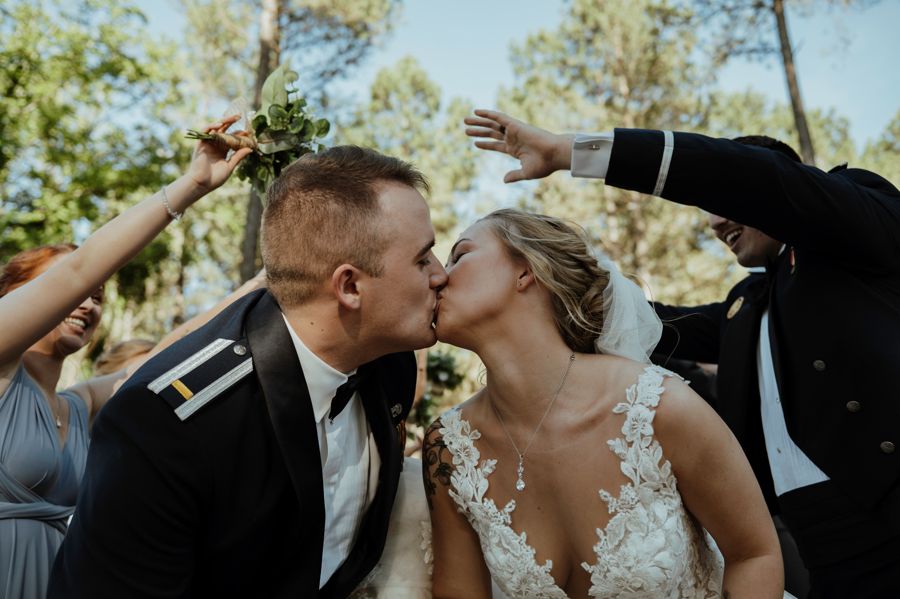 The most dreamy aesthetic is a wooded wedding and a romantic, magical forest wedding venue.
Don't settle for a hotel, golf club, or country club wedding venue that also hosts weddings – your wedding isn't a priority to them like it is here at Sandy Creek Farms.
Choose an enchanted forest wedding venue in the woods to encapsulate all that nature offers.
This will be a beautiful and robust start to your marriage. Trees are vigorous and give life and vitality to people.
Our Nature Wedding Venues Packages
Sandy Creek Farms is the ultimate nature wedding venue if you love wooded areas with hiking trails, a private lake and island, and the opportunity to relax. Want to view our packages? Click here.
Pond and Pine Tree Grove Greenery and Forest Wedding Ceremony
Our pond has a gorgeous fountain in the middle, making for a beautiful photo backdrop. It's conveniently located across from our pine tree grove, creating a gorgeous landscape and view.
Forest Themed Wedding and Wooden Wedding Venue Gallery
Would you like to see some of our most gorgeous forest-themed weddings at Sandy Creek Farms? Click here to view our most recent wedding gallery.
Cabins and Guest Rooms Around the Lake and Ranch
We have plenty of lodging around our 430-acre property. If you'd like to view our accommodations, click here.
Wedding Photography: We Have the Perfect Setting and Event Spaces
Photographers love to shoot at Sandy Creek Farmns because of our forests, private island, greenery, gardens, and other gorgeous photo opportunities. We have several photographers that we can recommend for your wedding day.
Wooden Wedding Venues and Forest Wedding Venues Near Me Searches
Sandy Creek Farms is not near any major city, so it won't usually appear for "near me" searches. Our closest major cities are Nashville, Memphis, Knoxville, and St. Louis, but we're 3-4 hours away from those towns. If you're seeking a destination wedding vibe with lush Pine forests, you've found the right venue. Most couples opt for an overnight wedding so they don't have to worry about flying or driving in the same day.
Twilight Forest Wedding Terrace and Woodsy Wedding Venues
Twilight forest wedding is a popular search. Most couples at Sandy Creek Farms opt for a sunset forest wedding ceremony. Still, we have gorgeous bistro lighting and more outdoor lighting across the property, giving our ranch a twilight forest vibe. It's utterly romantic
Wedding in the Woods Venues
We hope you enjoyed reading about our top wooded wedding venues – especially the magical forest and woodland vibes :)