We Have the Best Tennessee Cabin Rentals for Hunters, Fishers, and Privacy Lovers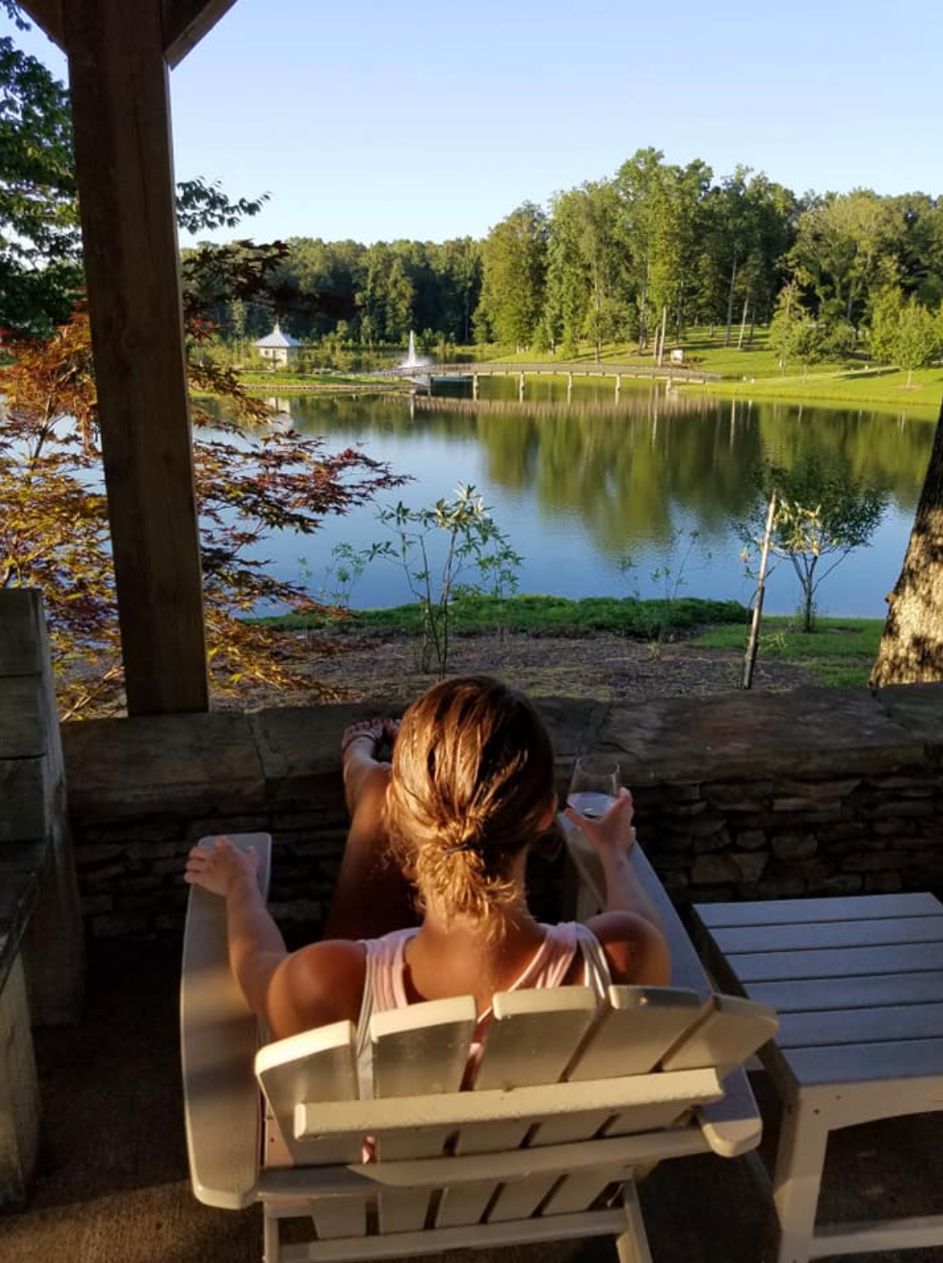 Sandy Creek Farms is a private ranch located in Springville, TN that features a private stocked lake, acres of Pine trees, gardens and a greenhouse, and lodging options. Our Tennessee cabin rentals are unlike any other in Tennessee because of our hunting, fishing, ATV, and other activities on 430+ acres.
Our retreat cabin options offer a porch, kitchen, modern amenities, and private access to 430+ acres.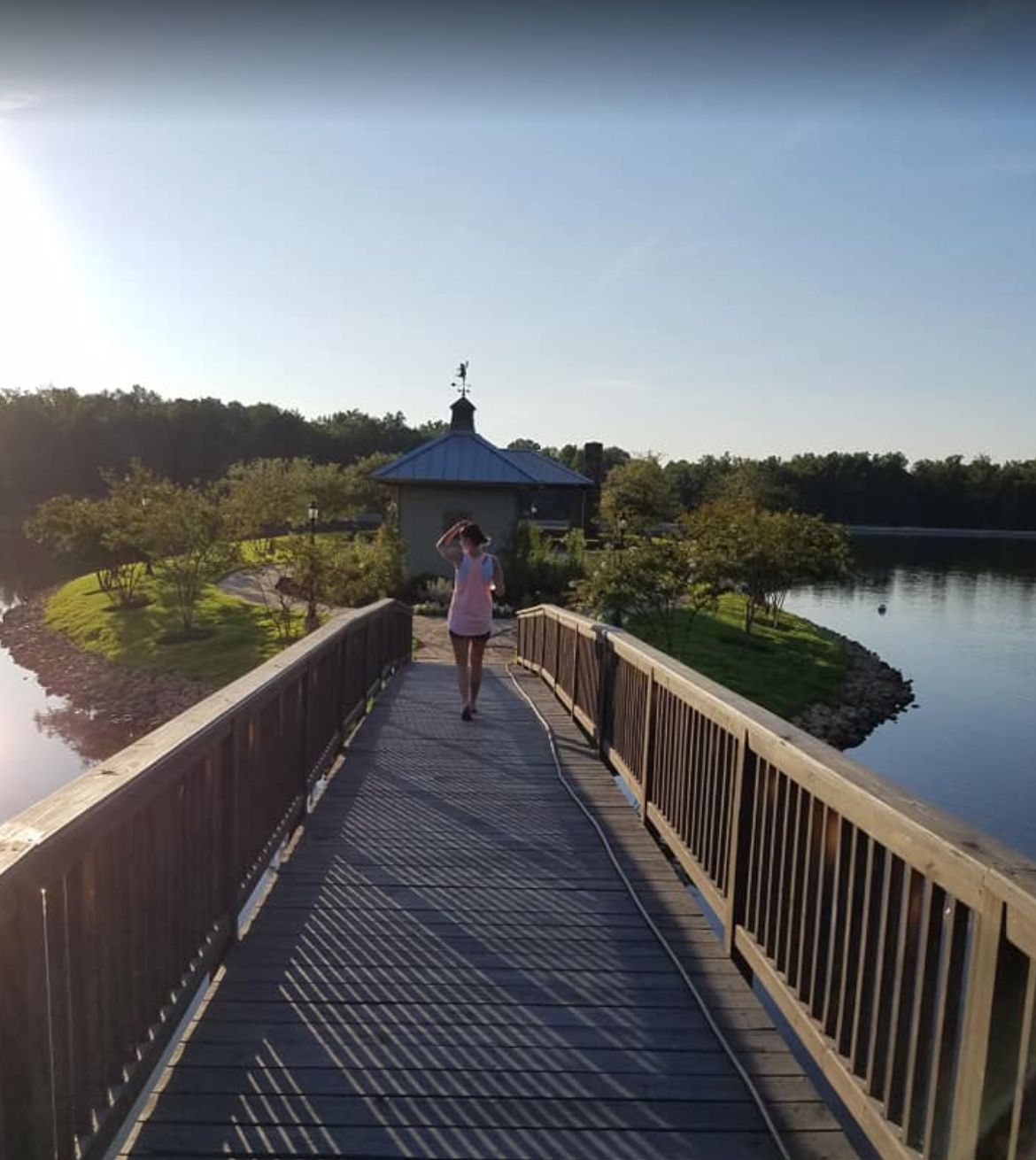 Where else in Tennessee can you truly experience uninterrupted nature? If you visit any state parks or national parks in Tennessee, you'll practically be elbow to elbow. The Smoky Mountains received 13 million visitors last year!
At Sandy Creek Farms, our six lodging options are private and give you access to our 430+ acres for whatever outdoor recreational activities your heart desires.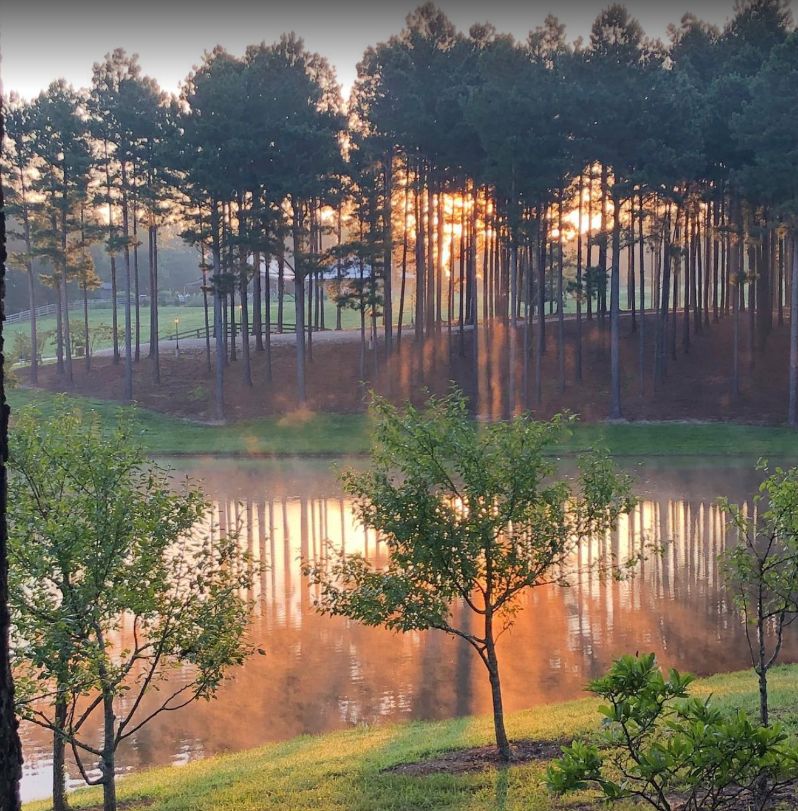 Learn More About Our Six Cabin Rentals
View Our Amenities and Features
Keep reading to learn about our property, features, lodging, outdoor access, and why Music City residents love our cabins.
Our Tennessee cabins sit on a gorgeous 430+ acre property.
Here are some highlights:
430+ acres with manicured forests and trails
Pet friendly
8+ miles of forested trails
Private, stocked lake for fishing & non-motorized boating
A state-of-the-art fitness center
Outdoor games & hunting opportunities
Watercraft – 1 paddleboat & 2 canoes
Six overnight accommodations
Two laundry facilities
Tables, chairs, lighting, and sound system (for events)
On-site kitchen for your use
On-site parking for you & your guests (for events)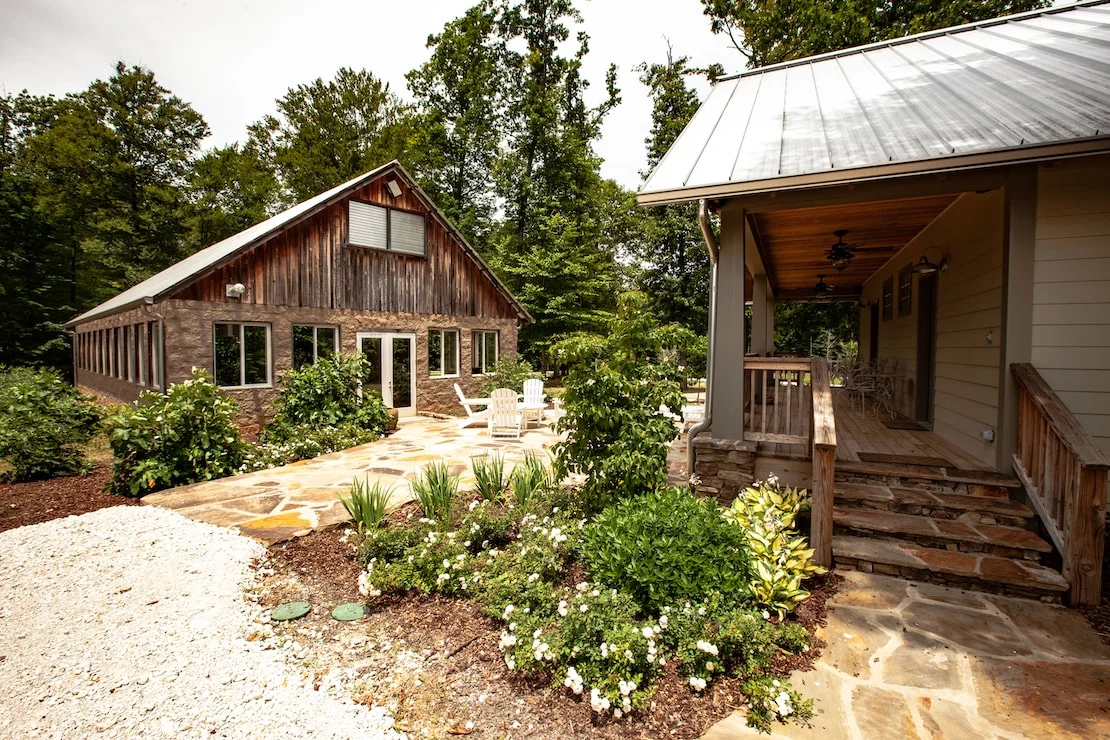 Some of our amenities include:
Internet and office
Wifi Available throughout some listings
Dedicated workspace
Pet friendly
Kitchen and dining
Kitchen
Space where guests can cook their meals
Refrigerator
Microwave
Cooking basics
Pots and pans, oil, salt, and pepper
Dishes and silverware
Freezer
Dishwasher
Stove
Oven
Coffee maker
Wine glasses
Toaster
Barbecue utensils and grill
Dining table
Outdoor
Patio or balcony
Firepit
Outdoor furniture
Outdoor dining area
BBQ grill
Parking and facilities
Location features
Our private lake has been stocked with bass, bream, and catfish since 2010.
Bring your ATVs
8+ miles of forested trails
Waterfront lake access with dock
Laundromat onsite
On-site gym
Pet-friendly
Note: We are on the other side of Tennessee from Great Smoky Mountains National Park.
We're only two hours west of Nashville, Tennessee.
Music City is home to Nashville attractions like the Bluebird Cafe, Ryman Auditorium, the Grand Ole Opry, Country Music Hall of Fame, Music Row, and downtown Nashville. We're only two hours west of Nashville, so we provide cabin rentals for those who are looking to escape the hustle and bustle of city life from time to time.
Our Tennessee cabins are perfect if you want a chance to enjoy nature without having to be too far away from civilization.
We have cabins with all modern amenities such as air conditioning, cable TV, stovetops, refrigerators, microwaves, etc. Still, they also offer an old-fashioned vibe where guests can experience their rustic cabin feel. You'll get both worlds – cabin living mixed with contemporary conveniences at our private estate.
You don't need to go all the way to Great Smoky Mountains National Park to experience Tennessee (or find rustic Tennessee cabin rentals)
The Blue Ridge Mountains are a must-see! Pigeon Forge cabins are a hot search. However, the area is the most visited national park in the country, and therefore very busy.
If you want a secluded cabin or are looking for rentals in Nashville, Sandy Creek Farms is your best option. We have cabin rentals in Tennessee just for you, with amenities like screened-in gazebos and fire pits to match your cabin's surroundings.
With our stunning cabin nestled on private property, you'll get easy access into nearby towns when you want it–it won't feel too secluded. And the best part about cabin rentals is that they offer privacy while giving guests a great place to relax. You don't need to go all the way to Great Smoky Mountains National Park to experience Tennessee – stay in our cabins instead.
West Tennessee cabin rentals are plentiful, but not all TN vacation rentals are created equal. We have the best cabins in West Tennessee because we offer cabin rental options for every budget and size of family vacations. Whether you're looking to find cabins with lots of beds, a lodge, cottages, or just want to rent out a smaller space, we have a perfect home base for you!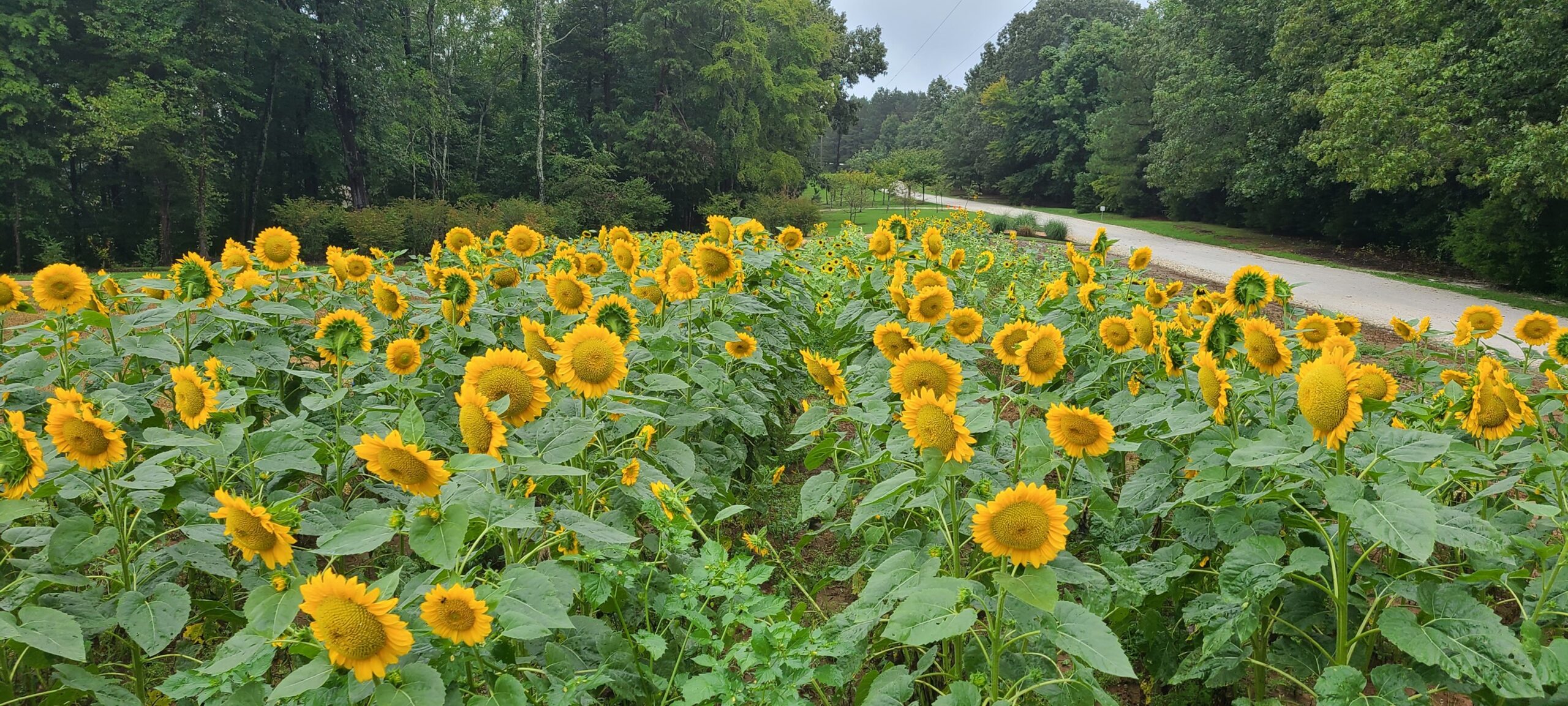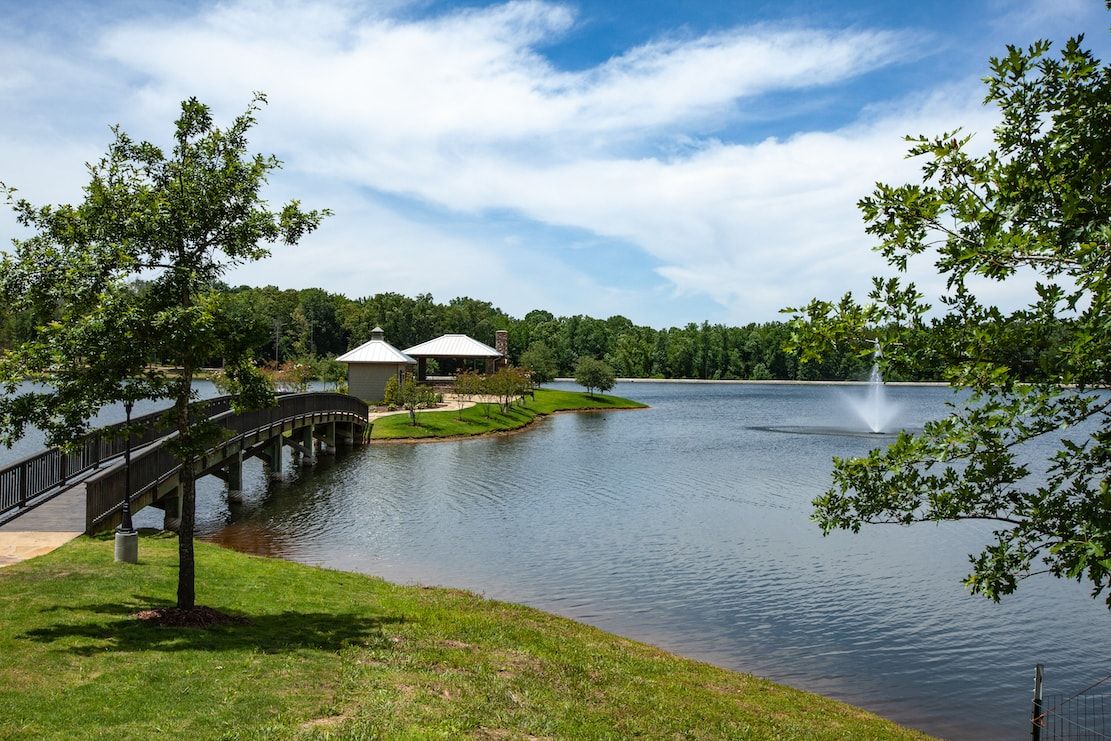 Sandy Creek Farms offers several rental options – our bungalows and cabins – weekly (subject to availability). Perfect for that quiet getaway!
Relax, hike, and fish at our 20-acre lake, and take walks along our 8+ miles of pine woods trails. Our private estate offers you all the comfort, outdoor recreation, and peace that you would want in a Tennessee cabin rental.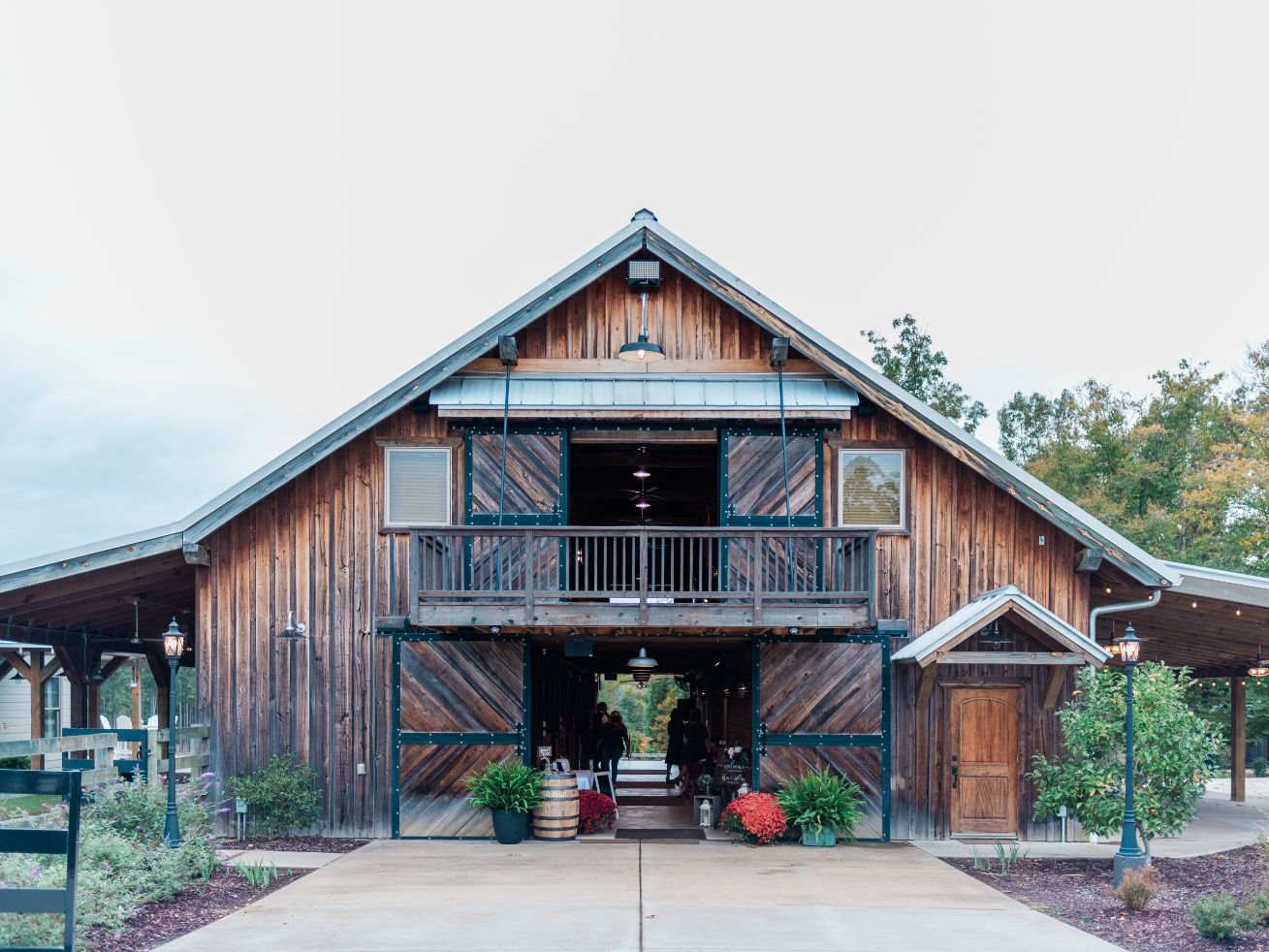 Here are our six vacation rentals near Nashville.
The Bungalows: The Bungalows sleep four people and include a back patio, kitchenette, full bath, living room, and fire pit.
The Chef's Cottage: The Chef's Cottage features a deck, gazebo, full kitchen, indoor and outdoor sound system, and sleeps six.
The Farm Cabin: The Farm Cabin is pet friendly, has a wood-burning fireplace, full kitchen and bath, a grilling area, pond, and sleeps four.
The Lakeview Cabin: The Lakeview cabin is a nature sanctuary with a screened wood gazebo, a stone fountain, and a brook, and sleeps two.
The Library Loft: The Library Loft features wooden decks, a kitchenette, a small living room, a library, and sleeps two.
View Our Amenities and Features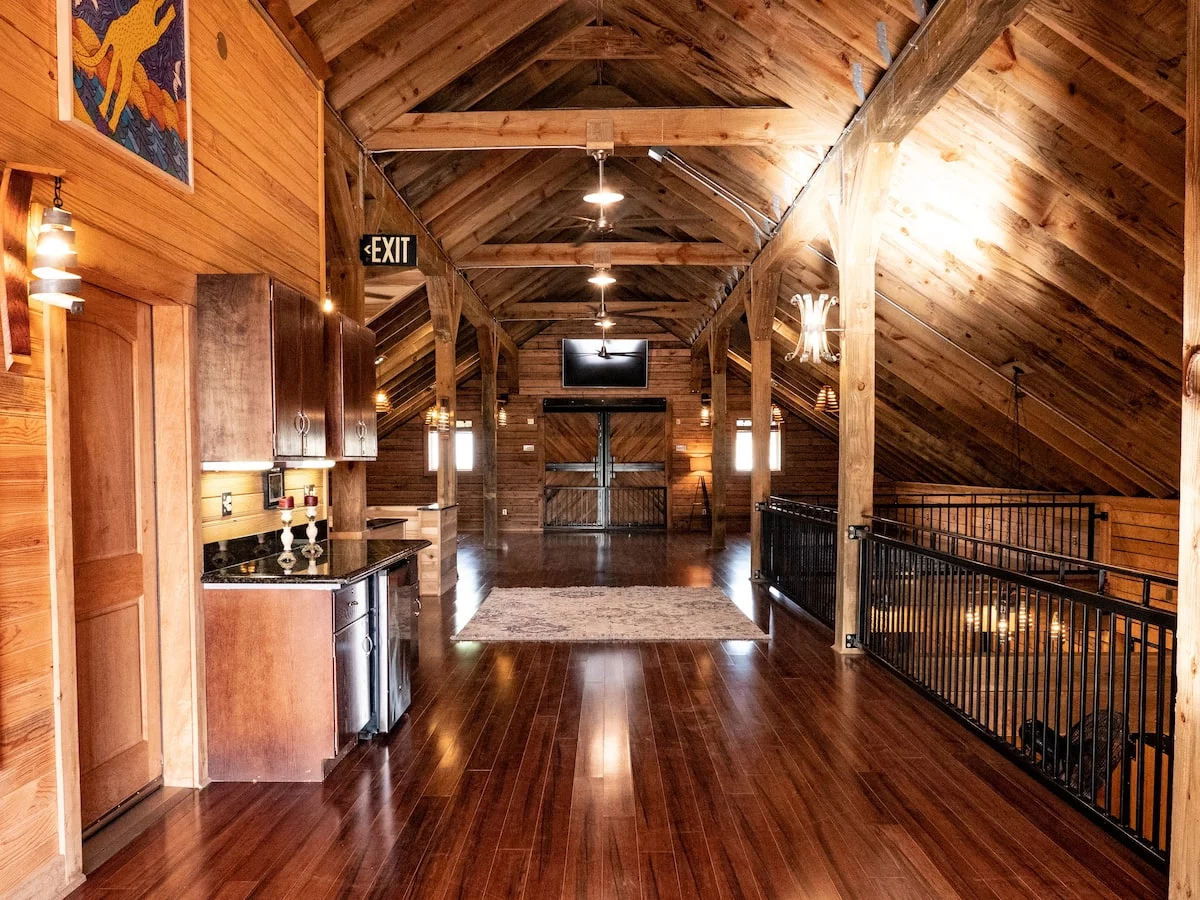 You can fish on our private lake and enjoy miles of hiking trails.
No matter what you're looking for, we've got Airbnb rentals here in West Tennessee that fit every need! We hope you'll stay with us soon so we can show you just how amazing it is to be surrounded by some of the best nature has to offer while staying close enough to home that it feels like coming back after being away on vacation.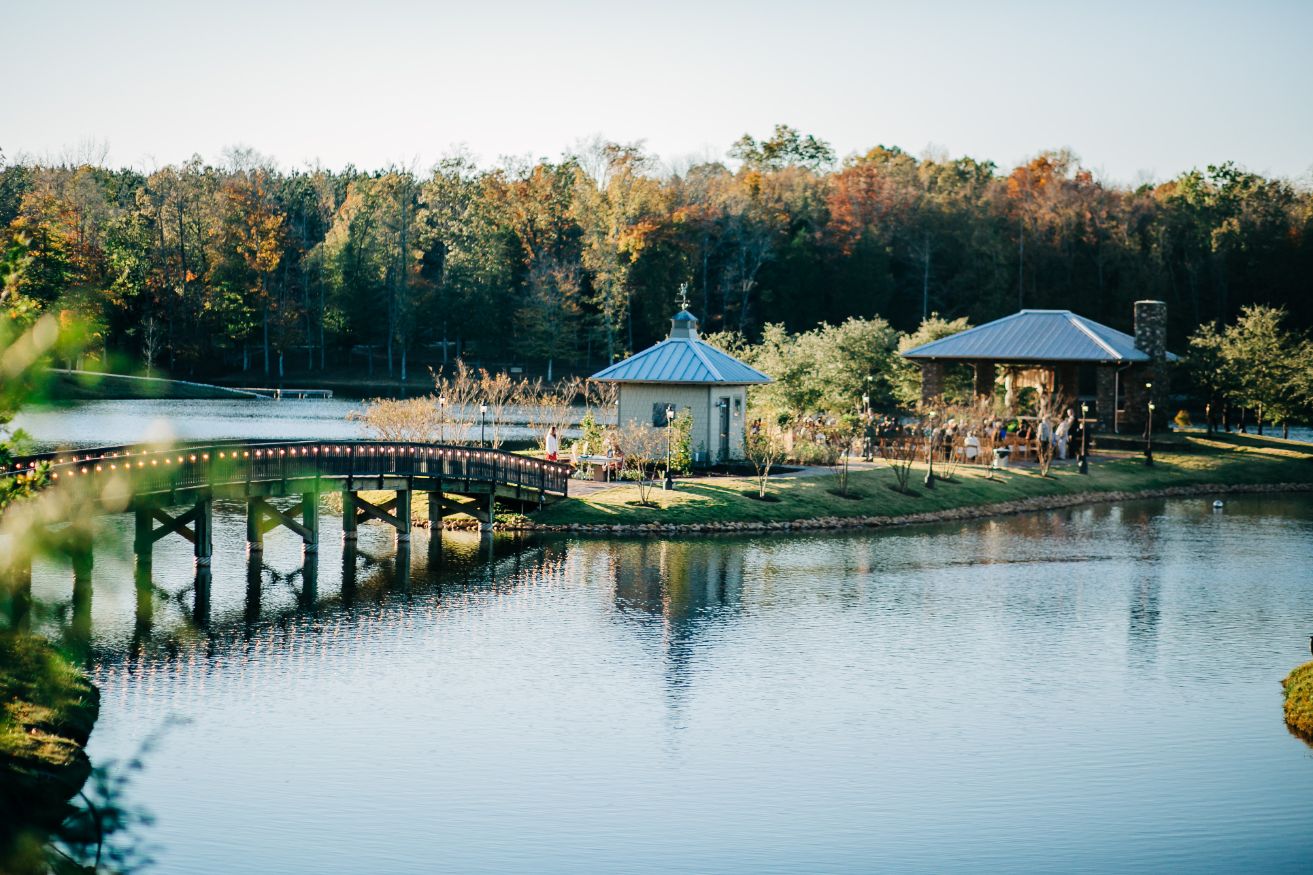 We're fur-baby friendly.
Most hotels are not fur-baby friendly or charge extra for your pets. So if you want to bring your dog along on your adventure into nature, Airbnb homes are the way to go.
We're also close to a few Tennessee state parks and nature areas.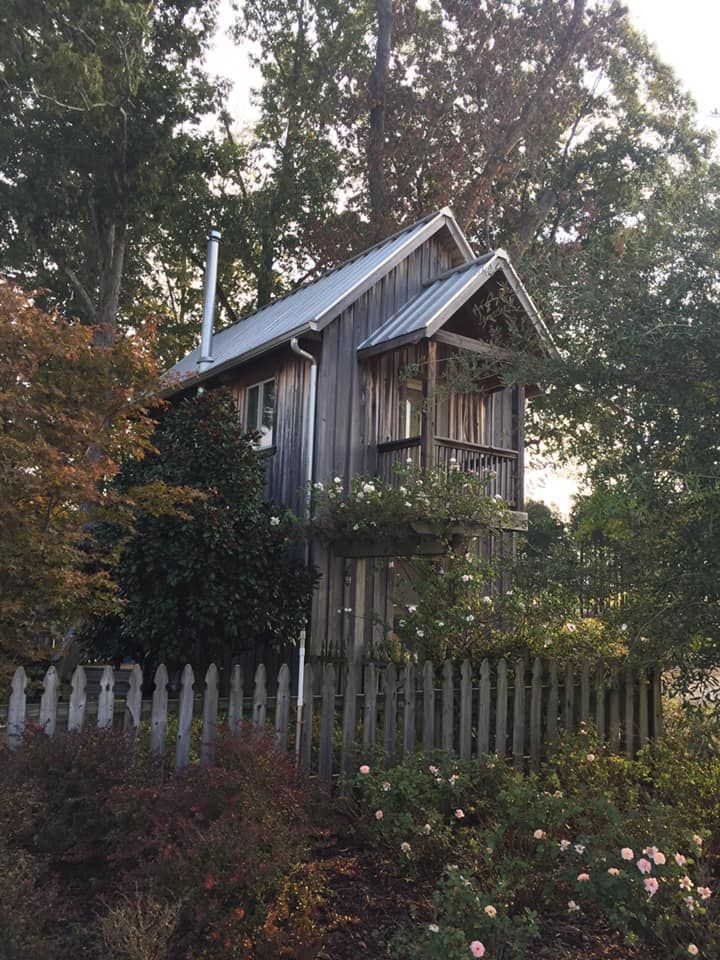 Natchez Trace State Park
Natchez Park has a variety of hiking trails, from a one-half mile to 4.5 miles in length, as well as a 40-mile overnight trek. The pathways meander through the woods and pastures of Natchez Park's parkland and waterfronts. Visitor attractions include the museum, which exhibits local and park history
Nathan Bedford Forrest State Park
The land on which Nathan Bedford Forrest State Park now sits was once home to a Works Progress Administration park built during the Depression. It is now a Tennessee State Park and houses the Tennessee River Folklife Interpretive Center and Museum, located on Pilot Knob, one of West Tennessee's highest points.
Paris Landing State Park Campground
The Tennessee River forms Kentucky Lake (160,000 acres) on the western shore of the state and is dammed in four places to create three fishing piers. The park's narrowest point, where it sits on the lake's widest part, makes it ideal for all water activities such as fishing, boating, swimming, and waterskiing.
Mousetail Landing State Park
The Mousetail Landing region covers 1,247 acres on the east banks of the Tennessee River. One of the area's tanning companies caught fire during the Civil War period, and according to legend, Mousetail Landing received its name. The abundance of mice fleeing the burning tannery is where the name comes from :)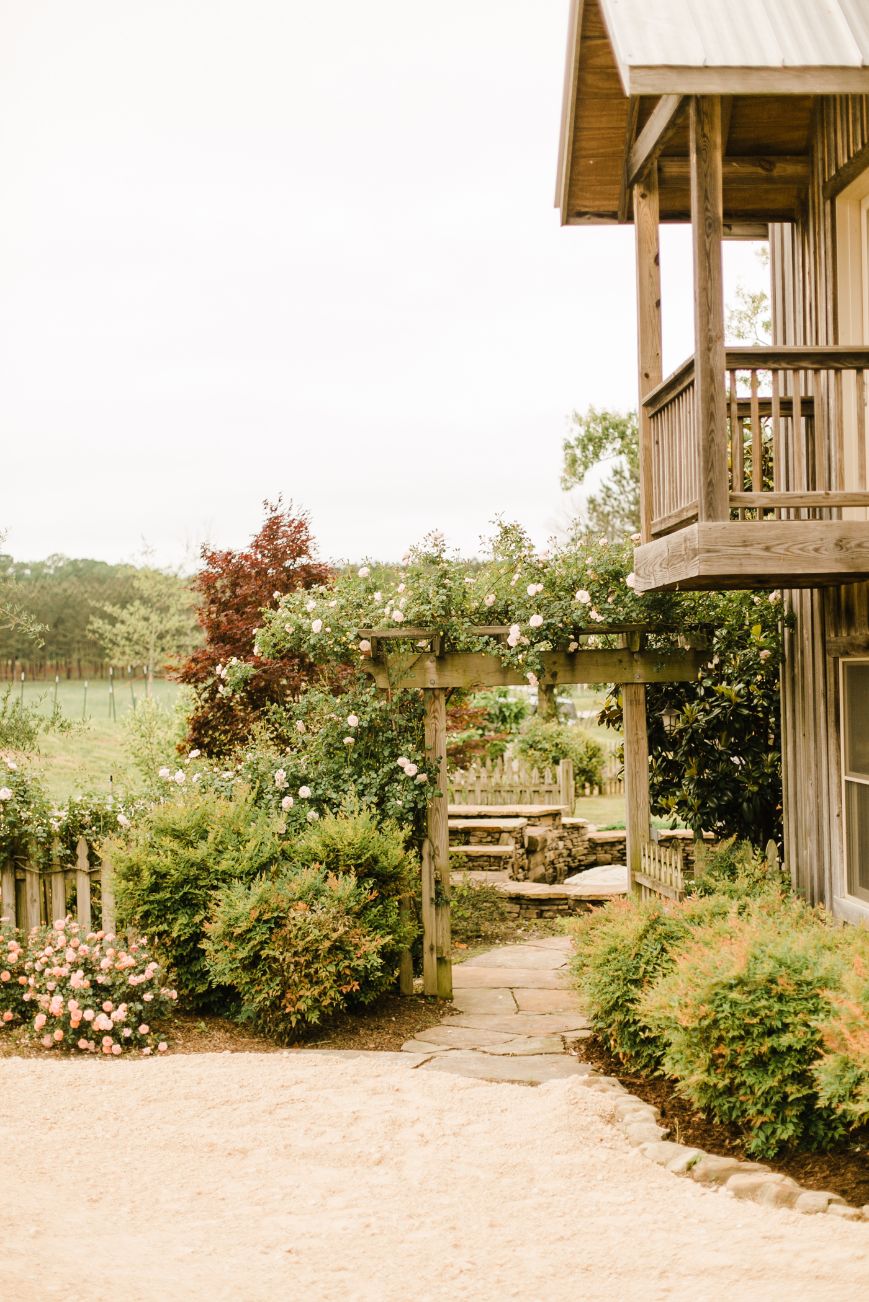 We have pet-friendly cabins as well.
So you can bring your four-legged friends along to your Tennessee vacation.
Here's some more info about our Tennessee cabin rentals.
Whether you're looking for an affordable place to stay for the weekend or a luxury Tennessee vacation, vacation rentals make a Tennessee trip relaxing.
Vacation cabins in Tennessee are one of the most popular ways to find Nashville cabins.
It's no wonder that our guests come from North Carolina, Kentucky, Georgia, Middle Tennessee, Nashville, and Missouri!
Some are even looking for Gatlinburg cabins and then choose to come here to Sandfly Creek instead!
Here's some more info about our Tennessee vacation rentals near Nashville TN.
You're probably looking for these cabin features:
-Affordable rates, great location
-A private sanctuary that is relaxing and a way for all generations to enjoy time together
-A nature sanctuary cabin with amenities like a screened-in gazebo, wooden decks, and a fire pit may be just what you need to escape city life for a bit!
-Tennessee cabin rentals give guests access to attractions such as hiking trails, golf courses, wineries, and distilleries in Paris, Springville, Jackson, and other towns in western Tennessee.
– Modern luxury and family-friendly
– Garden and barbecue grills
-The best part about cabin rentals? The privacy they offer while giving you easy access into nearby towns when you want it. You won't regret spending your next trip in our Tennessee cabins!'
We're only 1hr 23 mins from Jackson, Tennessee.
If you live in Tennessee but need a break from city life, our cabin rentals in Nashville are the perfect option for you.
Take a Break from the City: Stay at Our Cabins in Nashville TN
Our cabins are located in Springville, TN, which is the perfect distance from Nashville to get away from the city and enjoy nature and outdoor scenery. If you're looking for a quick weekend getaway, our cabins in Nashville TN (a short derive away) are the perfect option for you.
Here's why we're the best option for cabins outside of Nashville
There are no luxury cabins or mountain cabins in the area.
We'll be honest with you: the city can be great. It's full of life, energy, and excitement. But sometimes, it can get a little too much. If you're looking for an escape from it all (but don't want to go too far), stay in our Nashville cabins.
We understand if you are fully set on picking out a mountain cabin or are looking for something more luxurious. We offer log cabins and have forest views, not mountain views. Our unique feature is that we have 430 private acres without noisy or annoying tourists where you can escape it all :)
Our stunning log cabin home options nestled in west Tennessee are the perfect retreat.
Our cabins are located in a beautiful wooded area that offers peace – but there are still plenty of things nearby for those who need more stimulation than a walk through the forest can provide.
You're probably tired of the traffic, cramped spaces, and lack of fresh air.
That's why you need to escape and spend a weekend in our cabins near Nashville, TN!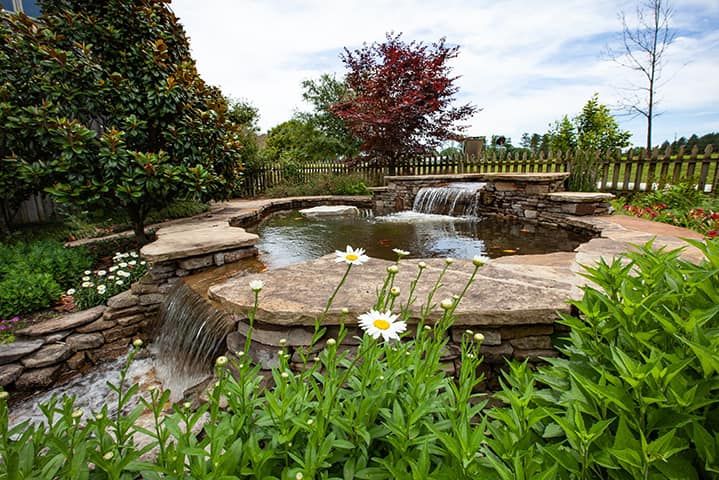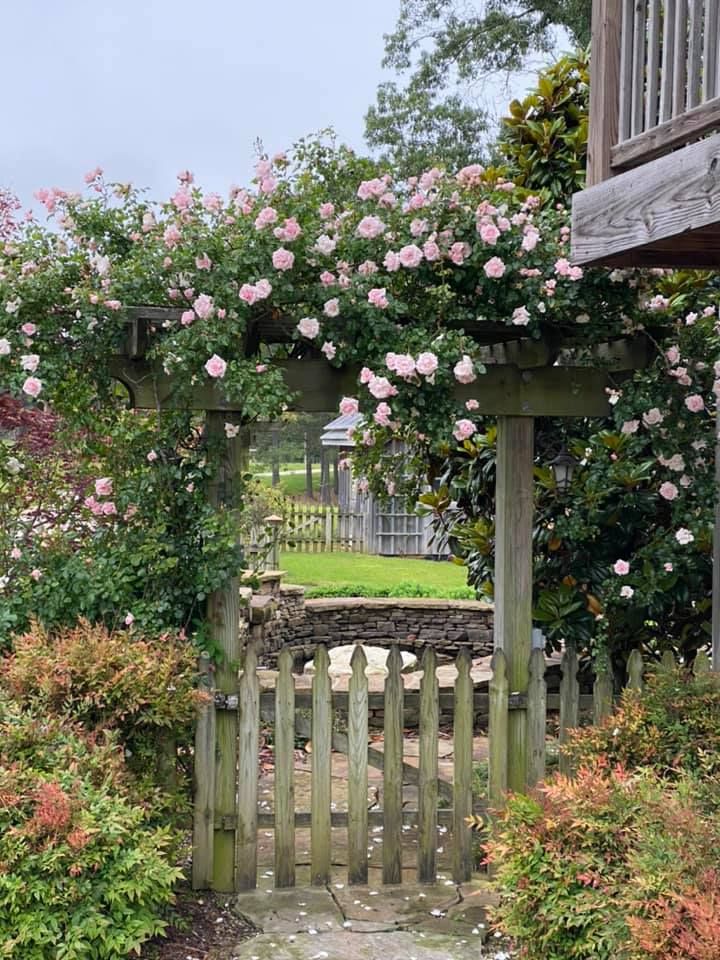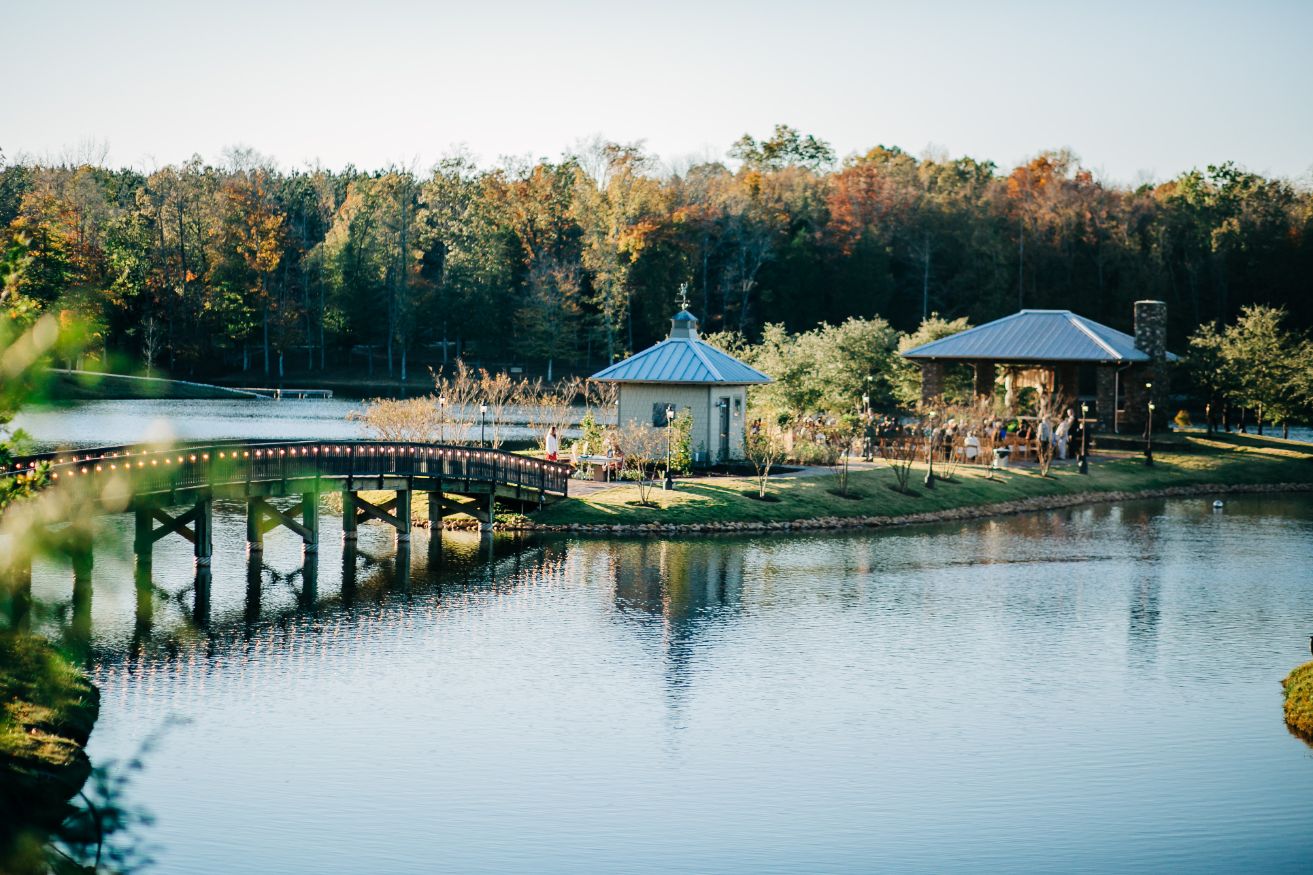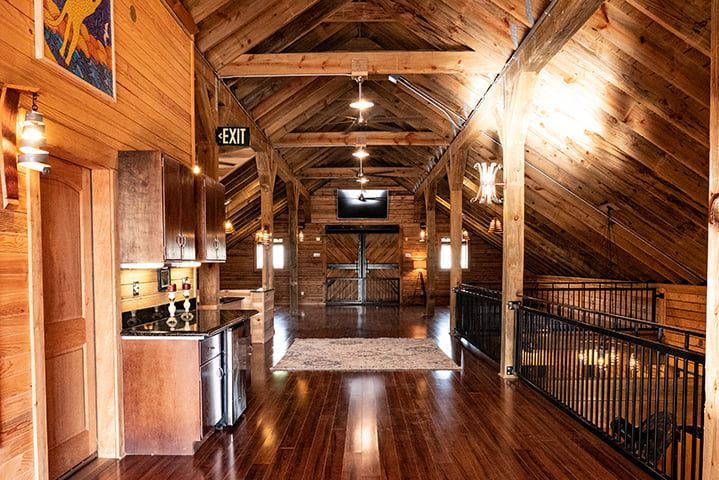 Some more features of our vacation rental property and homes:
There are plenty of cabins near Nashville that offer peaceful getaways, but at Sandy Creek Farms, we'll help you forget about your worries and enjoy what nature has to offer in peace:
– Enjoy fishing on our stocked lake
– Take part in one of our many outdoor activities like biking or hiking along with our trail system
– Relax inside at any time thanks to central heating/AC throughout each cabin (even the porches.)
– Some of our nicely appointed cabin options are also pet-friendly!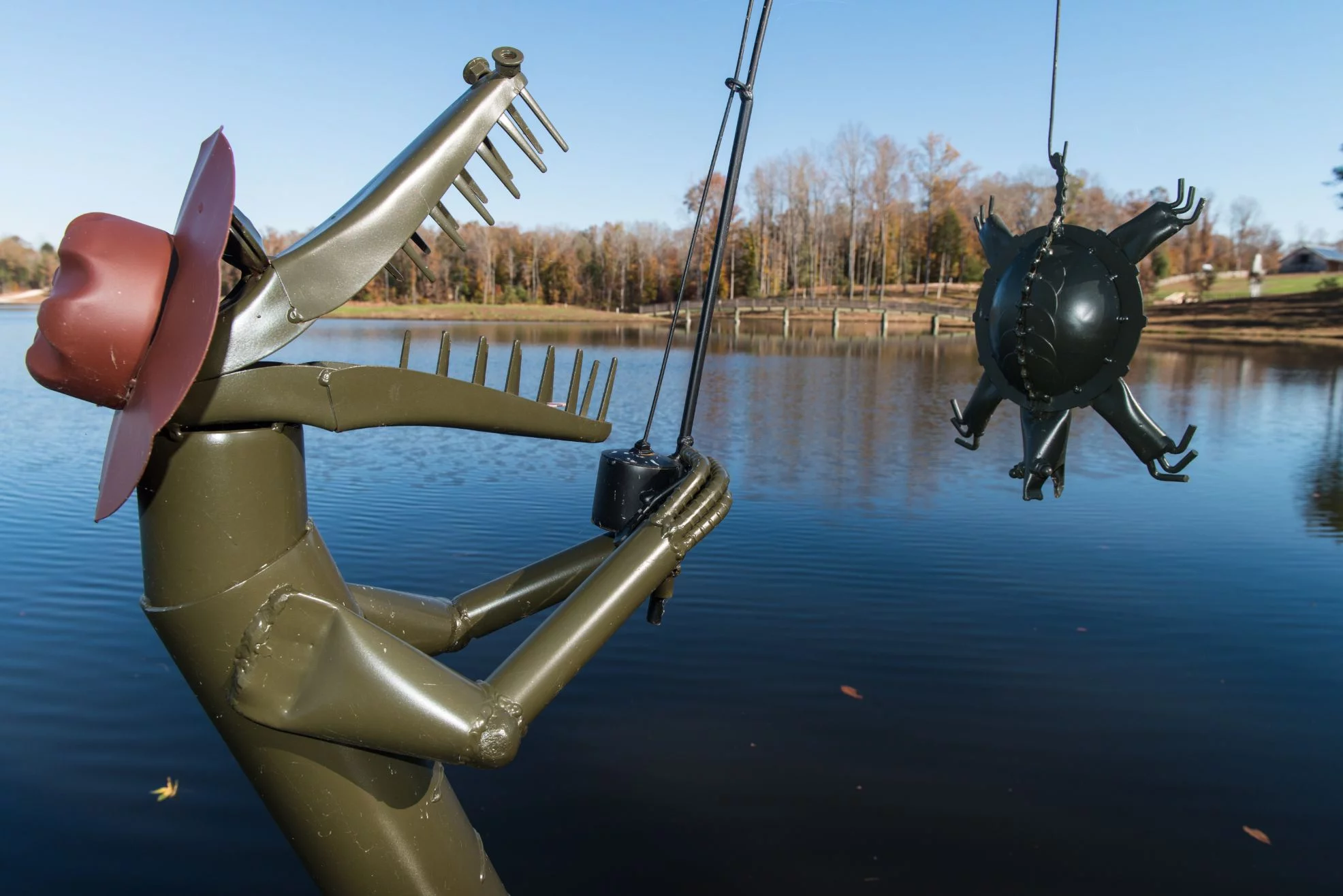 Our Tennessee cabins are less than 2 hours from downtown Nashville TN.
Our Tennessee cabins are just 115 miles from the city, meaning that you'll be in nature, but not too far from home.
It's essential to do something in the great outdoors. It's just good for the soul, isn't it? Wouldn't you love a private, quiet log cabin to rock on the front porch, grill some meat and veggies, and roast marshmallows at the fire pit? A garden and barbecue grills with a scenic setting make for a great family vacation or romantic getaway.
Guests that are searching for Nashville cabin rentals love how close our secluded cabin options are to Nashville, TN.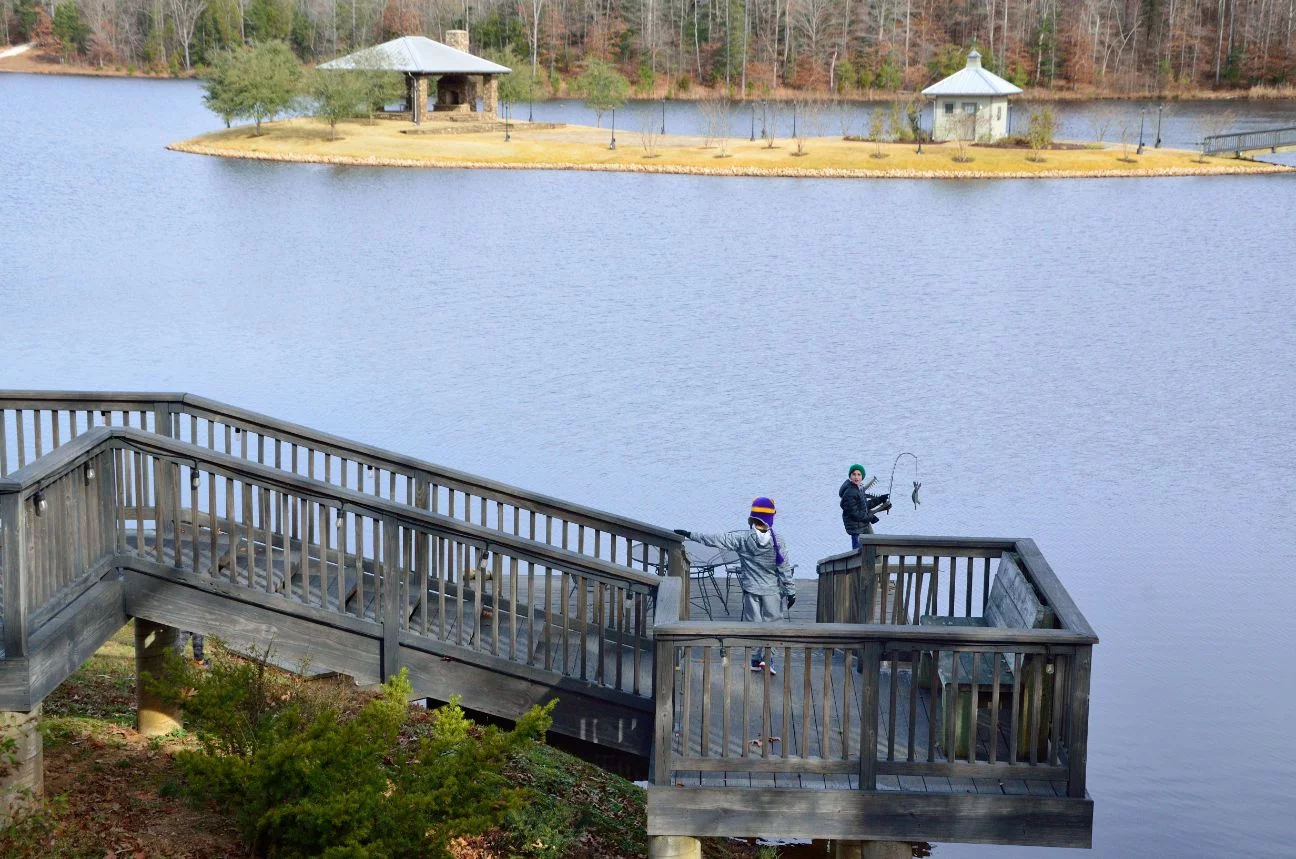 The city life can get old. Don't rent an Airbnb apartment, rent something rustic log house on our property!
Living in a city like Nashville can be a headache. Traffic, noise, and the never-ending hustle to get things done. If you're in Nashville and searching for cabin rentals, that's a good start!
A vacation rental outside of Nashville is a great escape from city life.
At Sandy Creek Farms, with acres of land for you and your family to explore as well as hiking trails in all directions, there is plenty to do just out our front door or around the corner at our private lake.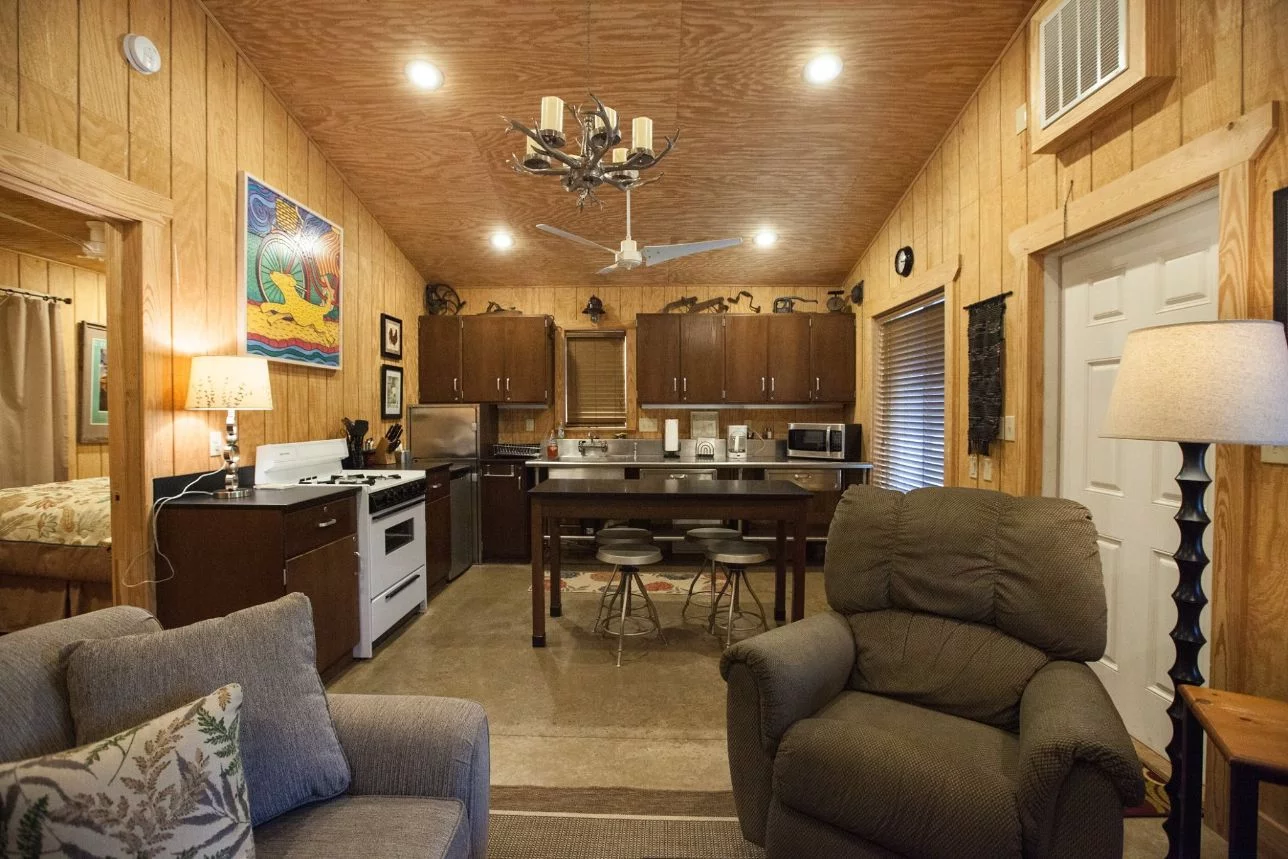 Are there mountains near Nashville, with Tennessee?
Nashville is in the middle of a flat plain and there are no mountains to be found anywhere nearby. Nashville is almost four hours away from the mountains in East Tennessee!
That's why a vacation rental outside Nashville can provide an escape for those wanting some fresh air and nature without having to go too far from home.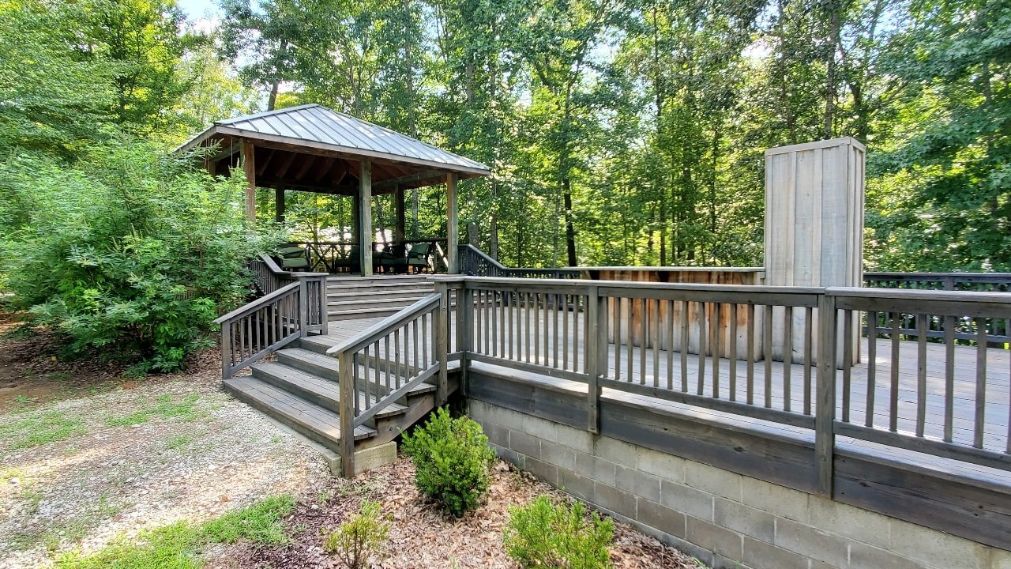 Are there cabins in Nashville TN?
Yes, there are cabin rentals in Nashville, but they won't offer you a peaceful sanctuary away from the city. Nashville cabin rentals are more like condos with a kitchenette, but no nature and privacy.
If you're looking for a downtown Nashville vacation, don't search for a cabin rental Nashville TN or Nashville Tennessee cabins.
Instead, you should opt for an Airbnb near downtown, which is more authentic and close to all the downtown action. Only in cabins near Nashville (2-3 hours away) can you find peace.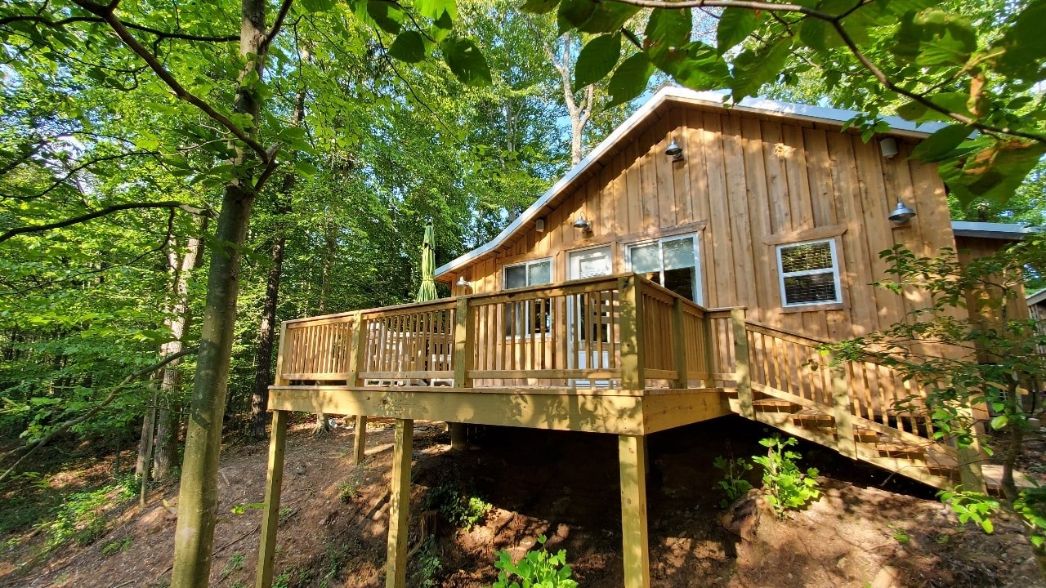 On a road trip headed to Nashville and searching for cabin rentals in Nashville Tennessee?
If you're traveling from the west and headed east, our cabins in Nashville (2 hrs east) are a great stop along your journey to rest and recover from your trip.
Things to do in Nashville, TN
There's so much to do in Nashville, AKA Music City, from live country music at the Grand Ole Opry to historical museums and restaurants. Some of our favorite Nashville attractions in Music City are:
exploring the Grand Ole Opry and other historic Nashville landmarks (Country Music Hall)
seeing live country music at a historic event venue or bar
enjoying some down-home cooking in a local diner while listening to authentic country music on the jukebox
walk around downtown Nashville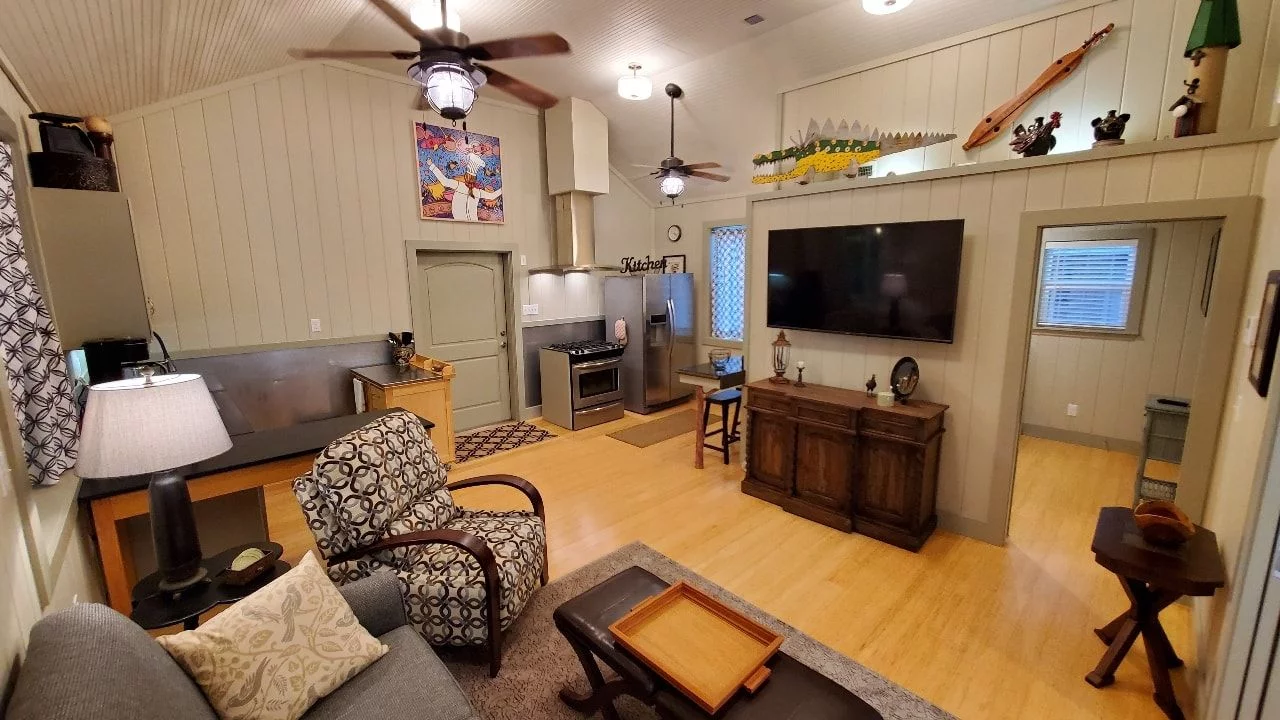 All that will be waiting for you in Nashville when you arrive (or return)!. Our cabins are located in the middle of nature, giving you a chance to breathe.
The lodge: cozy cabin options with modern interior amenities
The cabins are rustic with electricity and running water, so they're perfect for those who love being outdoors while still having all the comforts of modern living at their fingertips.
Our cabin rental has a fire pit which makes cooking outside feel even more authentic than ever before! We have a grill on-site, too, so no one has any excuses not to eat lots of delicious grilled food during your stay!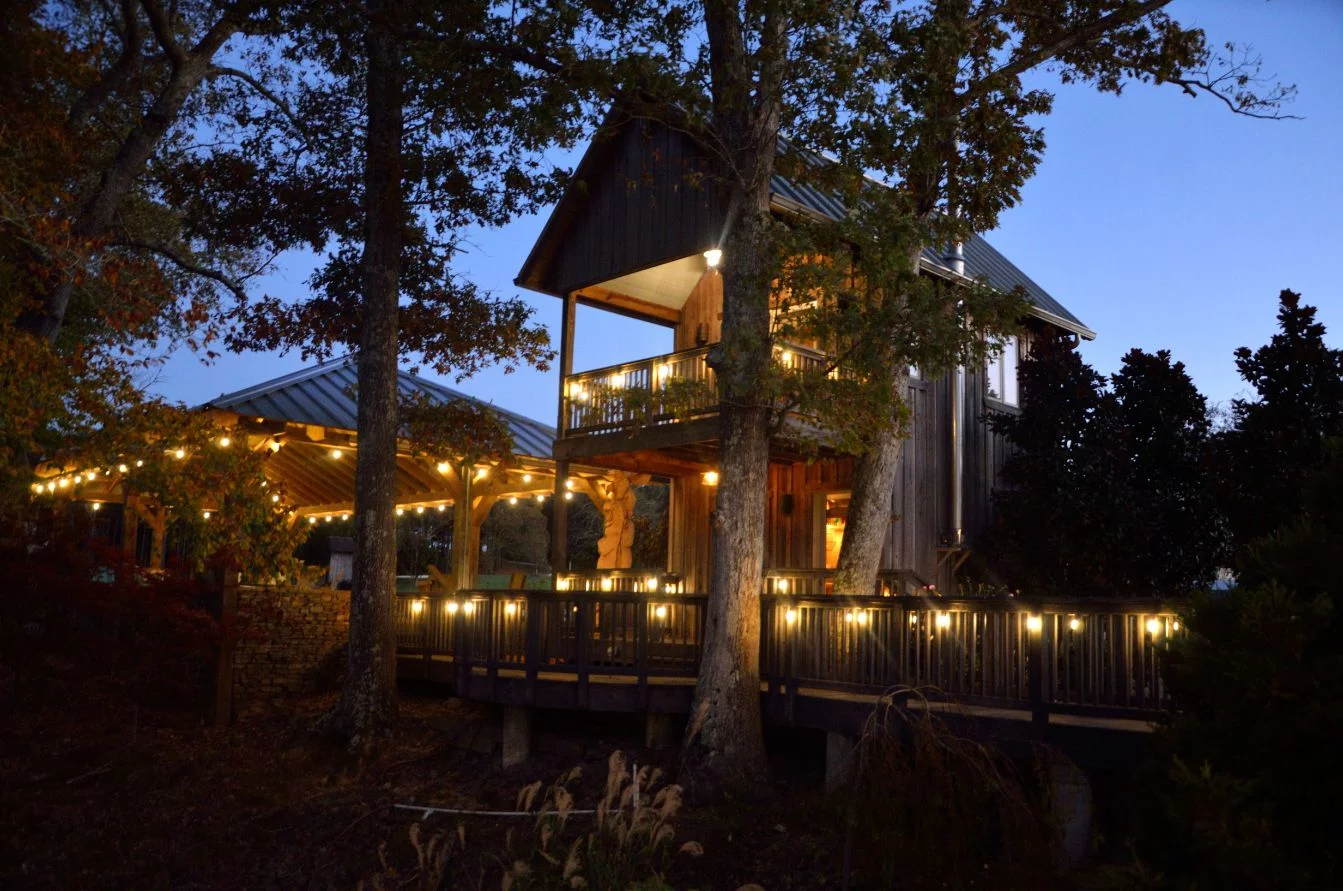 How far is Nashville from Pigeon Forge?
Nashville is 213 miles to Pigeon Forge – that's quite a long distance to drive to escape the city! Our cabins are located much closer in Springville, TN, only 2-2.5 hours away from Nashville.
Pigeon Forge is a very crowded, busy tourist town and not a great escape from the city.
Many tourists search for a vacation rental here, not knowing how busy and crowded it can get. Sandy Creek Farms is a much more peaceful, relaxing cabin retreat.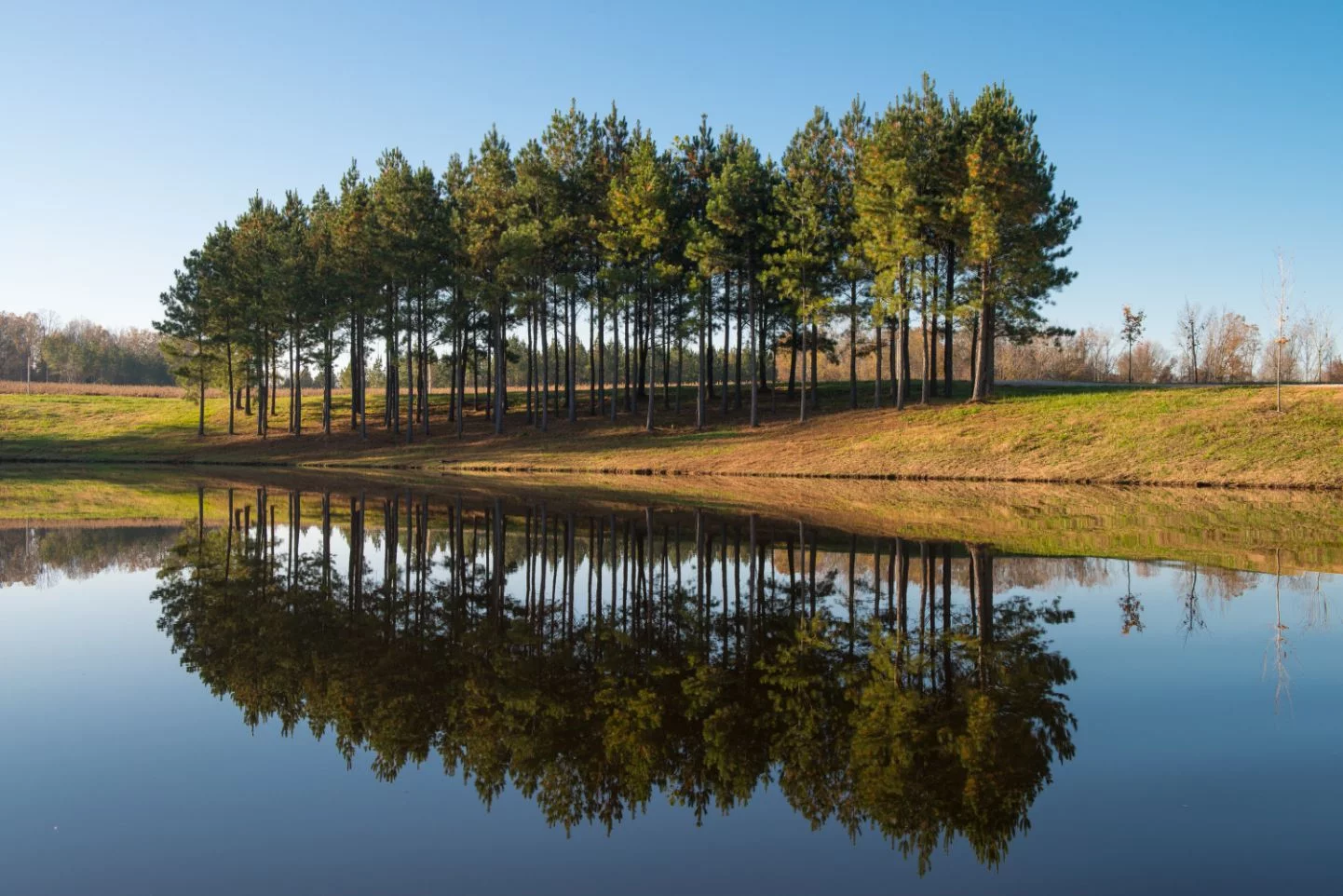 Distance from Sandy Creek Farms to:
Nashville, Tennessee: 1 hr 56 mins (116 miles)
Brentwood, Tennessee: 2 hr 3 min (123 miles)
Franklin, Tennessee: 2 hr 2 min (110 miles)
Hendersonville, Tennessee: 2 hr 8 min (120 miles)
Murfreesboro, Tennessee 2 hr 23 mins (143 miles)
Jackson, Tennessee: 1 hr 22 mins (69 miles)
Memphis, Tennessee: 2 hr 34 mins (152 miles)
Clarksville, Tennessee: 1 hr 14 mins (62 miles)

What is a vacation rental?
A vacation rental is a type of lodging where the renter rents out their home or cabin for others to stay in while they are on vacation. It's like having your full hotel suite, but you get to experience living at that location fully and not just sleeping there! A vacation rental is an excellent option for people who want to travel but don't want the hassle of having to book a hotel.
Our features
The vacation rental options at Sandy Creek Farms outside of Nashville offer all sorts of amenities such as flat-screen televisions with DVD players, free WiFi access, fire pits, full kitchens with an oven/microwave combo dishwasher refrigerator; even washer/dryer combination units on-site! And now we have cabins that can accommodate up to 6 people so big families can enjoy our cabins.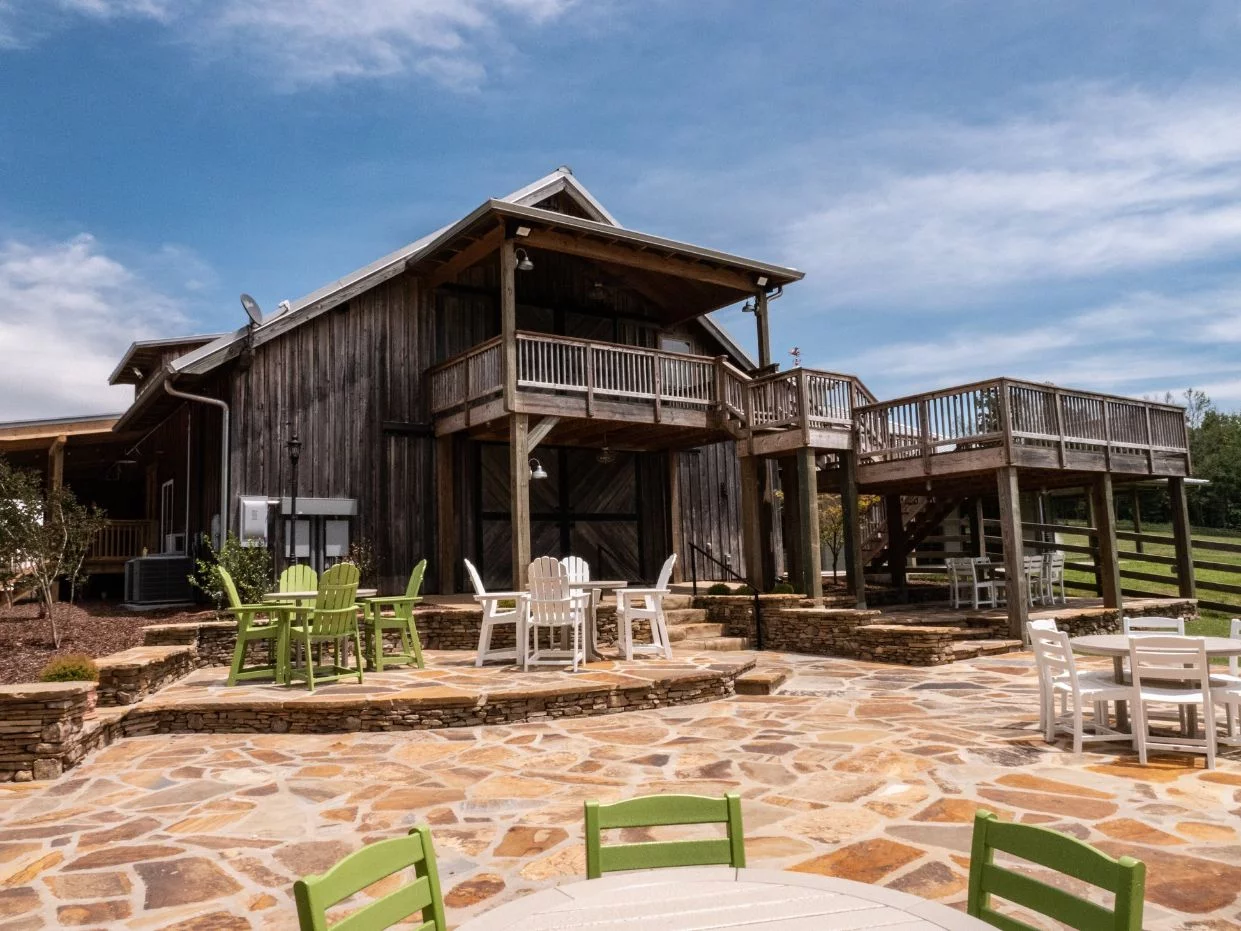 Which are the best cabins in Nashville that are good for families?
The best cabins in Nashville for families are the ones that allow pets, are far away from downtown, and offer amenities. The most popular cabin for families is Sandy Creek Farms in Springville, TN.
Good luck in your vacation rental search!
We hope this article helps you in your vacation rental search. If you have any questions, don't hesitate to reach out to us!