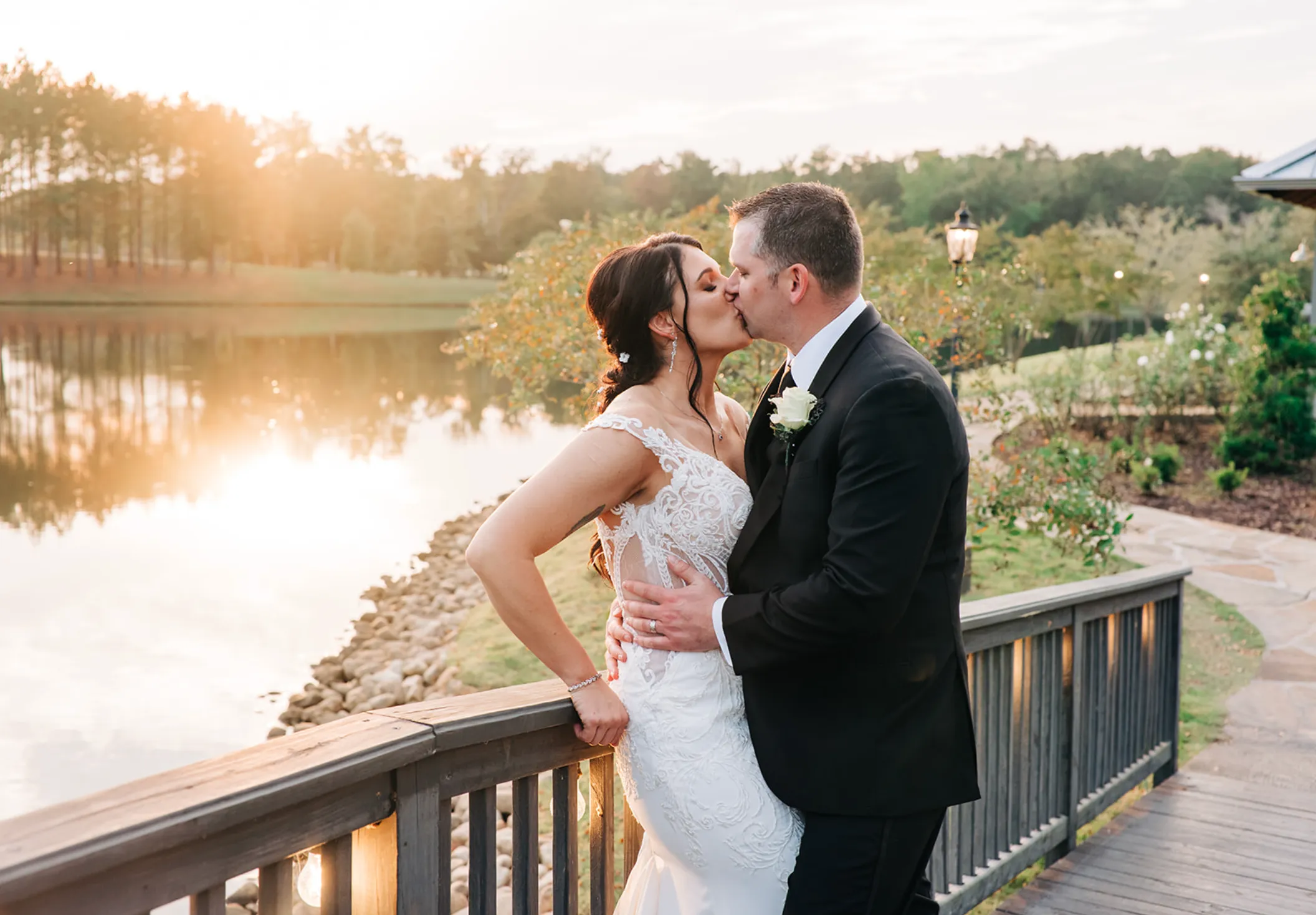 You're getting married in Nashville; congrats! We know you want to find the best outdoor wedding venues. With so many choices, it's tough to know where to start. There are a lot of factors to consider when choosing an outdoor wedding venue. You need to consider the size of your guest list, the type of ceremony you want, and your budget for the venue.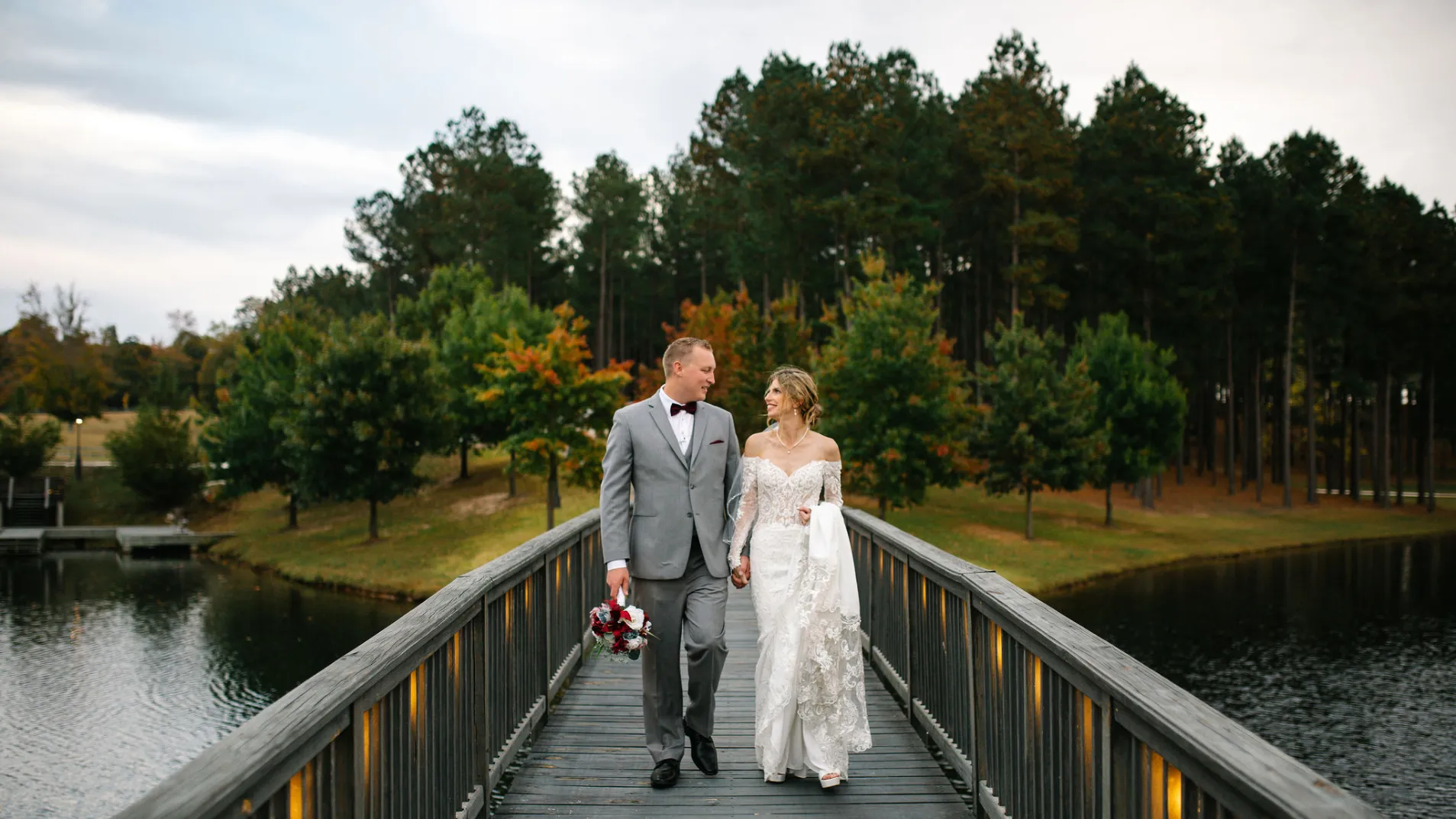 We put together our 23 favorite outdoor wedding venues in Nashville, TN, to help you narrow your search.
1. Sandy Creek Farms Destination Wedding Venue
We may be a bit biased ;), but where else can you get married in Tennessee on a private island AND take photos in a gorgeous Pine forest? If you want an enchanting woodland wedding, a breathtaking private island, a rustic barn reception, and more venues, you must visit Sandy Creek Farms.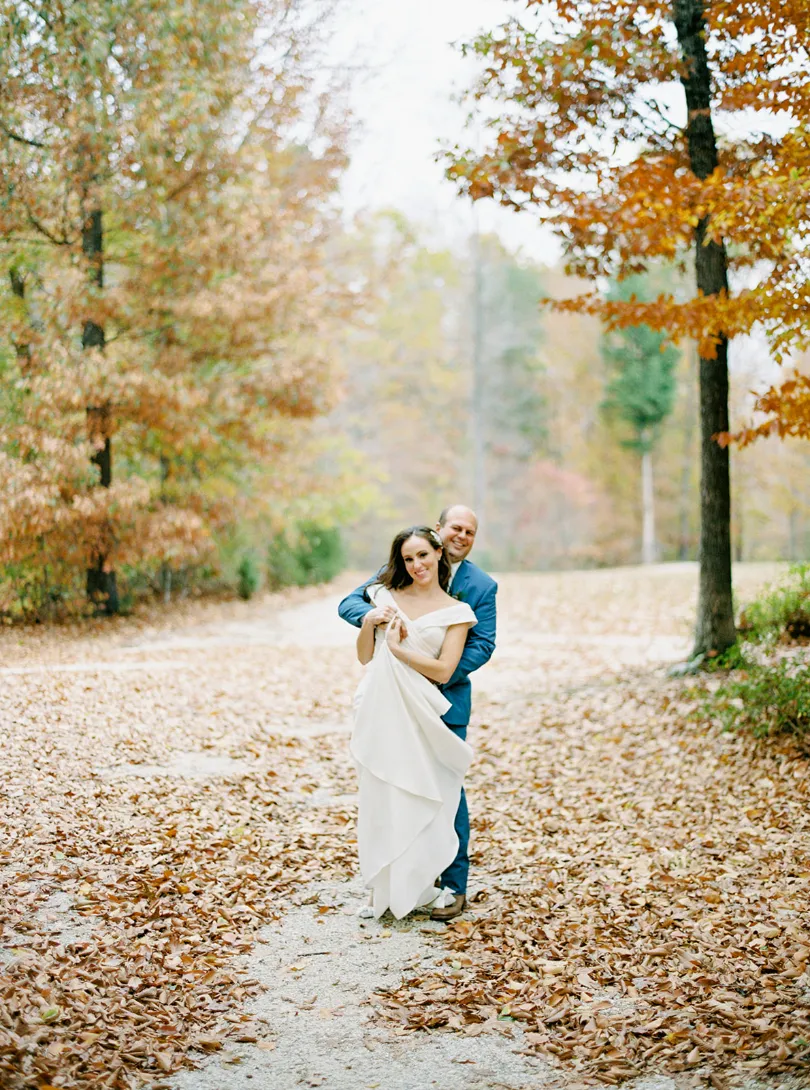 Here's what you'll love:
430 acres with manicured forests
Private island ceremony
10 miles of hiking trails
Six indoor and outdoor venue options
Six onsite lodging options (pet-friendly)
Bridal suite and grooms room
On-site gym, guest laundries, kitchen, and watercraft rentals
Upfront pricing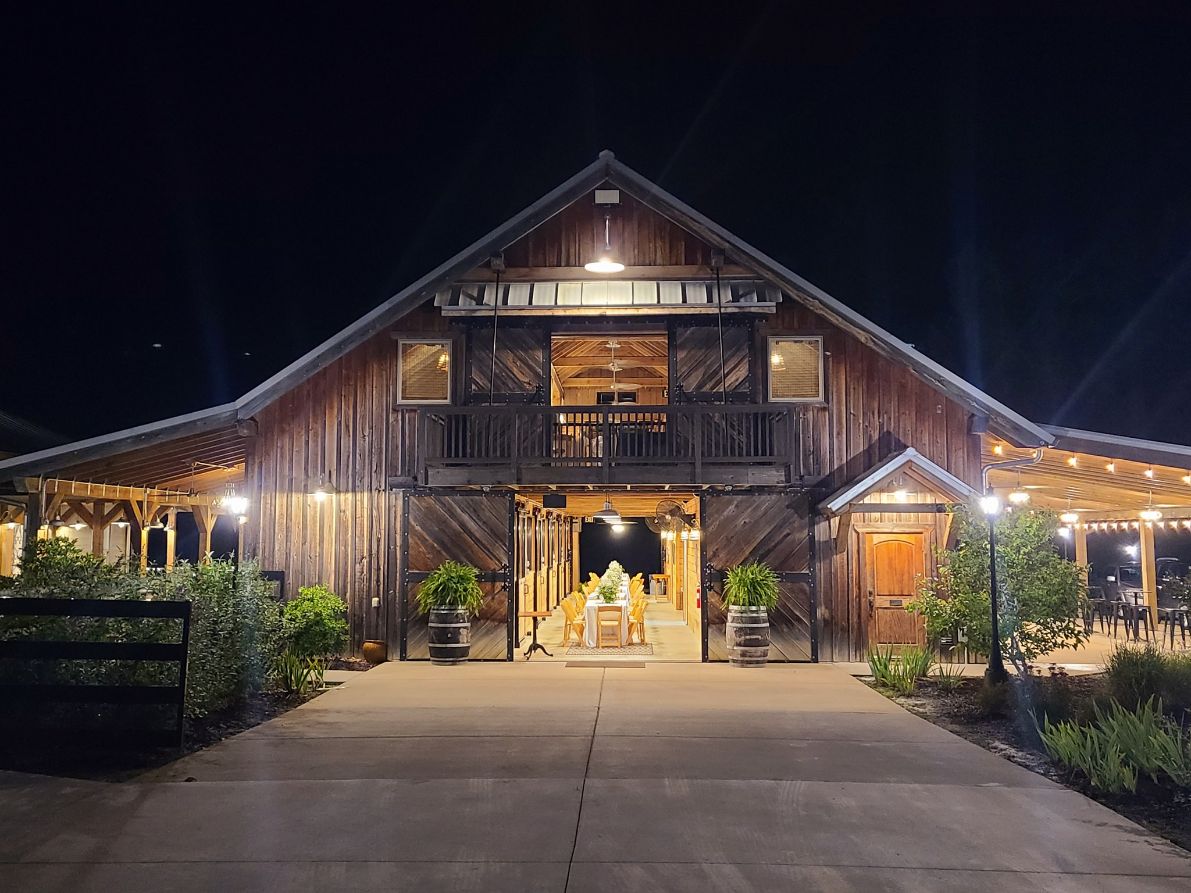 Click to view: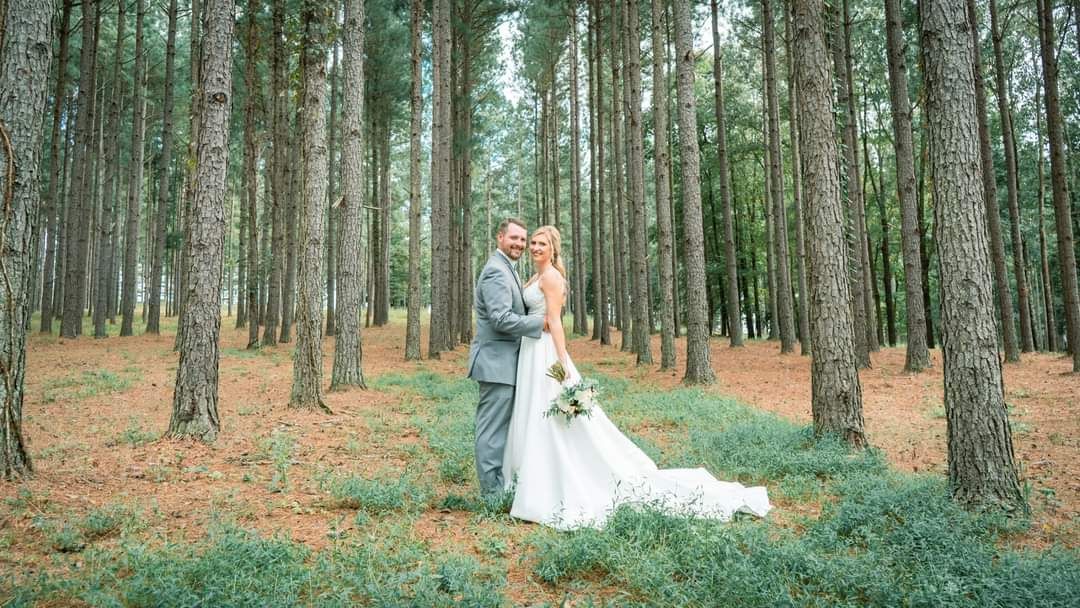 Our in-house team ensures that you have a stress-free, enjoyable wedding without worrying about all the details, where to put your wedding gifts, vendors, or logistics.
2. CJ's Off The Square
Are you looking for the best outdoor wedding venue in Nashville, TN? Look no further than CJ's Off the Square! Not only do they offer full-service wedding and event packages, but the garden wedding ceremony and outdoor reception settings in the heart of downtown Franklin provide a stunning and memorable setting. With customizable packages and curated style options, you can say buh-bye to party planning stress and hello to an incredible, fun-filled celebration!
3. The Estate at Cherokee Dock
The Estate at Cherokee Dock is a luxurious venue in Lebanon, Tennessee. This property is home to a private dock, a covered pavilion, horse stables and a pool, offering endless options for al fresco ceremonies and receptions. Whether it be an intimate wedding or a 300-guest celebration, couples can enjoy the former home of country singer Reba McEntire and the sprawling lakefront vistas of this Nashville landmark. With in-house catering and plenty of Southern charm, The Estate at Cherokee Dock is the perfect destination for your big day.
4. The Cordelle
The Cordelle is a historic wedding venue in downtown Nashville offering spectacular views of the city. Couples can choose from various spaces, including the Victorian home, the grand hall, or the outdoor garden.
Downtown Property for Your Ceremony and Reception
Boasting a maximum capacity of 400 guests, The Cordelle offers the perfect setting for your wedding with its hardwood flooring, exposed brick walls, truss ceiling, and 5,000 square feet of outdoor space with trees and flowering crape myrtles. With its onsite catering kitchen, three dressing rooms, two stages, built-in bistro tables, outdoor seating, a 20-foot marble bar, and multi-zoned and color-selectable lighting systems, The Cordelle is the perfect choice for your dream wedding.
5. Cedarwood Weddings
Cedarwood Weddings is a historic 50-acre estate located eight miles north of Nashville's city center, offering a magical and unique experience to create an unforgettable wedding celebration.
Cedarwood Features
With its lush nature preserves, rolling pastures, and a lake, the property is home to a double-gallery style mansion, a hallmark of southern architecture recalling that of New Orleans, Savannah, and Charleston.
Cedarwood Weddings offers the complete package for your special day, including invitations, catering, cake, music, decor, and event planning, all provided in-house.
6. The Hermitage Wedding Package
The Hermitage is a historical plantation and museum located in Hermitage, Tennessee, and is famously known as the home of Andrew Jackson, the 7th President of the United States. This idyllic venue is the perfect backdrop for weddings, receptions and other special events, with four indoor and outdoor event spaces. Couples can enjoy the lush gardens and the main mansion as they plan their perfect day.
7. Butterfly Hollow Bed and Breakfast
Butterfly Hollow Bed and Breakfast is a truly unique Bed and Breakfast experience located in Gordonsville, TN. Nestled in the Cumberland Foothills, the picturesque B&B features quaint wood buildings and gardens connected by stone walking paths. Couples can hold their ceremony in a sweet hillside gazebo and receptions in an open-sided, timber-framed barn.
8. Cheekwood Estate and Gardens
Cheekwood Estate and Gardens is a historic wedding venue in Nashville, Tennessee, constructed in 1929. This elegant estate originally served as a private home before its conversion to an art museum in the 1960s.
Today, this beautiful setting hosts numerous weddings and soirees in its stylish venues. This 55-acre estate boasts seven ceremony sites and three reception sites, making it one of Nashville's most iconic and beloved landmarks.
9. Iriswoods Weddings and Events Venue
Iriswoods Weddings and Events Venue is a historic wedding venue. This secluded property is on 18 acres of stunning scenic surroundings, including beautiful woods and pastures. The venue provides several locations for your special day, including a furnished loft, groomed outdoor spaces, indoor barn space, reception hall, event center, and other beautifully appointed areas. There are also six lodging options for you and your guests. You can also take advantage of our private island. Whether you want a garden wedding or something more rustic, you'll surely have the perfect day with Iriswoods Weddings and Events Venue.
10. Belle Meade Historic Site & Winery
Belle Meade Historic Site & Winery is an 1853 mansion surrounded by lush gardens and stunning farm views. It's the perfect destination if you're looking for a medium to large event space of up to 200 guests. With an entirely renovated garden, the boxwood garden is often used for breathtaking outdoor ceremonies. You can pick between a tent option or the carriage house for your dinner. Your wedding package will include an event supervisor, a bridal suite, and cocktail time activities.
11. Cheval Manor Banquet Hall
Cheval Manor is a venue in Murfreesboro, TN, with a spacious barn for your reception, an outdoor Pavilion, and several lodging options on Airbnb.
12. The Hermitage Hotel & Accommodations
The Hermitage Hotel is an elegant and nostalgic venue in Nashville, Tennessee. It is a 1920s-style hotel with classical Italian and French Renaissance style, boasting grand staircases and original chandeliers. The Hermitage Hotel offers wedding packages to fit any budget and can accommodate up to 300 guests.
The Grand Ballroom and Lobby can host hundreds of people, while the Veranda is more intimate for intimate ceremonies and receptions for up to 150 people. With its idyllic background, The Hermitage Hotel is the perfect place to host your special event.
13. The Horton Building Event Space
The Horton Building is a historic building full of exposed brick and reclaimed wood, blocks from Broadway, that offers the perfect setting for a boho-chic wedding. With a capacity of 150 seated guests, it's the perfect wedding and event space for your special day.
14. Legacy Farms
Legacy Farms is an idyllic 22-acre family-owned and operated event venue outside Nashville. With breathtaking spaces and gourmet catering, Legacy Farms offers a range of elegant options for your wedding or reception with plenty of options for your ceremony/reception, including its historical manor, updated bridal suite, and the groom's quarters. You can also find many styles of tables, chairs, decor, centerpieces & more on-site to avoid delivery fees and take advantage of their wedding planning tools. Plus, newlyweds can stay the night in the Manor at Legacy Farms, with a hot gourmet breakfast provided! Legacy Farms is the perfect place for an outdoor ceremony, indoor reception, intimate elopement, or grand weekend.
15. The Bridge Building
The Bridge Building is an iconic event space located on the downtown riverfront of Nashville, Tennessee. With breathtaking views of the city, this historic building offers an array of customizable areas for all celebrations, from ceremonies to receptions. The Bridge Building features an on-site kitchen, in-house catering and handcrafted menus by Infinity Events & Catering, lighting and audio-visual services, and professional wait staff. An experienced event planning team is on hand to take care of every detail and customize any wedding to suit every need. Couples will choose modern indoor and outdoor options, including a tranquil rooftop patio with a dance floor and spectacular panoramic views of Nashville.
16. The Belmont Mansion
The Belmont Mansion in Nashville is a Victorian property with an aura of elegance layered with ornate finishes and antique touches. This 19,000-square-foot Italianate villa is located in the center of Belmont University's campus, offering a stunning venue for small, intimate elopements or large, elegant weddings. Special rental rates are available for elopements, and packages include services such as covered chairs, tables, dressing rooms, a gift table, a grand piano, a photographic shoot, state-of-the-art sound systems, and professional event planning and coordination teams to take care of every detail.
17. Riverwood Mansion
Riverwood Mansion is a stunning historic venue in the East Nashville community, just 15 minutes from downtown. This venue features 8 acres of lush gardens and grounds, surrounded by majestic magnolia trees and Greek Revival architecture, with a pavilion that can accommodate up to 300 people. Guests can find stunning marble fireplaces and sparkling chandeliers, providing the perfect backdrop for any special occasion. Riverwood Mansion also offers all-inclusive packages with officiants, cakes, catering, flowers, DJs, and event planners, making for an unforgettable day.
18. Easy Ivy Mansion
East Ivy Mansion is an 1867 Italian Renaissance-style mansion that offers a luxurious setting for weddings and other special events. With 44,000 square feet of indoor and outdoor space, the East Ivy Mansion is a stunning venue featuring crystal chandeliers, marble fountains, Italian plaza-esque courtyards, and antique spiral staircases. The property offers a pool house, multiple gardens, and cabana areas that add a touch of cinematic luxury to the space. Guests can enjoy comfortable guest rooms, a grand winding staircase, a sparkling swimming pool with walk-in cabanas, and two gardens with waterfalls and koi ponds.
19. Mint Springs Farm
Mint Springs Farm is an all-inclusive wedding venue in Nolensville, Tennessee, surrounded by rolling hillsides and a peaceful lake on a 40-acre property.
20. White Dove Barn
White Dove Barn is a barn wedding venue in Beechgrove, Tennessee, near Murfreesboro. With 10 acres of farmland and a tranquil landscape, the barn is painted white for an elegant look and can accommodate up to 250 guests. Couples can enjoy plentiful photo opportunities with the pond, hills, and pasture, the outdoor ceremony site surrounded by a beautiful tobacco barn fence, a climate-controlled barn with farm tables and chairs, a groom's room, and a cocktail garden with lawn games, and a fire pit. The cozy bridal suite can accommodate up to 8 guests, and couples can add a personal touch to transform the barn into an enchanted venue.
21. The Bell Tower
The Bell Tower is an iconic 1874 former church in the heart of Nashville, Tennessee, that has been renovated to offer modern amenities. Couples will love the open floor plan with exposed wooden beams, an upper-level mezzanine, and natural light. Services include in-house catering, lighting, audio-visual services, and professional wait staff. There is also an outdoor patio available for alfresco events.
22. The Renaissance Nashville Hotel
Renaissance Nashville Hotel is a stunning wedding venue in the heart of Nashville, Tennessee. This venue provides modern and luxurious accommodations, with soft bedding and marble bathrooms to ensure couples and guests feel relaxed and rejuvenated. It can accommodate up to 300 guests and offers 47 photos to view.
23. The Graduate Hotel Wedding Venue in Nashville
The Graduate is a unique hotel wedding venue located in the heart of Nashville, Tennessee. This chic property boasts an eclectic combination of designs and provides couples with a quaint and colorful guest room. The stunningly refined ballroom is perfect for milestone celebrations, accommodating up to 250 guests. With a 4.6 rating out of 5 and 4 reviews, couples can be sure of an unforgettable day when they choose The Graduate for their wedding.