Are you a nature lover dreaming of an outdoor wedding but worried about rain or unpredictable weather ruining your big day? Fear not, because we've got the perfect solution for you – greenhouse wedding venues! Imagine exchanging vows surrounded by the vibrant greenery and fragrant blooms of a lush garden, all while being sheltered from the elements. These 6 greenhouse wedding venues offer a modern and unique way to bring the beauty of the outdoors inside, creating a romantic and unforgettable setting for your special day. So let's take a tour of these magical venues where nature and romance truly blossom indoors!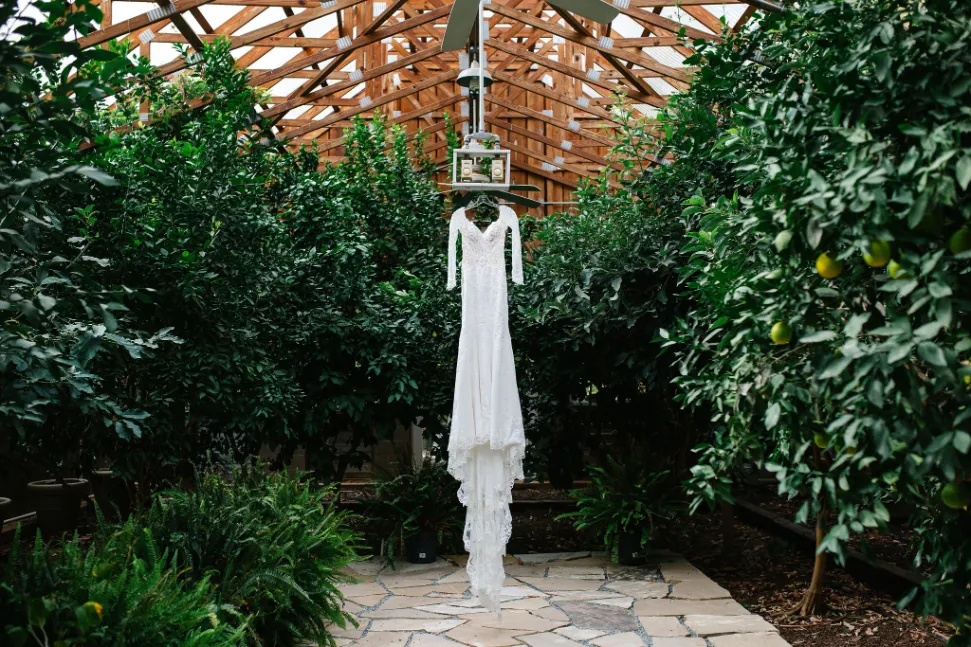 Breathtaking Greenhouse Wedding Venues around the USA
Starting off this list is our wedding venue, Sandy Creek Farms!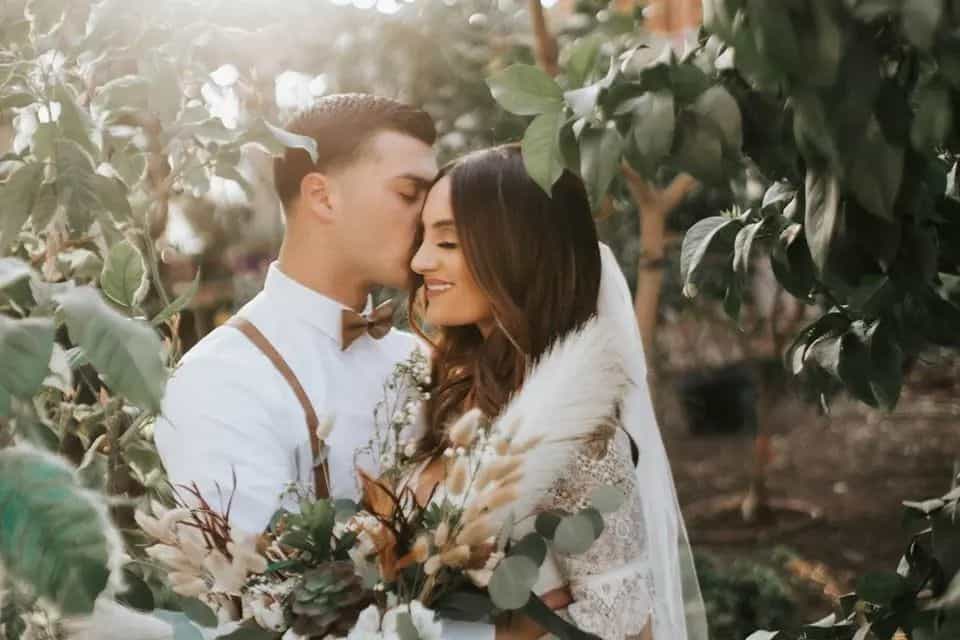 1. Sandy Creek Farms in Tennessee
A Dream Destination for Your Picture-Perfect Wedding
Are you looking for a one-of-a-kind wedding venue that combines rustic charm with modern amenities? Look no further than Sandy Creek Farms in Springville, TN! This idyllic location boasts a range of unique wedding spaces, from a romantic greenhouse to a private island, ensuring that your big day is both unforgettable and personalized to your preferences.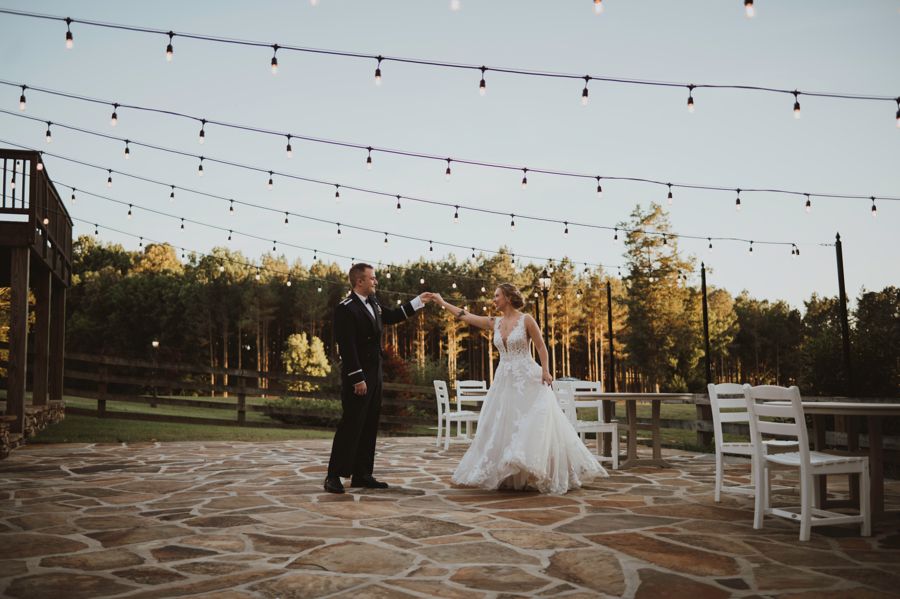 Destination Wedding Venue in Tennessee
Sandy Creek Farms is the perfect spot if you're planning a destination wedding in Tennessee. Nestled in the heart of the picturesque countryside, this venue offers a true Southern experience with warm hospitality and breathtaking views. Sandy Creek Farms has the perfect space, whether you're looking for a small, intimate wedding or a grand celebration with all your loved ones.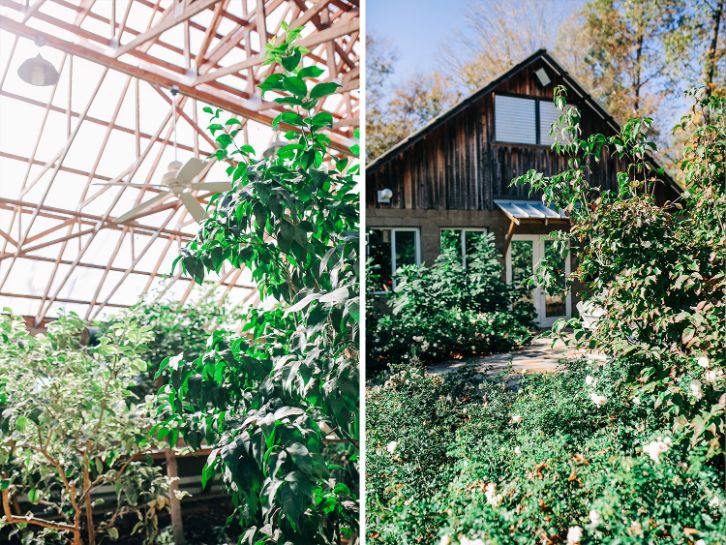 Greenhouse Wedding Venue
For couples who love the beauty of nature but want to stay protected from the elements, Sandy Creek Farms' greenhouse wedding venue is a perfect choice. With its lush foliage and fragrant blooms, this space is a dream come true for those who want to say "I do" surrounded by the beauty of the great outdoors, no matter the season.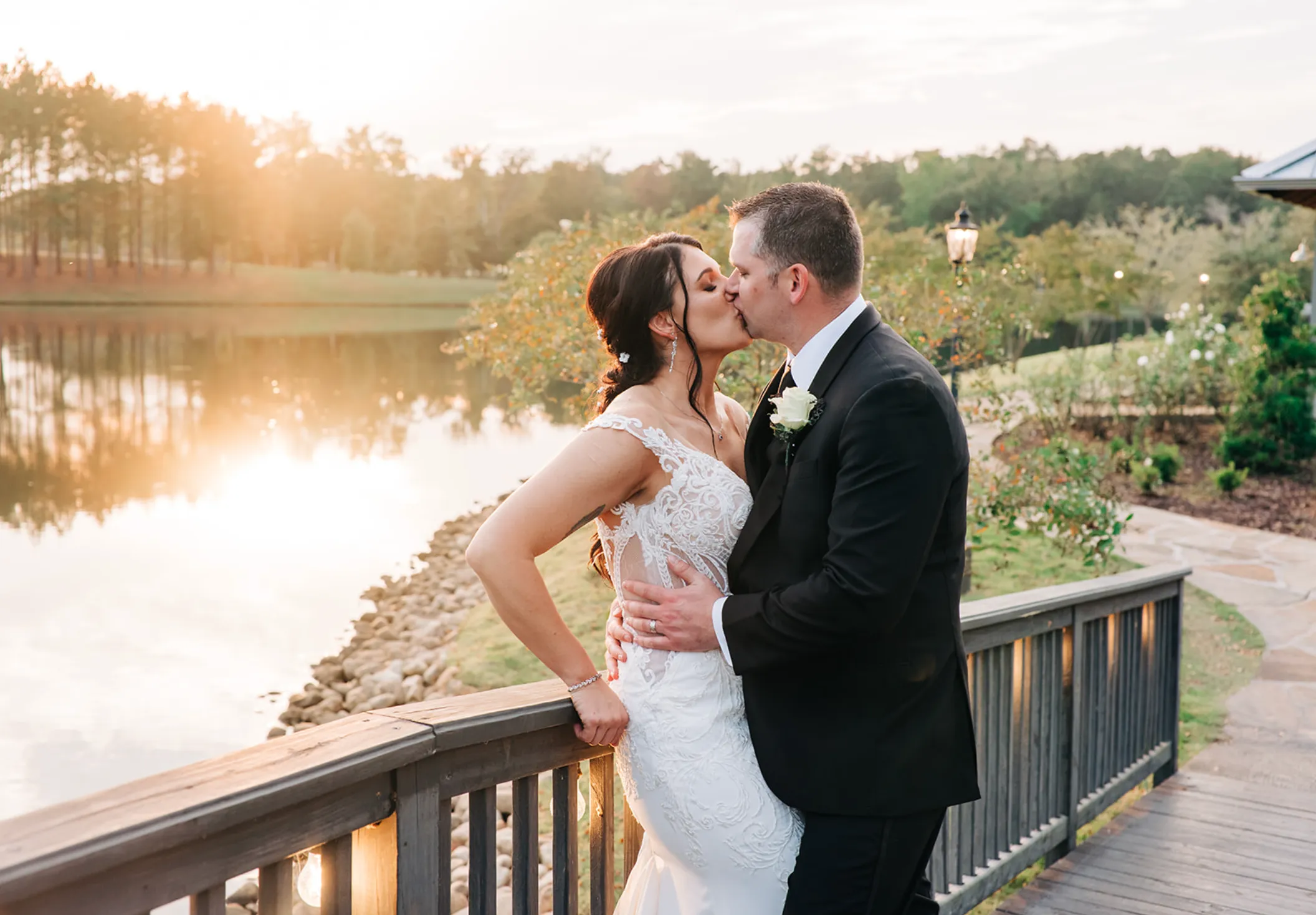 Private Island Wedding Venue
If you're dreaming of a truly breathtaking and unmatched wedding, Sandy Creek Farms' private island wedding venue will surely wow your guests. Imagine exchanging vows surrounded by the tranquil waters of a shimmering lake, with a backdrop of verdant trees and rolling hills. This secluded space offers privacy and natural beauty, making it the perfect choice for a memorable and intimate celebration.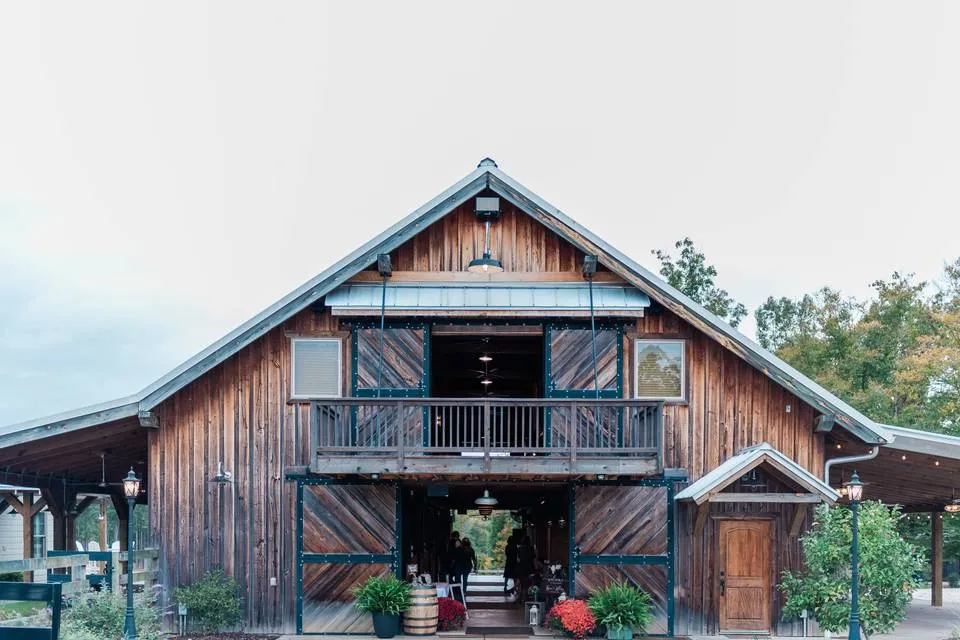 Rustic Barn Wedding Venue
For those who love the warmth and charm of a rustic barn wedding, Sandy Creek Farms has you covered (literally). Their picturesque barn venue AKA The Stables offers a classic, down-to-earth feel, with its exposed beams, polished wooden floors, and expansive windows that let in the light. Whether you're looking for a casual, bohemian vibe or a more elegant and refined atmosphere, this venue can be transformed to suit your unique style.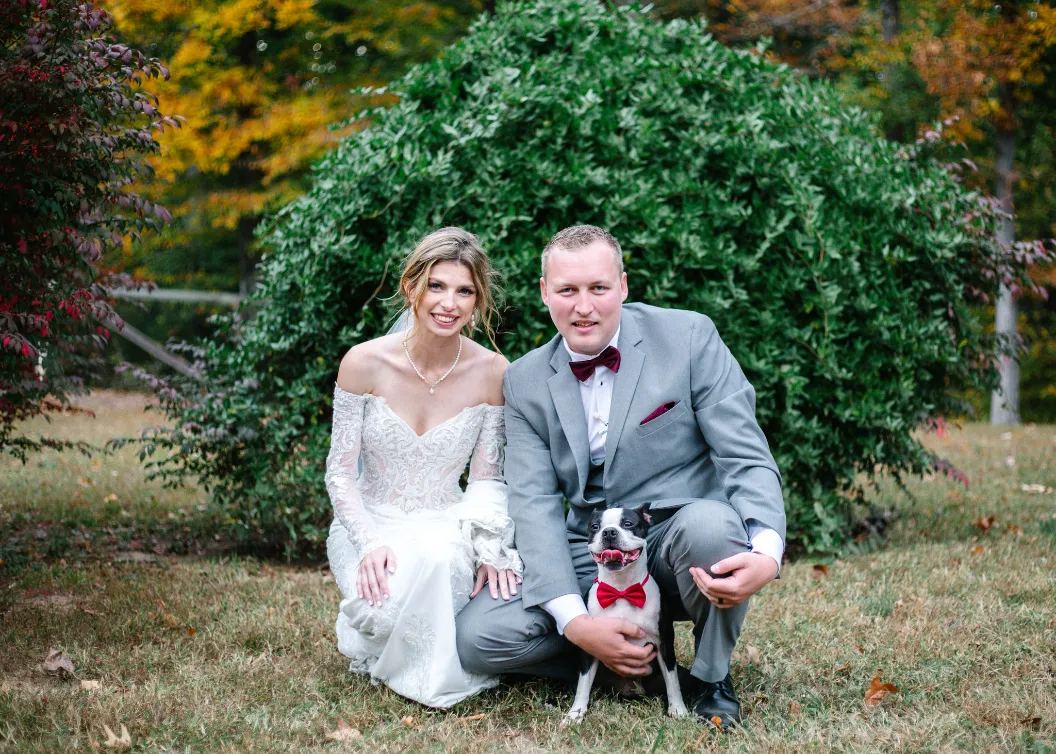 At Sandy Creek Farms, the possibilities are endless.
With its range of unique and versatile spaces, this venue is the perfect choice for couples who want a truly their own wedding. So why wait? Contact Sandy Creek Farms today and start planning the wedding of your dreams!
2. Garfield Park Conservatory in Chicago, Illinois
184-acre park with a swimming pool, fishing lagoon, athletic fields & tennis courts.
Located in: Garfield (James) Park
Address: 300 N Central Park Ave, Chicago, IL 60624
Phone: (773) 638-1766
Total capacity: 300
Looking for a wedding venue that will transport you to a verdant paradise? Look no further than the Garfield Park Conservatory! This multi-room greenhouse is warm, lush, and oh-so-fragrant, making you feel like you've stepped into a tropical oasis. The Horticultural Hall is a true plant lover's dream, with greenery hanging from the skylit ceiling and covering every inch of available space. And if you want to take your celebration outside, the Bluestone Patio is perfectly landscaped, featuring a stunning white pavilion just waiting for your al fresco wedding ceremony. Whether you reserve just one space or the entire conservatory, your celebration will surely be unique and incredibly Instagram-worthy!
Horticulture Hall
Square Feet: 4,986wedding in long hall
Height: 15′
Theater: 300
Banquet: 300
Cocktail: 400
Artist's Garden
Measurements:100′ x 50′
Height: Outside
Theater capacity: 100
Banquet capacity: 100
Cocktail capacity: 250
Jensen Room
Square Feet: 1,728
Height: 15′
Theater capacity: 150
Banquet capacity: 100
Cocktail capacity: 150
Community Room
Square Feet: 1,600
Measurements: 40′ x 40′
Height: 20′
Theater capacity: 100
Banquet capacity: 50
Cocktail capacity: 150
The Garfield Park Conservatory is a breahtaking greenhouse wedding venue because it offers 12 acres of lush gardens and greenhouses, including the iconic Horticulture Hall and Artist's Garden, with several indoor and outdoor spaces that can accommodate various of sizes and styles of weddings. The venue has been a part of the Chicago landscape since 1908, and the Garfield Park Conservatory Alliance was created to manage and preserve the venue. You can bring your dream dinner to life with one of the 15 recommended caterers and explore the 12 acres for photoshoots and exploration. With the addition of plants hanging from the ceiling and used for ground-level décor, your wedding will be filled with abundant beauty and greenery.
3. The Ivy Room at Tree Studios
12 E Ohio St., Chicago, IL
Setting: Ballroom, Garden, Historic Venue, Hotel, Trees
Capacity: 200
Price: $$$ – $$$$
Modern Gardens & Oasis
Get ready to step into a modern oasis in the heart of River North at The Ivy Room, in Medinah Tree Studios, just two blocks from the Magnificent Mile! Whether planning an intimate dinner party, engagement bash, or a full-blown wedding celebration, The Ivy Room has you covered. With picturesque views of the courtyard garden through the ballroom windows, every event is transformed into an extraordinary experience.
Location, location, location
And let's not forget about the location! The Ivy Room is just a hop, skip, and a jump away from all of Chicago's best sights and sounds, from Navy Pier to Millennium and Grant Parks. So you and your guests can enjoy the beauty and convenience of one of the Windy City's most incredible venues.
Event Spaces
At The Ivy Room, you can choose from two fantastic event spaces, with room for up to 180 seated guests or 200 standing. And with in-house catering, A/V equipment, handicap accessibility, valet parking, and WiFi, you can rest easy knowing your event will go off without a hitch. So what are you waiting for? Come experience the history of artistic elegance at The Ivy Room and let your event shine!
4. Chihuly Garden and Glass in Seattle, Washington
$250 per person and up
206-905-2180
305 Harrison Street, Seattle, WA 98109
Nestled in the heart of Seattle Center, just a stone's throw from the Space Needle, lies a venue that's truly out of this world. The Chihuly Garden and Glass is a feast for the senses, featuring a stunning collection of works by world-renowned glass artist Dale Chihuly, showcased throughout stylish indoor and outdoor exhibits that are sure to take your breath away.
Glasshouse with Sculptures
But the true show-stopper of the venue is the Glasshouse, a central space with 40-foot tall arched glass walls and a 100-foot long sculpture in shades of red, orange, yellow, and amber. The colors shift and dance as natural light filters through the space, creating a mesmerizing, magical display.
Garden Wedding Ceremony
Of course, no visit to the Chihuly Garden and Glass would be complete without a stroll through the Garden, where Chihuly's sculptures seem to bloom and grow among a dazzling collection of trees, plants, and flowers. It's the perfect spot for a romantic ceremony or a quiet moment of reflection.
And when it comes time to celebrate, the Glasshouse is the perfect spot for a striking reception. With its massive glass-and-steel structure and the richly-colored, 100-foot-long suspended glass sculpture, it's a space that's sure to make a lasting impression.
So whether you're looking to host an intimate gathering or a grand celebration, the Chihuly Garden and Glass is the perfect spot. With in-house catering, a preferred vendor list, or the option to bring your own, it's a venue that's both flexible and fabulous.
5. Conservatory of Flowers in San Francisco, CA
Stunning glass landmark set in Golden Gate Park
Tented al fresco events held on the adjoining lawn
Exotic plants, from orchids and water lilies to amazing palms and ferns.
415-264-0554
Conservatory Access Road, San Francisco, CA 94117
Price: $4,600–25,000
Looking for a wedding venue that's as resilient as your love? Look no further than San Francisco's Conservatory of Flowers in Golden Gate Park. This stunning glass landmark has stood strong for 140 years, surviving everything from earthquakes to windstorms.
Interior and Exterior Event Spaces
The Conservatory's interior is just as breathtaking as its exterior. Start your event in the Vestibule, where guests can enjoy cocktails and admire the vibrant green, orange, ruby, and blue hues punctuating the surrounding glass.
From there, move on to the Lowland Tropics, where you'll find the jaw-dropping century-old philodendron and other tropical plants. In the Highland Tropics gallery, you'll discover delicate high-altitude orchids, while the Aquatic Plants gallery features a pond with little waterfalls and the massive Victoria amazonica lily pads.
The Conservatory's Potted Plants area showcases hibiscus blooms in a variety of vibrant colors and orchids in all the sizes, shapes, and colors you can imagine. You'll also spot spiky-stemmed Madagascar Palms and banks of plants with mesmerizing leaf textures, shapes, and patterns.
For larger sit-down events, head to the Orchid Pavilion. And for outdoor ceremonies, take advantage of the adjoining lawn or platform. Whether you're a flower lover or just want a truly unique venue, the Conservatory of Flowers is a San Francisco landmark perfect for any celebration.
6. Planterra Conservatory in West Bloomfield, Michigan
Up to 200 Guests
7315 Drake Rd. West Bloomfield, MI, 48322
(248) 661 – 1515
Est. in 1930, remodeled in 2019
Starting at $40,458 for 100 guests in Jan/Feb
Planterra Conservatory, the gem of West Bloomfield, Michigan – this Couples' Choice Award winner is a true marvel of greenhouse wedding venues!
Botanical Gardens in Michigan
What makes it so special, you ask? Well, for starters, the glass-enclosed botanical garden was actually imported all the way from Belgium, darling. That's right – this greenhouse is so fabulous, it had to be imported from overseas! And with indoor koi ponds, a stunning stone archway, and a plethora of unique plant life, this venue is truly a feast for the eyes.
All-Inclusive Wedding Venue
But that's not all – Planterra Conservatory is an all-inclusive venue, which means they can provide everything from food to rentals, floral design, décor, and more. No need to stress about finding separate vendors for every little thing – they've got you covered. And with a capacity of up to 200 guests, you can invite all your loved ones for a truly unforgettable event.
So, if you're looking for a greenhouse wedding venue that's equal parts elegant, unique, and all-inclusive, Planterra Conservatory is the place for you. Book your date now and get ready to be transported to a botanical wonderland that you and your guests will never forget!
Grand Rapids Downtown Market – Another Greenhouse Option in Michigan
435 Ionia Ave. SW, Grand Rapids, MI 49503
616-805-5308
if you're on the hunt for the perfect wedding venue, look no further than Downtown Market Grand Rapids.
Why, you ask? Well, for starters, the scenery and views of downtown Grand Rapids are simply breathtaking. Can you imagine saying your "I do's" with the city skyline as your backdrop? Swoon. And with exclusive catering options available, you can rest assured that your guests will be well-fed and happy.
But that's not all – the building itself is simple and modern, which means it can serve as the perfect canvas for your wedding reception or ceremony. Want to go minimalist-chic with your décor? This venue has got you covered.
And let's talk about the events team, shall we? These folks are fun, collaborative, and hard-working – they coordinate a whopping 70+ wedding celebrations annually, so they know exactly how important your big day is. They'll treat you with individuality, respect, and compassion, ensuring that your wedding is nothing short of unforgettable.
Oh, and did we mention they can help with your bachelor or bachelorette party too? That's right – Downtown Market Grand Rapids is your one-stop shop for all things wedding-related.
So, if you're ready to make your wedding dreams a reality, book your date at Downtown Market Grand Rapids. Your guests (and your Instagram followers) will thank you.
6. The Horticulture Center in Philadelphia, Pennsylvania
Up to 300 guests
Starting at $260 per person, 100 person minimum
100 North Horticultural Drive Philadelphia, PA, 19131
(267) 886-1472
Ah, The Horticulture Center, where history and modern elegance collide to create a stunning wedding venue in Philadelphia, Pennsylvania. With both indoor and outdoor spaces available, couples can say their "I do's" surrounded by lush gardens and a unique exhibition hall and greenhouse.
This venue has got the goods to impress your guests, accommodating up to 250 people for the ceremony and reception and over 300 for a seated dinner or cocktail reception. Plus, with Constellation Culinary Group as their exclusive caterer, you know you're in for some seriously delicious locally-sourced eats.
And let's not forget about the open bar with an array of wine, beer, liquor, and specialty drinks to keep your guests happy and hydrated. The Horticulture Center even provides chairs, tables, linens, barware, china, flatware, and glassware, so you don't have to worry about a thing.
Oh, and did we mention that a portion of the event fees goes to benefit the Fairmount Park Conservancy? So, you can feel good about giving back while celebrating your big day in style.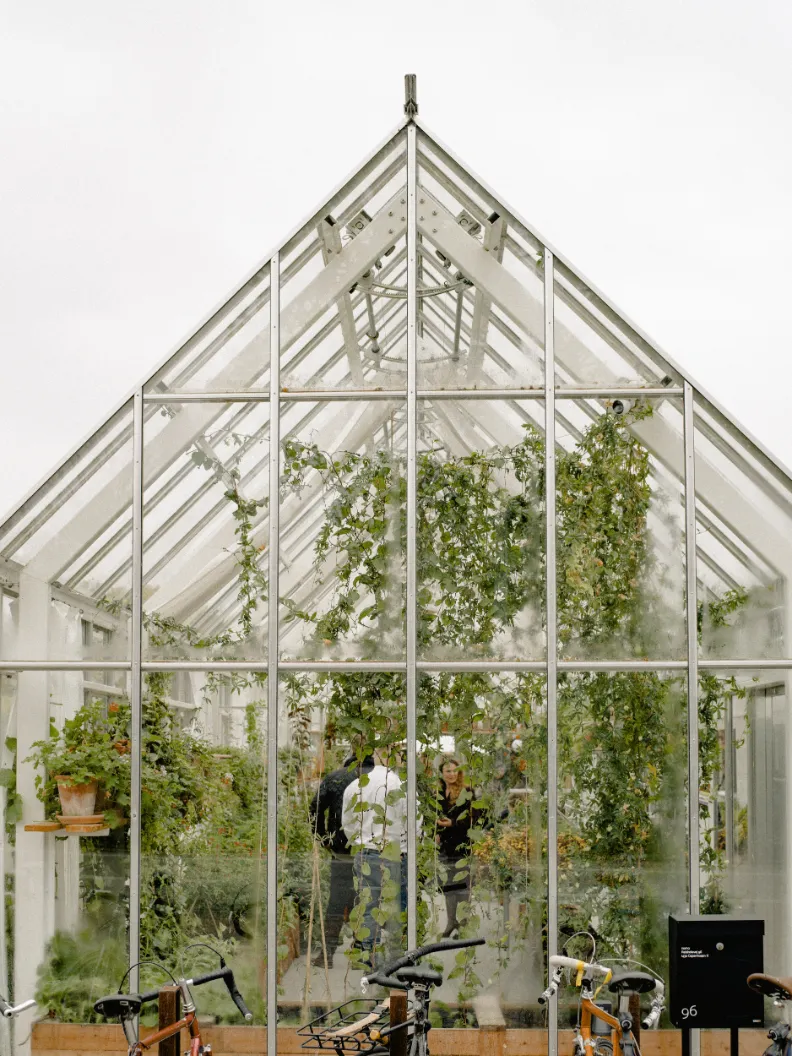 FAQ about Greenhouse Wedding Venues
Wedding planning got you feeling more confused than a chameleon in a bag of Skittles? No worries, we've got the answers to all your burning questions about greenhouse wedding venues. Need to know if you can bring your pet flamingo as a ring bearer? Wondering if you can use the cacti as centerpieces? Curious if you'll be sharing your vows with a family of Venus flytraps? :) Well, you'll have to ask the venue for that! But we can help you ith general information about greenhouse wedding venues in the USA. So sit back, relax, and let us guide you through the wild and wonderful world of greenhouse weddings.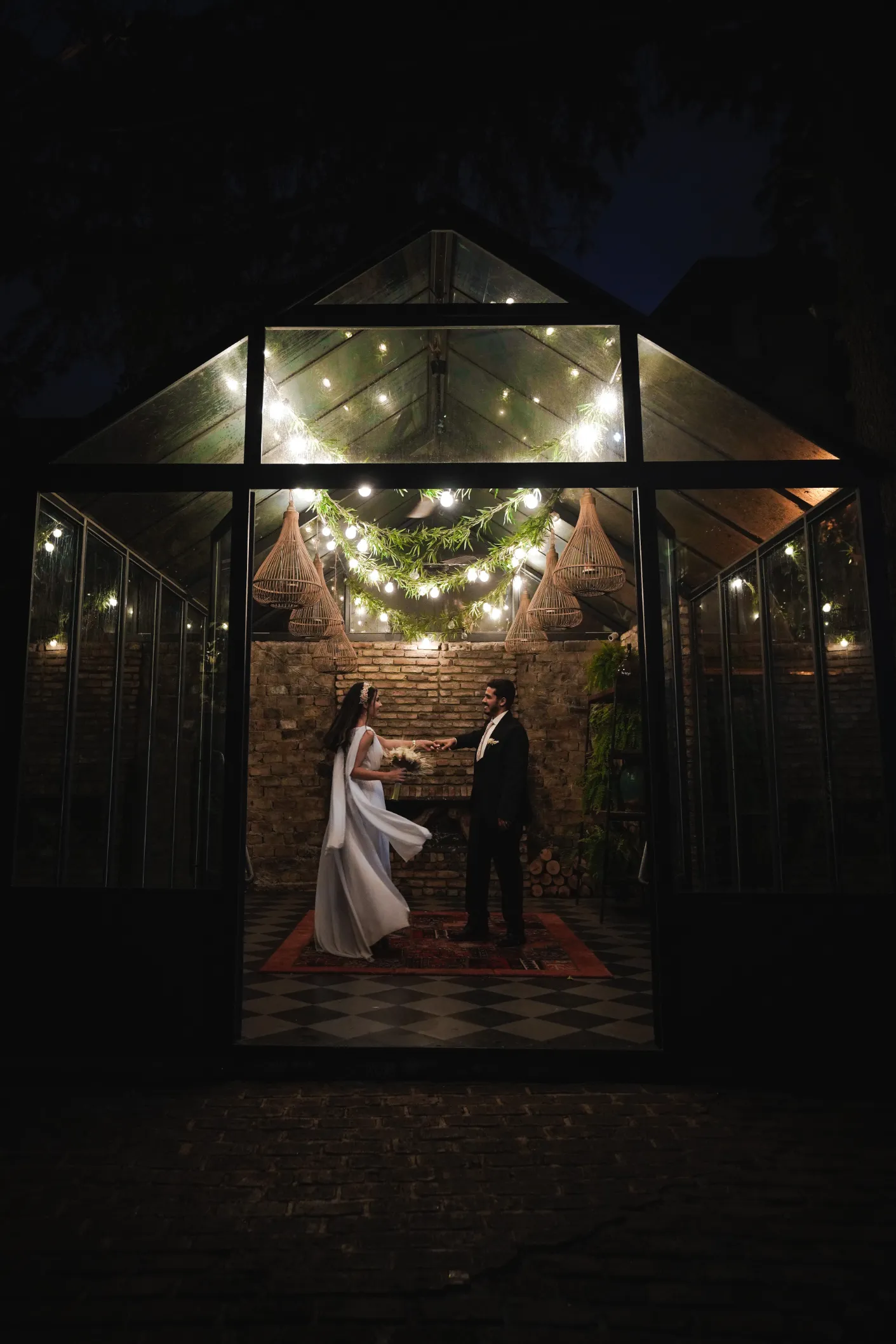 What features do greenhouse wedding venues offer?
Oh, the allure of a greenhouse wedding! These venues offer more than just a stunning backdrop of greenery and blooming plants; they're like a botanical wonderland, bringing nature's beauty indoors. You'll feel like you've stepped into a secret garden, where the natural light and fresh air create an enchanting ambiance that's both romantic and peaceful.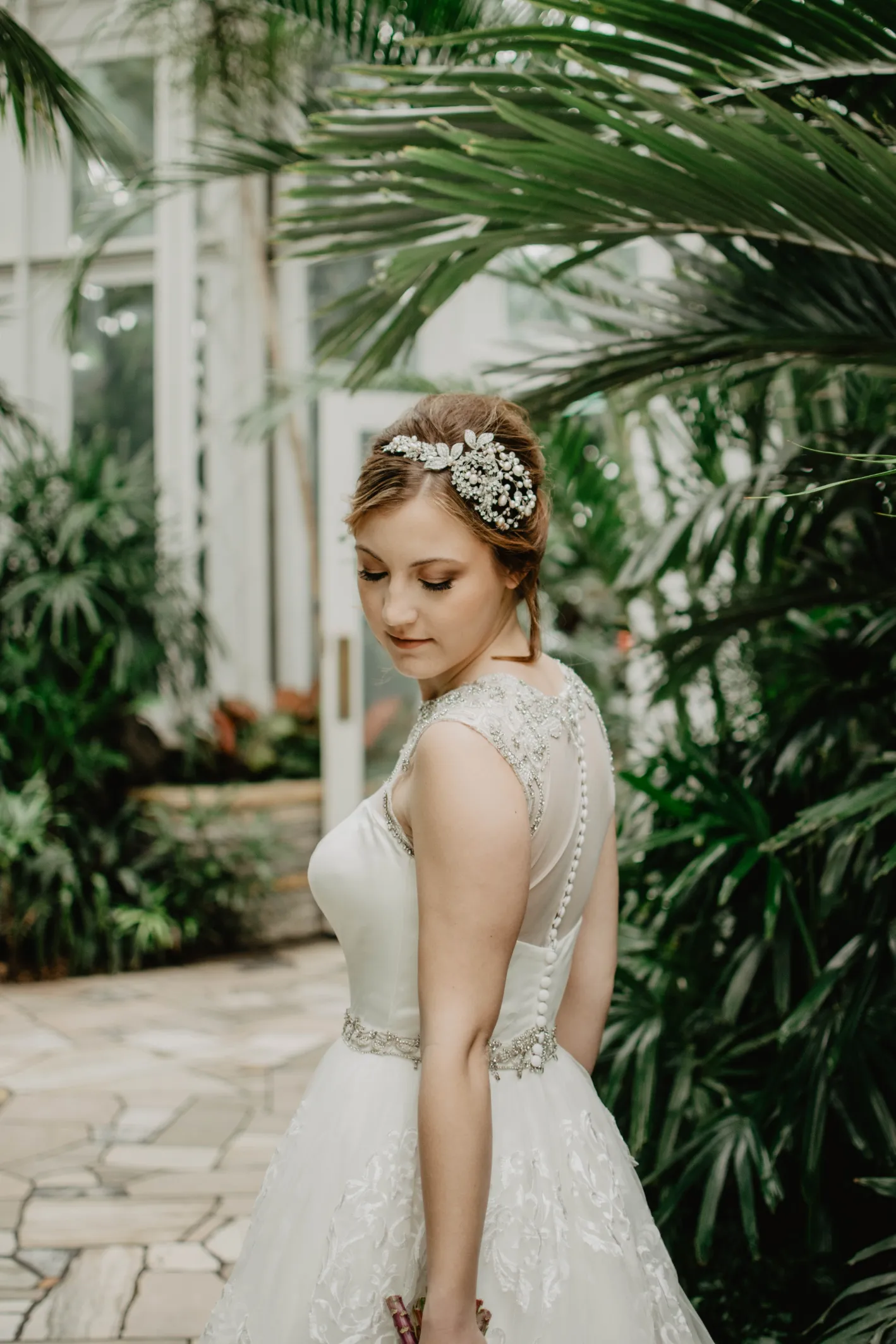 What are the benefits to having a greenhouse wedding?
But what are the perks of a greenhouse wedding, you ask? Well, besides being absolutely gorgeous and perfect for those Instagram-worthy shots, the climate-controlled environment means you don't have to worry about unpredictable weather ruining your big day. No more frizzy hair or soggy shoes – hooray!
What type of greenhouse options are available for my wedding?
The sky's the limit when it comes to greenhouse options for your wedding! Okay, not literally, since greenhouses tend to be enclosed. But you get the idea. You can choose from a range of greenhouse sizes and styles, from cozy and intimate to grand and expansive. Some greenhouses even specialize in specific types of plants, like tropical or desert varieties, which can add a touch of exotic flair to your nuptials.
And let's not forget about the environmental factors. Want to get hitched in the dead of winter, but don't want to freeze your tush off? A greenhouse wedding could be the answer to your prayers. With climate control, you can enjoy all the benefits of an outdoor wedding without the risk of frostbite or hypothermia.
So whether you're dreaming of a quaint and cozy ceremony surrounded by blooming flowers or a lavish affair in a massive greenhouse with room for a small village, the options are endless. Just don't forget to take into account factors like location, size, and amenities when choosing your dream greenhouse wedding venue. Happy hunting!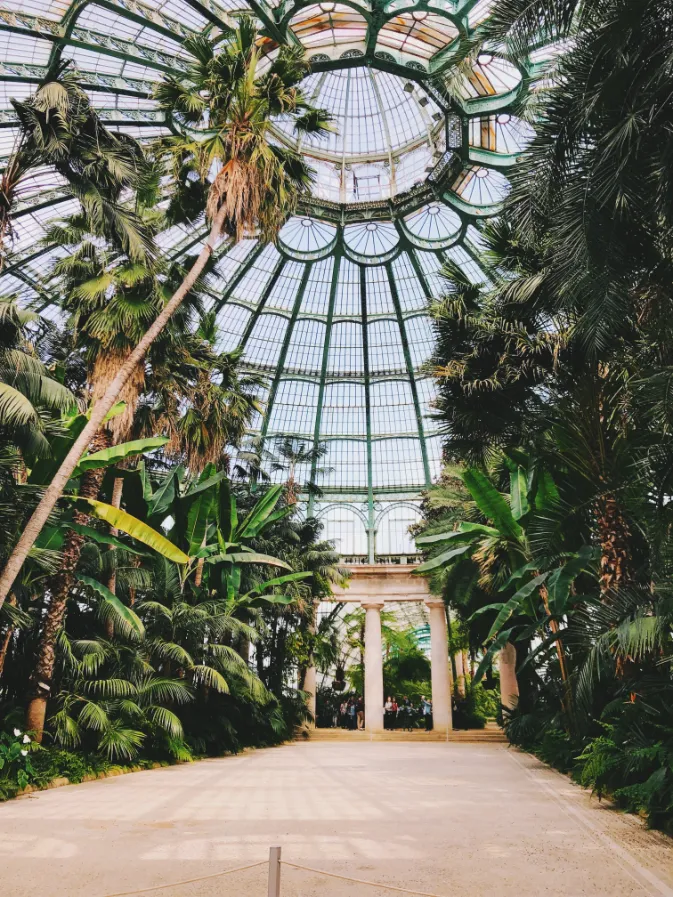 Can I have my wedding reception in a greenhouse?
A greenhouse wedding reception is a fantastic idea for those who want to add a touch of natural beauty and whimsy to their big day.
Not only do greenhouses provide a stunning backdrop for your reception, but they also offer a climate-controlled environment, which means you can party the night away in comfort, regardless of the weather outside. No more sweaty dance floors or shivering guests – huzzah!
And let's talk about ambiance. The lush greenery and blooming plants create a magical atmosphere that's simply enchanting. You'll feel like you're in a secret garden, surrounded by nature's splendor. Plus, the natural light filtering through the glass panes creates a warm and welcoming glow perfect for a romantic celebration.
Now, before you start planning your greenhouse wedding reception, there are a few things to consider. Make sure the venue can accommodate all your guests, and that there's enough space for dancing, dining, and all the other festivities you have planned. And don't forget about practicalities like parking and catering options.
But if you're up for the challenge, a greenhouse wedding reception can be an unforgettable experience that you and your guests will cherish forever. So go ahead and let your love bloom in a greenhouse – it's the perfect place for your love to blossom!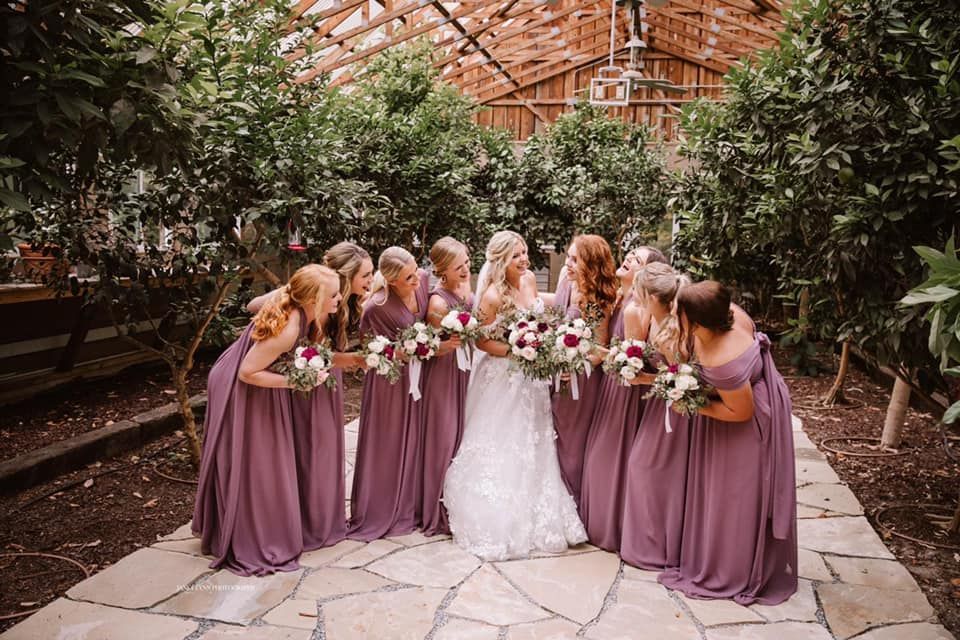 What should I consider about a greenhouse wedding?
But before you say "I do" to a greenhouse wedding, there are a few things to consider. Location, size, and amenities are all critical factors to keep in mind. You want to make sure the venue can comfortably fit all your guests and has everything you need to make your day unforgettable, like parking, catering options, and accommodations for the wedding party.
In short, a greenhouse wedding venue is perfect for couples who want to tie the knot in a unique and stunning environment. You'll be surrounded by the beauty of nature, and your guests will be talking about your magical day for years to come.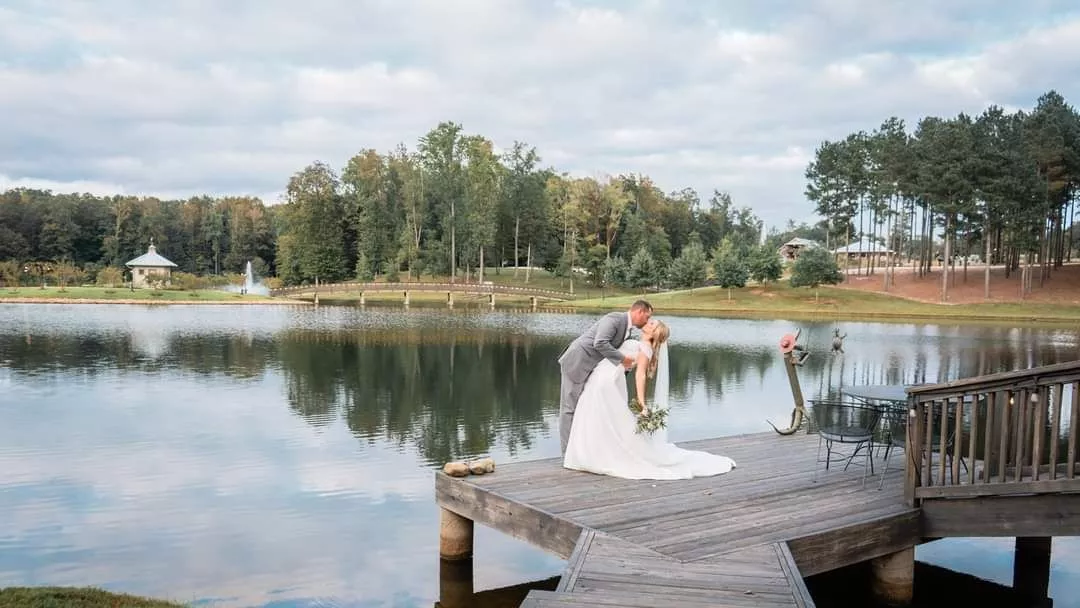 What is the pricing like for greenhouse wedding venues?
It's difficult to give a specific number for greenhouse wedding venues since the pricing can vary so much depending on location and services provided. However, some venues may have starting prices around $5,000 to $10,000, while others may go up to $20,000 or more. It's important to keep in mind that these are just estimates and actual pricing may be higher or lower depending on your specific needs and preferences.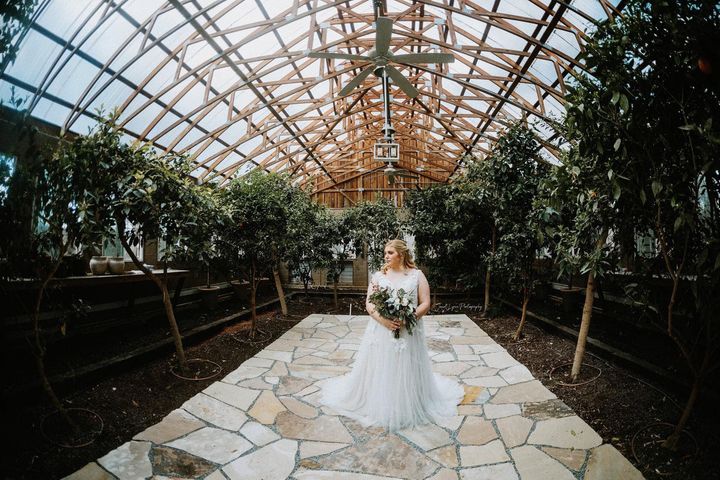 What is the photography like at a greenhouse wedding venue?
The photography at a greenhouse wedding venue is sure to be stunning, my friend. With all that natural light filtering in through the glass panes, your photos will have a dreamy, ethereal quality that's simply enchanting.
And let's not forget about the backdrop – lush greenery, blooming flowers, and maybe even a few exotic plants thrown in for good measure. Your photos will be bursting with color and texture, creating a visual feast for the eyes.
But wait, there's more! If you're lucky, you might even get a few photo-bombing butterflies or hummingbirds to add a touch of whimsy to your shots. And if you're feeling adventurous, you could even take a few photos among the vines and leaves, creating a playful and romantic atmosphere that's sure to capture your love in all its natural glory.
Of course, it's always a good idea to chat with your photographer beforehand to make sure they're up for the challenge of shooting in a greenhouse environment. They may need to bring additional equipment or adjust their shooting style to accommodate for the unique lighting and environment.
But with a talented photographer and a greenhouse wedding venue that's brimming with natural beauty, your photos are sure to be Instagram-worthy and memorable for years to come. So go ahead and say "cheese" among the plants – your love deserves to be captured in all its verdant glory!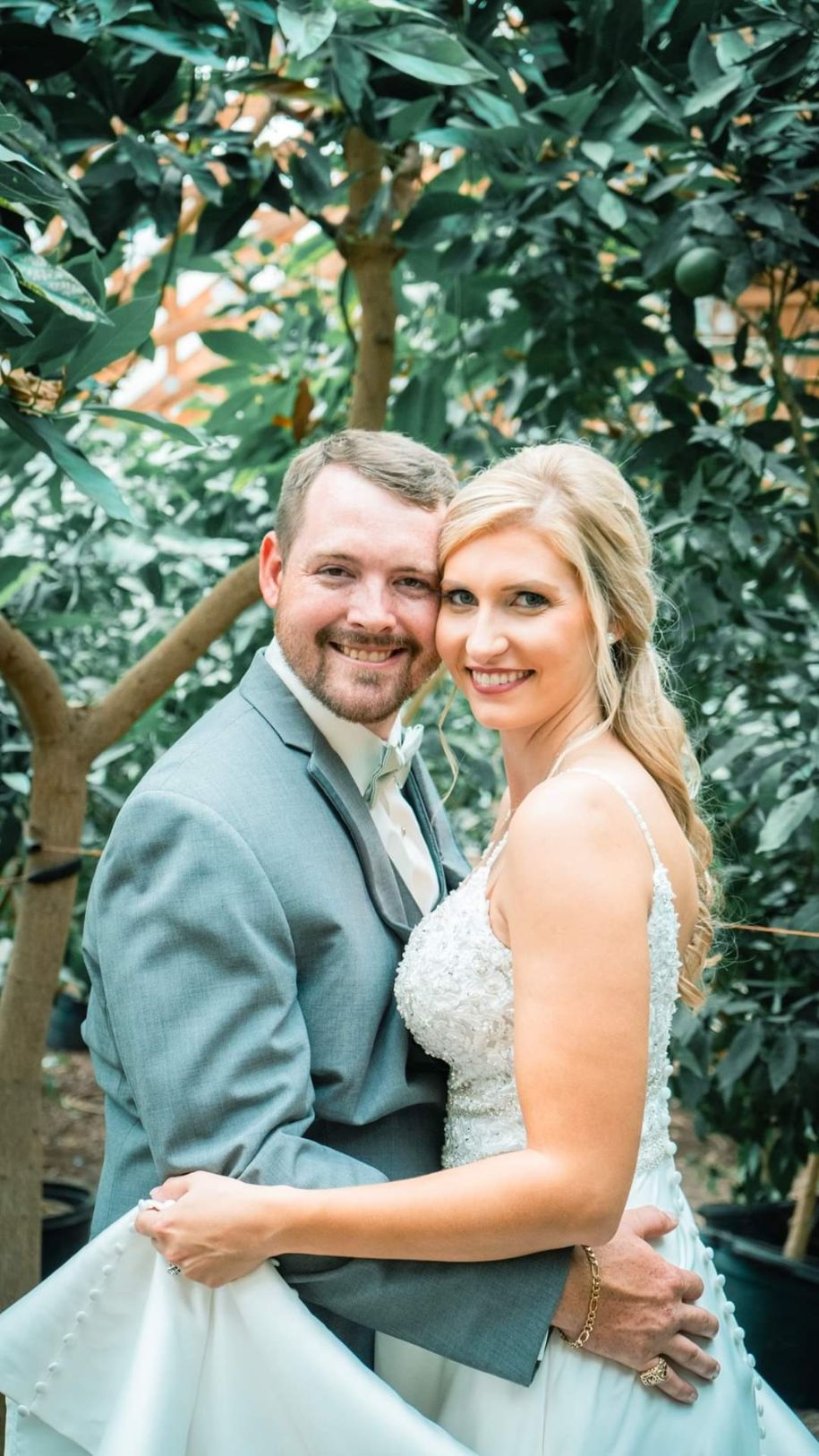 Are there any special amenities available at a greenhouse wedding venue?
Are there any special amenities available at a greenhouse wedding venue? These unique venues come with plenty of special amenities, such as lush plant life for a beautiful backdrop, soft natural light for photography, and the ability to host your ceremony regardless of the weather. Depending on the venue, you may also be able to access outdoor wedding sites, renovated accommodations, a fruit, flower, and vegetable garden, a private balcony, fire pits, and a two-person hot tub, as well as the option to rent a vintage coffee and cocktail bar for your special event.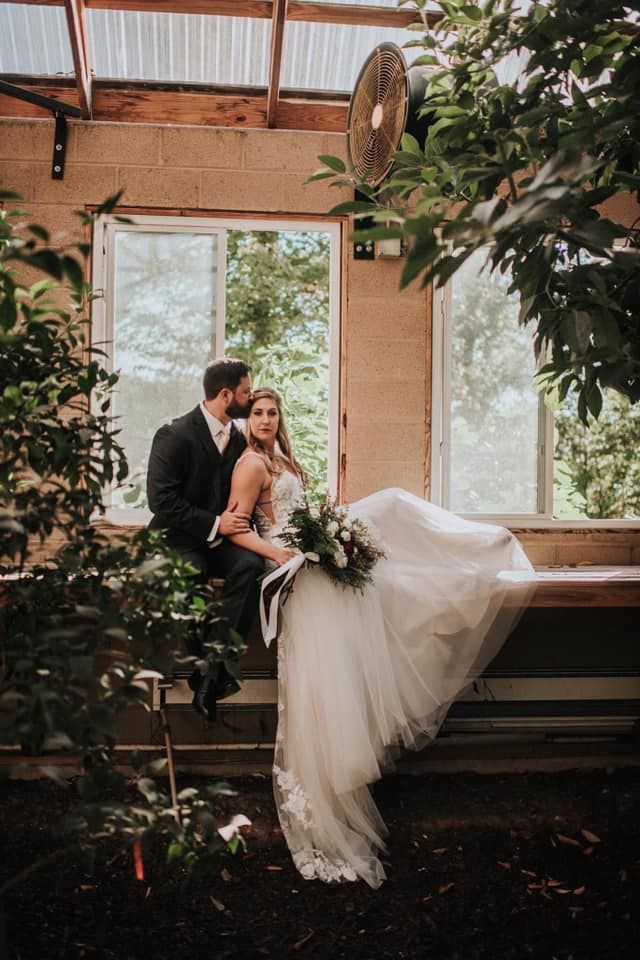 Here are some interesting facts and statistics about greenhouses:
The earliest known greenhouses were built in ancient Rome around 30 A.D.
The world's largest greenhouse is the Eden Project in Cornwall, UK, which covers an area of 15 football fields.
Greenhouses are used to grow a wide variety of crops, including fruits, vegetables, and flowers.
The global greenhouse horticulture market was valued at $23.94 billion in 2019 and is expected to reach $36.56 billion by 2027.
In 2019, the United States had over 11,000 greenhouse establishments, with a total of 540 million square feet of covered area.
Greenhouses are used not only for commercial purposes, but also for research and education, as well as for personal gardening and weddings.
Modern greenhouses often use advanced technologies such as hydroponics and vertical farming to maximize space and efficiency.
Greenhouses have been shown to increase crop yields, extend growing seasons, and protect plants from pests and harsh weather conditions.
Greenhouses also have environmental benefits, as they can help reduce the use of pesticides and herbicides and lower the carbon footprint of food production.
Using greenhouses for growing plants is known as "greenhouse horticulture" or "protected cultivation," and it is a rapidly growing industry worldwide.
According to the USDA, there are over 10,000 greenhouse farms in the United States.
The Netherlands is the world's leading exporter of greenhouse-grown vegetables, followed by Mexico and Spain.
Greenhouses can reduce water usage by up to 90% compared to open-field agriculture, according to the UN Food and Agriculture Organization.
Greenhouses can extend the growing season by up to six months, allowing farmers to produce crops year-round.
The largest greenhouse in the world is the Flower Dome in Singapore, which covers an area of 1.2 hectares and features a variety of exotic plants and flowers.
Greenhouse gases such as carbon dioxide and methane are produced in greenhouses due to the use of fossil fuels for heating, but the emissions can be reduced by using renewable energy sources and improving energy efficiency.
Best of Luck!
As you plan your dream wedding, a greenhouse venue may be the perfect option for you. The six venues we explored offer a unique and enchanting way to incorporate the beauty of nature into your celebration while also ensuring that you and your guests are comfortable and sheltered from the elements. From lush gardens to elegant glass structures, these venues are sure to provide a stunning backdrop for your special day. So why not consider hosting your wedding in a greenhouse, where nature and romance can blossom indoors?