Searching for wedding venues is no joke – there are SO many to choose from online.
Staying true to your style is essential when looking for the perfect location, so I thought it might be helpful if you had an idea of what each venue looked like before deciding on a few to tour. So we'll include some pictures and info of our top venues in St Louis :)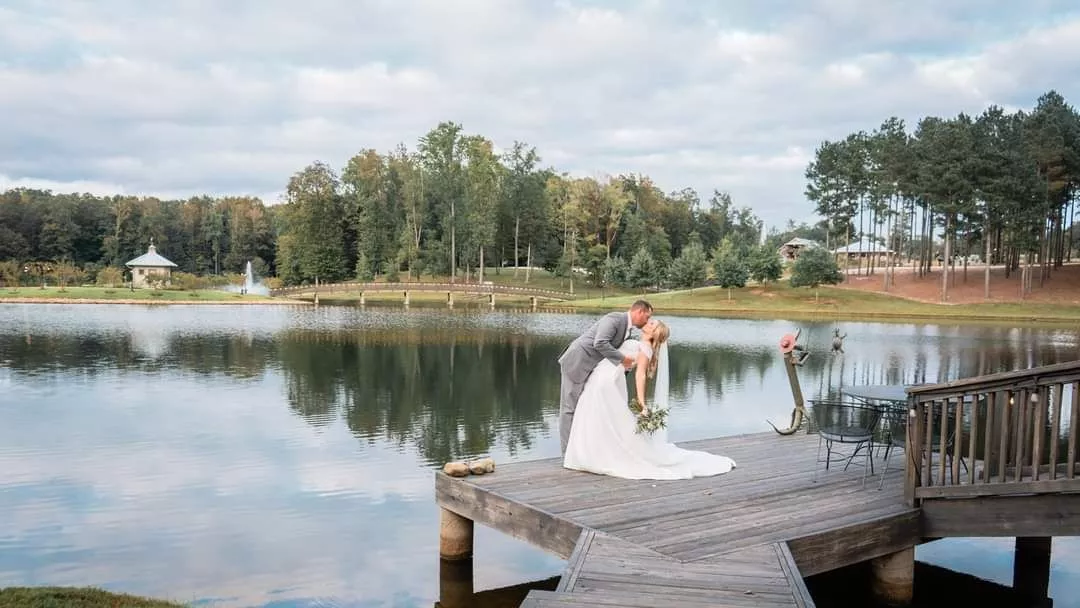 How much does an average wedding cost in St Louis?
The average wedding in St Louis costs between $5,000 – $25,000. At Sandy Creek Farms, our elopement package starts at just $2,500.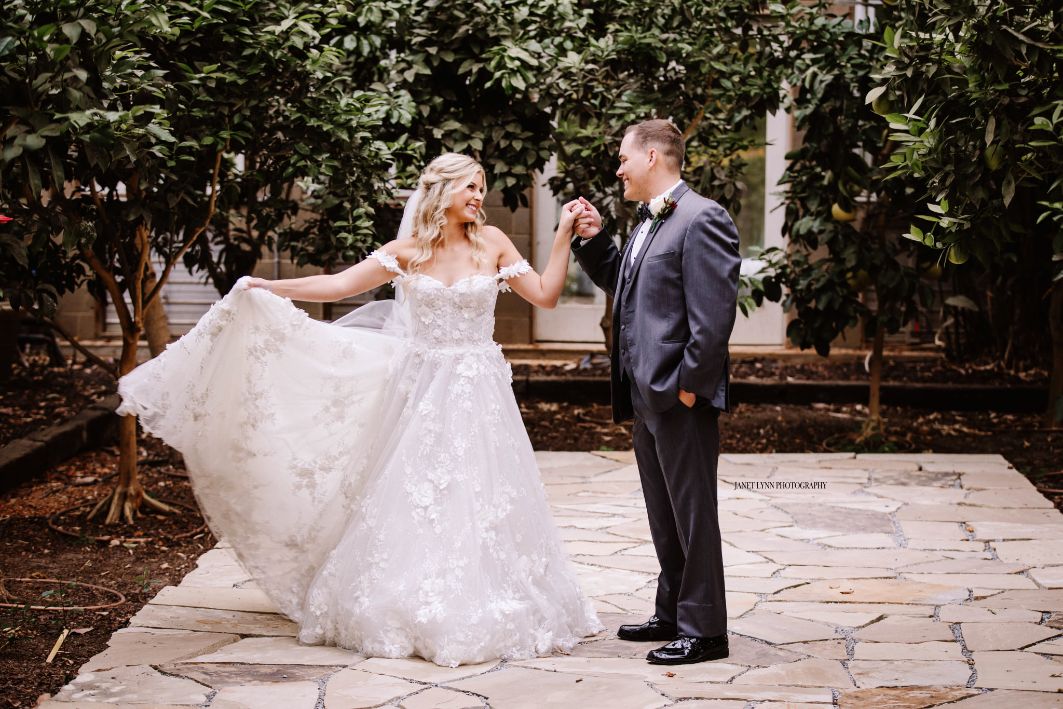 What are the best outdoor St Louis wedding venues?
The best outdoor St Louis wedding venues are Sandy Creek Farms, Kuhs Estate, Anew, Haue Valley, The Piper Palm House, Four Seasons St. Louis, and Sunflower Hill Farm.
Keep reading for more details about each gorgeous venue!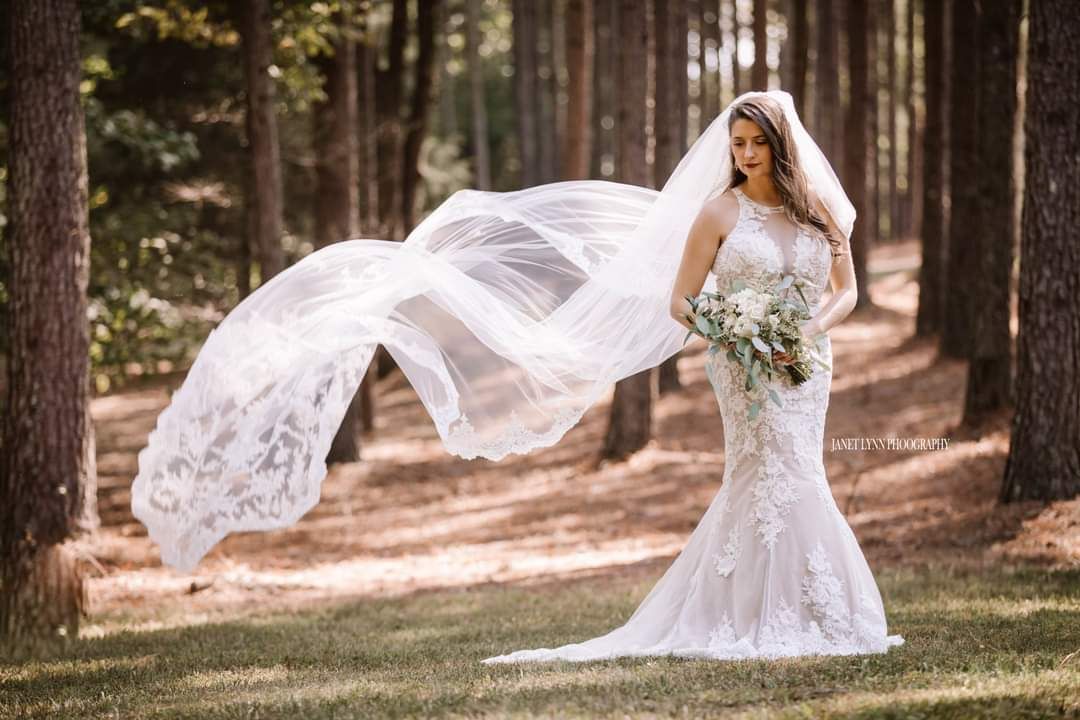 Sandy Creek Farms – The Venue for Your Dream Wedding
Our wedding venue is 3-4 hours from St. Louis and is the top destination wedding choice for St. Louis brides who want a destination wedding that isn't too far from home. Our venue features 430+ private acres, an Island for your ceremony, dozens of acres of Pine trees, a private lake, six lodging options for your and your guests, a bridal and grooms suite, and so much more. Of course, it isn't a good option if you absolutely must have your wedding in St. Louis.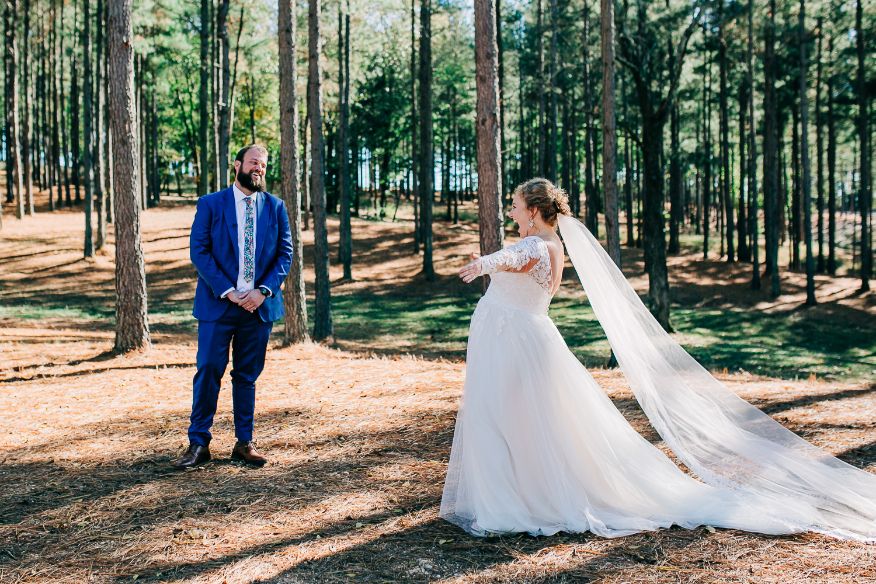 But…if you're looking for a one-of-a-kind experience weekend wedding retreat, we're the best fit that won't bust your budget!
Why should I consider Sandy Creek when searching for the best wedding venues in St Louis?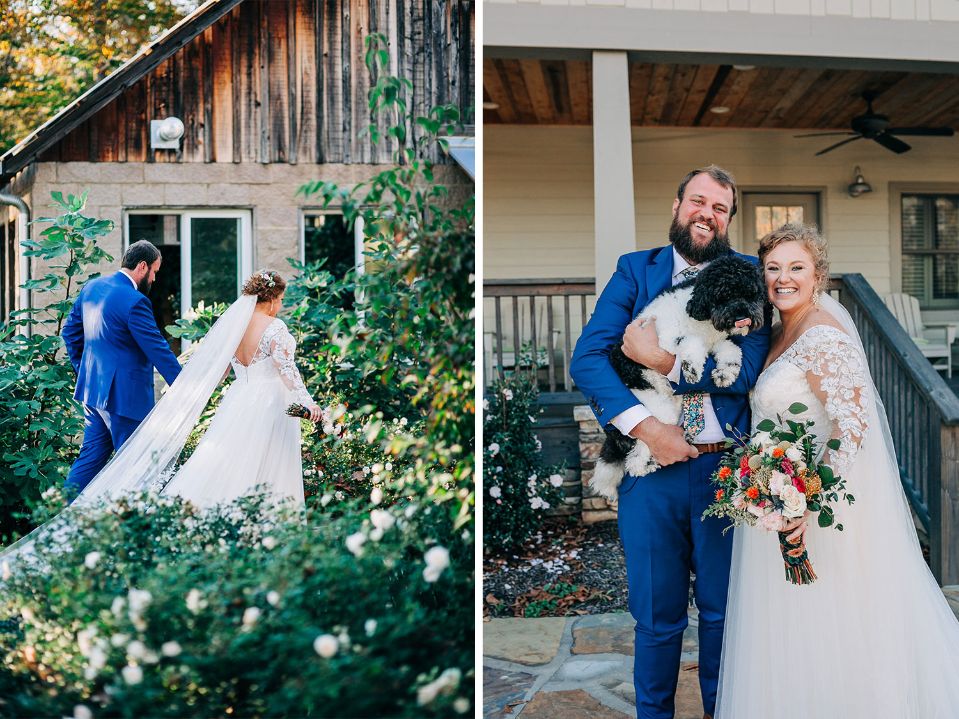 We're glad you asked! Here's why you should consider Sandy Creek when searching for the best wedding venues in St Louis:
Sure, we're a bit of a drive. But do you want to get married at the same venue as your bestie? We didn't think so! Besides, you can totally take a virtual tour before you commit to do a site tour here. If you prefer to take a live virtual tour or talk with our venue manager, you can do so here.
You'll make everyone's jaw drop (and maybe a little jealous) when you walk across the starlit bridge to the private Island for your ceremony.
Some of our couples also like to take photos across the Pine forests, gardens, greenhouse, and other gorgeous photo opportunities. Click here to see some of our photo opportunities.
You can create a weekend retreat with your friends. We have many activities on our 430 acres, or you can chill out and relax by the lake. Here's a sample itinerary for a weekend retreat wedding.
We have a very flexible vendor policy, but we're here to help you if you want assistance picking our best vendors who have executed flawless weddings here before.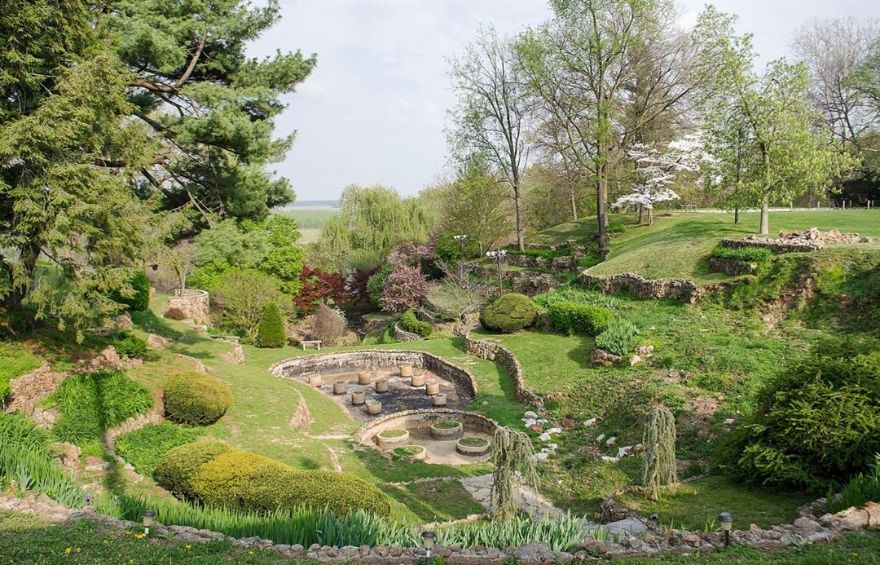 Kuhs Estate & Farm
Kuhs Estate and Farm is a beautiful outdoor wedding venue in St. Louis, Missouri. It offers couples stunning views of the surrounding countryside and a rustic barn for their reception. There are also several acres of land for guests to explore before and after the ceremony.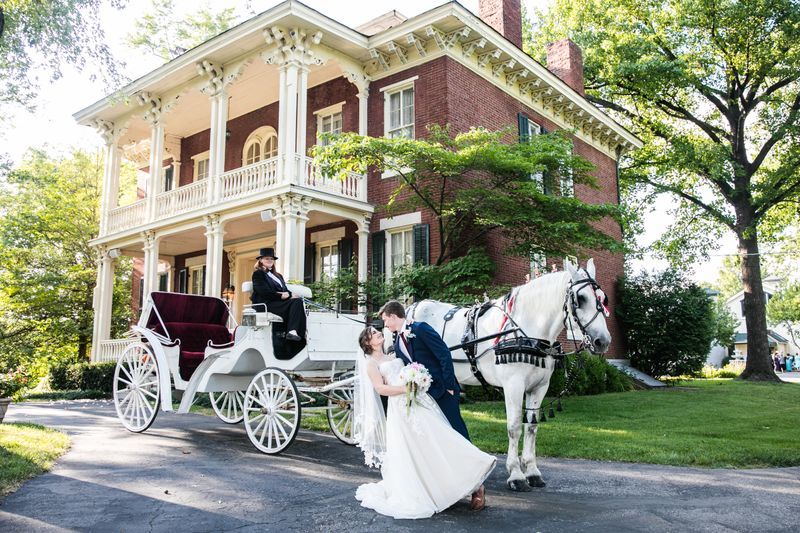 The Larimore
The Larimore offers charming, rustic wedding venues for an elegant and classic celebration. Ceremonies start at $1800 and receptions at $2400, with all-inclusive packages available. The Larimore is about 13 miles north of central St. Louis, just far away enough to provide a beautiful backdrop for your big day.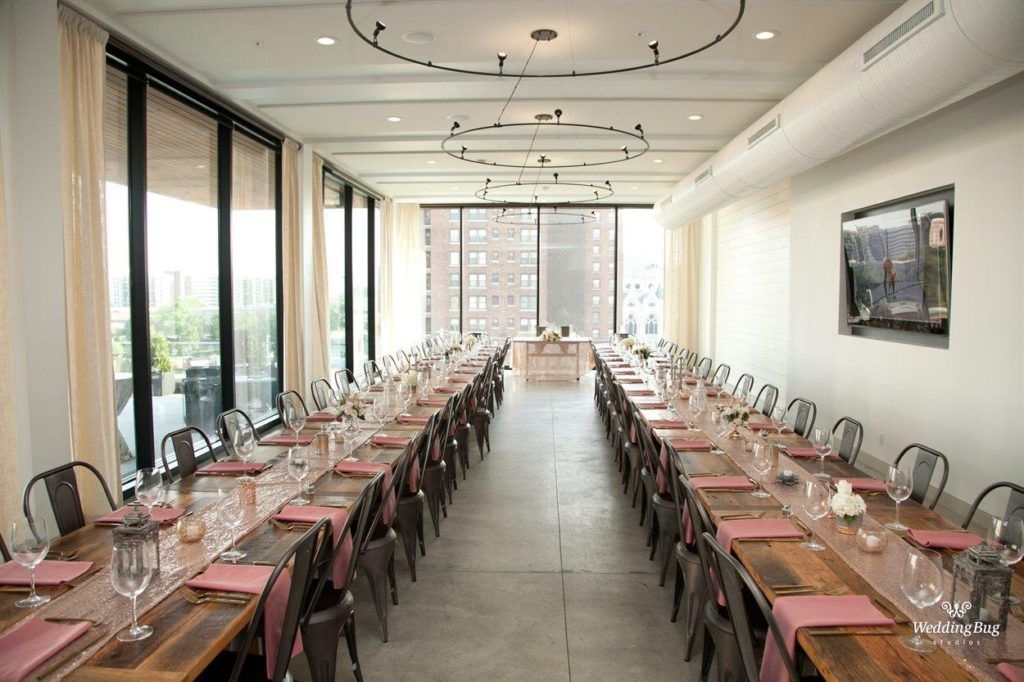 Anew Rooftop
The rooftop has fantastic cityscape views and is an excellent place for a wedding if you want a city feel for your big day.
ANEW is a unique event venue in St. Louis, Missouri that offers indoor and outdoor spaces and space for up to 100 people. They are perfect for people looking for an exciting and unique location to host their wedding, conference, birthday celebration, holiday party, business meeting, or class reunion. ANEW makes planning events around the city's attractions or other activities outside their venue easy.

Haue Valley Wedding Reception Venue in St Loius MO
Haue Valley is a beautiful wedding venue located in Pacific, Missouri. It offers elegant charm with modern accents, which makes it very popular among couples getting married. The venue is booking quickly, so get your date soon!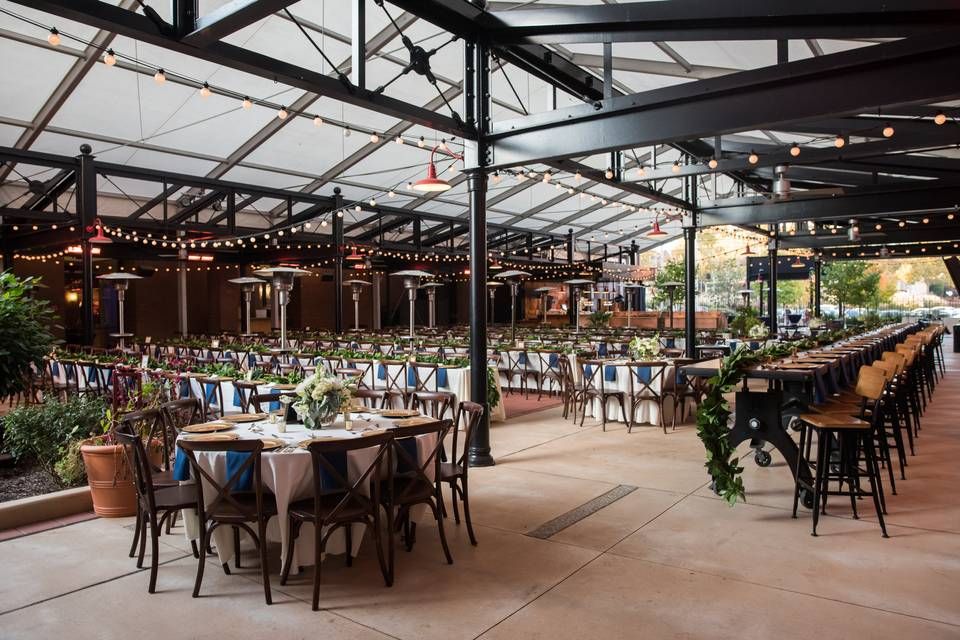 Anheuser Busch Biergarten
The Anheuser Busch Biergarten is a beautiful brewery wedding venue that offers two different biergartens- one indoors and one outdoors. They also have a lager room, schoolhouse, and more that can be used for your event. Alcohol is provided as part of the wedding packages, and catering can be arranged.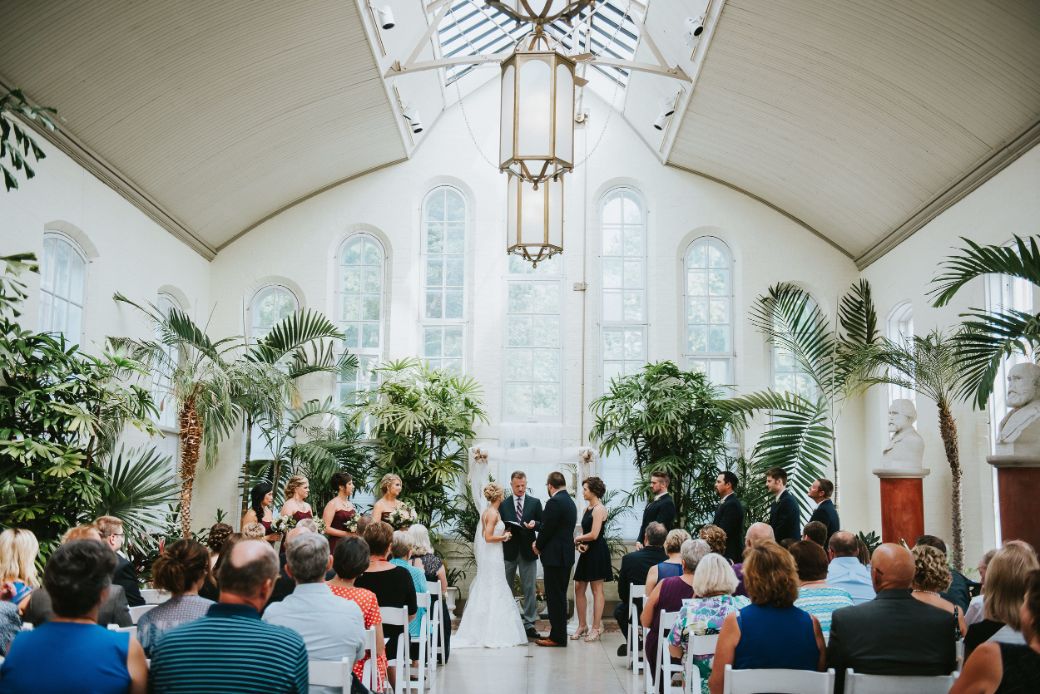 The Piper Palm House
The Piper Palm House is a great event space in Tower Grove Park's heart. They offer various services, such as tables, chairs, tents, security, etc. If you're looking for an idyllic location for your wedding or other special events, the Piper Palm House should be at the top of your list!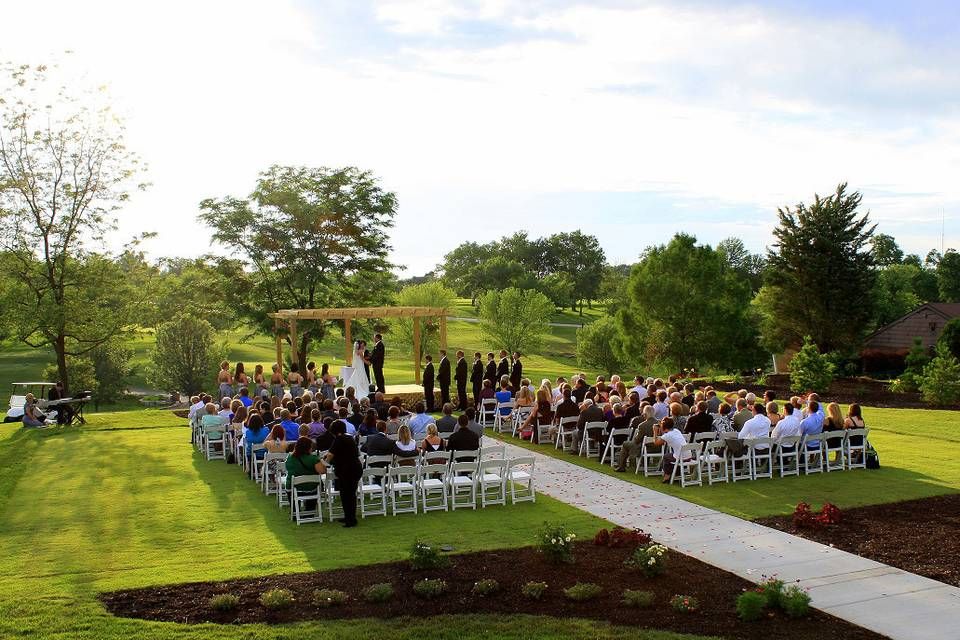 The Highlands Golf and Tennis Center
The Highlands Golf and Tennis Center is a popular wedding venue for couples who love nature and outdoor activities. The center has a manicured lawn for an outdoor ceremony and a stone patio for an outdoor wedding. It also has indoor and outdoor tennis courts and a golf course. The Olympic pool and spa facilities are perfect for relaxing after the big day.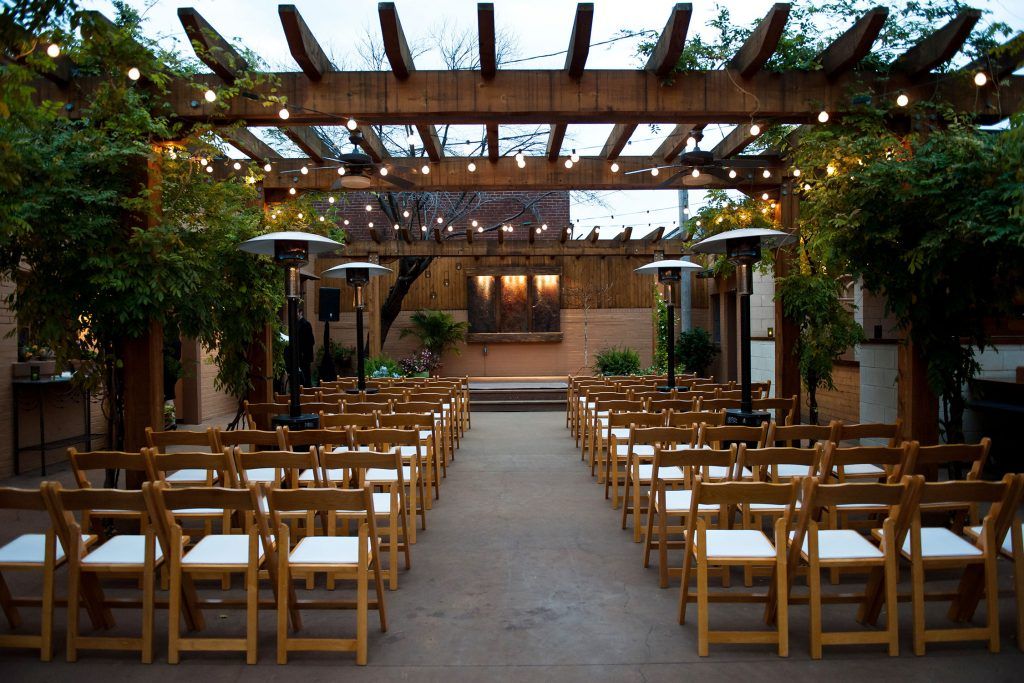 Oliva on the Hill
Oliva on the Hill is an event space in the heart of St. Louis, inspired by Tuscan architecture. It provides your guests with a relaxing and intimate setting with high-beamed ceilings, a beautiful cherry wood bar, graceful archways, and glass windows. It can accommodate up to 100 people.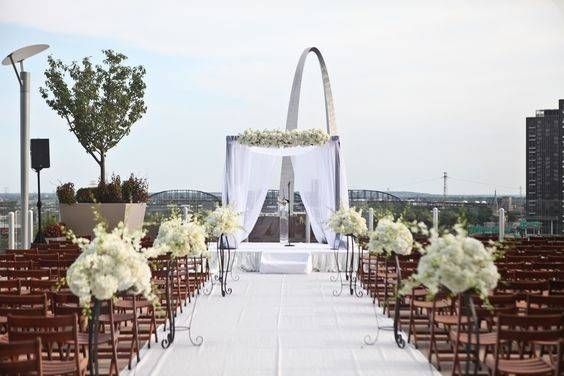 Four Seasons Hotel St. Louis
The perhaps most notable about this venue is that you can view the Gateway Arch and Mississippi river. The Four Seasons Hotel in St. Louis offers guests a luxurious and relaxing experience with an indoor pool, sauna, and wellness center. Guests can also enjoy a variety of dining options onsite, including a steakhouse and sushi bar.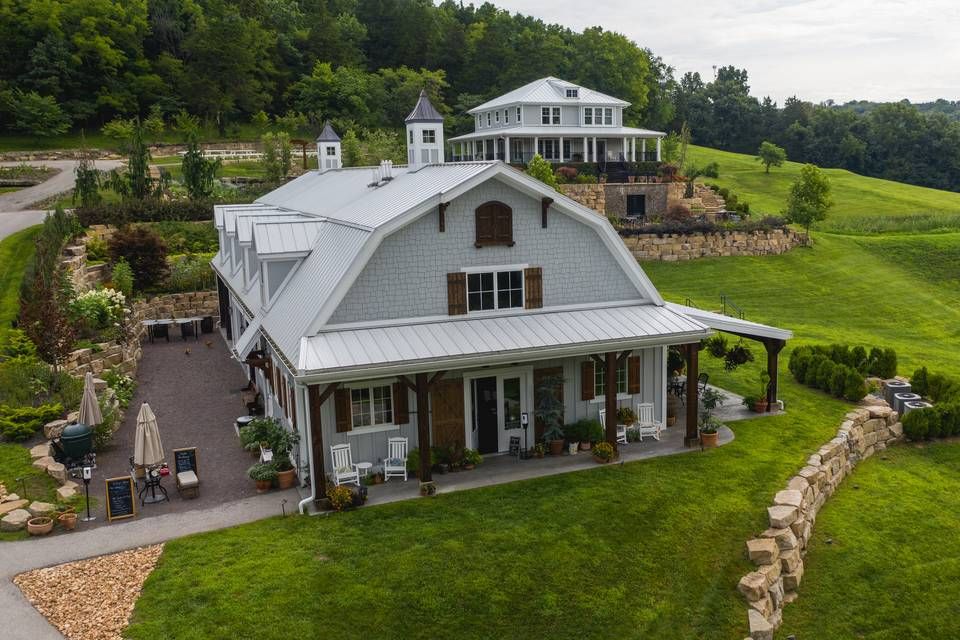 Sunflower Hill Farm
Sunflower Hill Farm is a family-owned venue that offers a breathtaking backdrop for your photos. They are perfect for weddings, conferences, and other events. In addition to providing a great space, Sunflower Hill Farm also grows fresh produce and eggs. You can choose various fruits and vegetables depending on the time of year. It's located a short 20 minutes from Chester Valley.
And now….some more BEAUTIFUL pictures of Sandy Creek Farms, more venues, and frequently asked questions about St Louis wedding venues!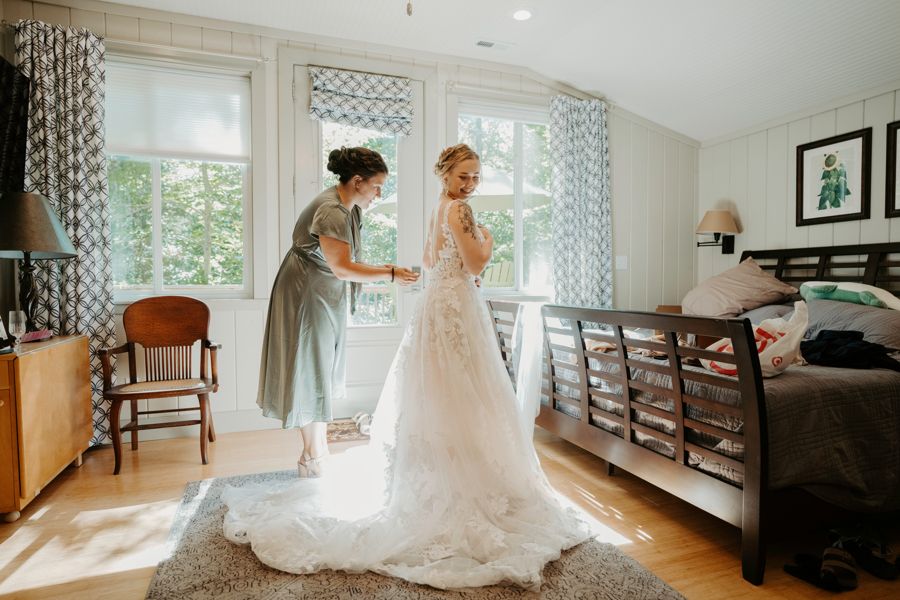 Which wedding venue should you choose if you want an outdoor wedding in St. Louis?
If you are looking for an outdoor wedding in St. Louis, we think the best venues feature a gorgeous outdoor feature, such as a lake, garden, or city view. However, the best option for you may depend on the type of wedding you are planning and your budget. Sandy Creek Farms is a great option with a reasonable price for gorgeous outdoor spaces. Our wedding packages start at $2,500.
What are the benefits of choosing a seasoned wedding reception venue in St. Louis?
A benefit of choosing a seasoned wedding venue in St. Louis is that they have the experience, resources, and expertise to help make your event memorable. They have various services designed to help you plan and execute your wedding day, from the ceremony to the reception.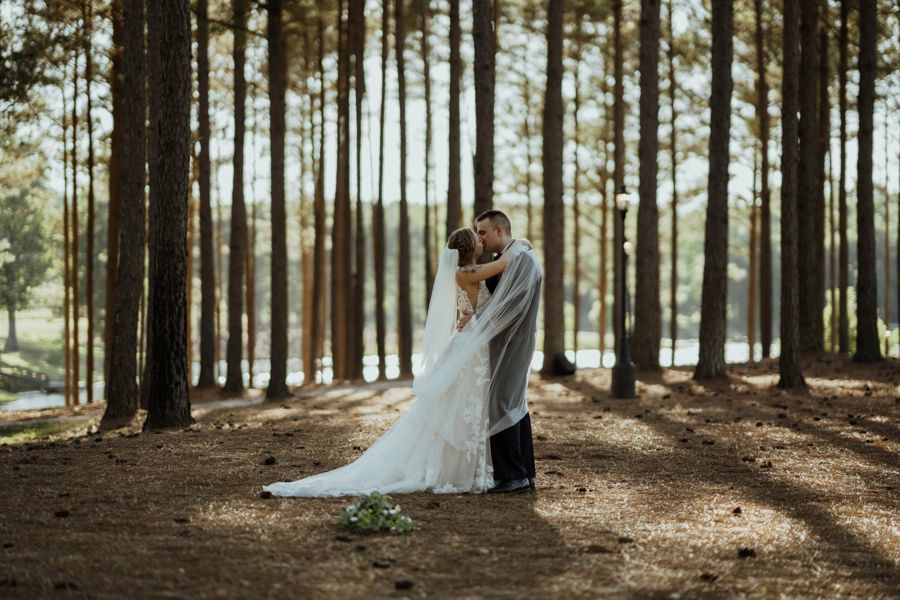 Are there any disadvantages to choosing a particular ceremony wedding venue in St. Louis?
If there are any disadvantages to choosing a particular wedding venue in St. Louis, they would have to be the cost of renting out a space and the amount of time it may take to plan an event.
Another downside would be picking a downtown wedding venue and your guests struggling to find parking or fighting traffic.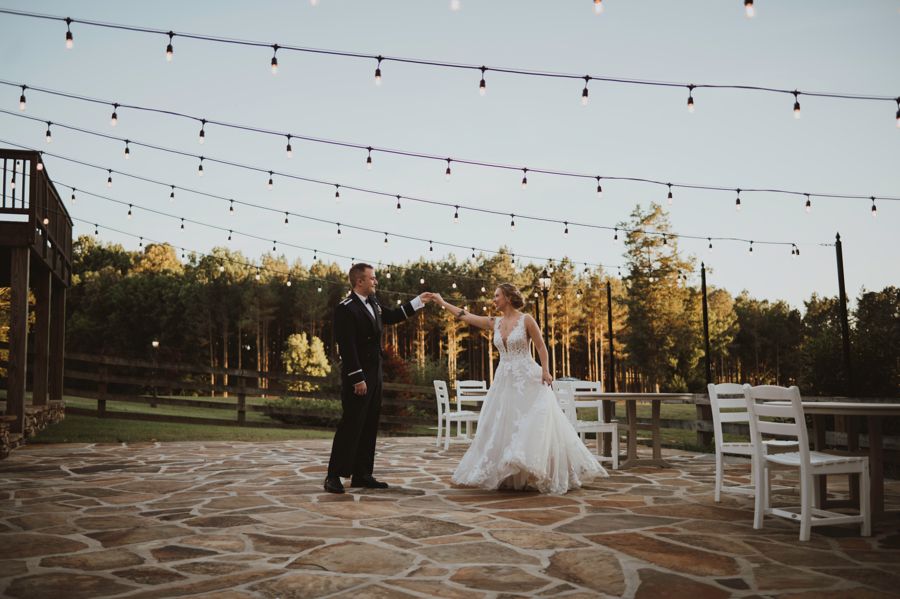 What are some similar event venues you may want to consider if you are looking for an outdoor wedding in St. Louis or the city?
There are many different types of wedding venues. Outdoor, barn, and rustic weddings can be found in St. Louis. Still, other themes have become popular recently, such as city-themed weddings, aquatic-themed weddings, or winter wonderland-themed weddings.
The most popular wedding venues in St. Louis are outdoor and barn formats, with a mix of rustic theme venues that have been steadily gaining popularity.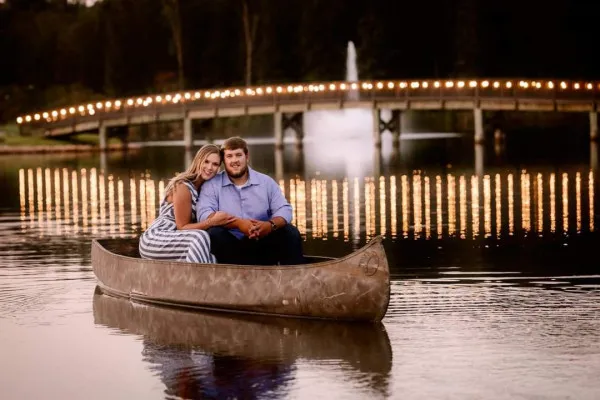 Here are a few more wedding venues in St Lois, MO:
Silver Oaks Chateau
Silver Oaks Chateau is the perfect wedding mainstay for couples balancing classic and modern styles. With eight different ceremony formats and plenty of reception options, couples can choose between an indoor or outdoor ceremony. The venue can accommodate up to 300 guests. Rainy days won't be a problem, and the venue has excellent parking and many photo opportunities.
Boo Cat Club
Boo Cat Club is an extraordinary wedding venue in St. Louis that is perfect for creating unique memories. The '20s inspire clean, warm styling, and the forum is filled with special touches that your guests will love. With three different spaces, the Ballroom, the Theatre, and the Catacombs, you can host up to 200 guests for your special day. The Ballroom features a beautiful skylight, and the Theatre has a spacious dancefloor, while the Catacombs offer an intimate atmosphere with brick walls, loft-style windows, and 20 ft ceilings.
Wild Carrot
Wild Carrot is an industrial, historic, styled event space located in the heart of St. Louis, in the Shaw neighborhood. With the ability to seat up to 250 guests indoors and 300 guests for an outdoor wedding, this charming venue offers a variety of features such as exposed brick, tall ceilings, mid-century modern furniture, and lots of photo opportunities. Wild Carrot provides a unique experience that will leave lasting memories on your special day.
Loveland Estates Wedding Reception Venue n St Louis
Loveland Estates is the perfect place for adventurous couples getting married in the midwest! This all-inclusive venue is just off I-70 and is only a 40-minute drive from St. Louis city. Loveland Estates offers plenty of indoor and outdoor space for your ceremony and reception, featuring a pond, dock, small farm, beautiful patio, and stunning loft. Plus, the surrounding rivers and lush greenery make it an absolute dream venue to get married at!
The Coronado – St. Louis Wedding Venue
The Coronado is an elegant and grand venue in Midtown St. Louis, offering local couples a memorable experience and an exquisite setting for their wedding ceremony and reception. This historic building has a capacity for up to 100 seated guests and features the South Ballroom with dark hardwood floors, elegant chandeliers, high ceilings, and intricate molding. The Coronado offers exclusive catering from Butler's Pantry and in-house beverage service, keeping things maximally simple for the happy couple.
The Christy Banquet Center
The Christy Banquet Center is a celebrated wedding venue in St. Louis, MO. It offers an indoor ballroom event space that can accommodate up to 500 seated guests, with gorgeous chandeliers, a wide-open dance floor, lovely paintings, mirrors, and antique decor. All-inclusive wedding packages are available, which include amenities such as table centerpieces, linens, lighting, in-house catering, in-house bar service, and more.
The Venue at Maison du Lac (Catawissa Stone House)
The Venue at Maison du Lac (Catawissa Stone House) is an idyllic, classic space just 30 minutes from downtown St. Louis. Perfect for an all-inclusive wedding day, this 1903-built house has been exquisitely restored and provides luxurious amenities for the happy couple and their guests. With separate spaces for each partner to get ready, the venue also features Sycamore Hall, a grand structure that can comfortably seat 400 for a meal. With endless photo opportunities and a beautiful atmosphere, Maison du Lac is the ideal venue to make your special day unforgettable.
Sweet Clover Farm Events
Sweet Clover Farm Events is a unique "barn" wedding venue in the middle of Missouri wine country. With multiple ceremony location options, an enclosed and climate-controlled reception space, and a fully-featured "getting ready" building, Sweet Clover Farm Events can accommodate up to 180 guests. Couples can also enjoy their extensive decor inventory and a lengthy list of included amenities, making their wedding planning a breeze.
Moulin Events & Meetings
Moulin Events & Meetings is the perfect pick for couples looking for an unforgettable wedding venue in St. Louis. Their historic building in Lafayette Square offers a variety of spaces, including high ceilings, exposed beams, and arched windows, with amazing views of the city skyline and downtown district. They can accommodate parties of up to 250 seated guests and provide planning services in-house from a dedicated team of planners.
Missouri Athletic Club
The Missouri Athletic Club in St. Louis is a magnificent venue for any wedding celebration. The unique interior, featuring high ceilings, wrap-around balconies, impressive marble staircases, and a collection of contemporary art, is perfect for making lasting memories. The expansive lawn with statues and a waterfall is a great backdrop for your wedding photos. With three spaces, there is something here to suit everyone's style. The club also offers unlimited planning meetings to ensure your event succeeds. The Missouri Athletic Club is the perfect place for a modern wedding with plenty of character.
Provincial House Chapel (St Louis Wedding Chapel)
Provincial House Chapel is an amazing venue in the Central West End of St. Louis that offers an elegant yet romantic atmosphere for your wedding celebration. This stunning chapel has a wooden-beamed ceiling, antique crystal chandeliers, and a large private courtyard with a gazebo.
It can accommodate up to 200 guests and is the perfect choice for couples looking for a timeless, majestic setting for their special day. The venue also includes a stunning, picturesque grotto with swans, a bridge, a park, and charming homes, making it the perfect backdrop for a small waterfront ceremony.
Norwood Hills Country Club
Norwood Hills Country Club is a premier wedding venue that offers stunning views of the Missouri countryside. This stunning venue has a cozy, vibrant chapel for your ceremony, a spacious grand pavilion for your reception, and a beautiful outdoor terrace with sweeping views. The award-winning culinary team, led by Executive Chef Nicholas Miller, will create a delicious menu highlighting farm-to-table and seasonal ingredients. With a capacity of up to 200 guests, this venue is perfect for couples looking for a reasonably priced and large guest list.
The Sheldon Concert Hall (Sheldon Ballroom)
The Sheldon Concert Hall is an art gallery and wedding venue that offers a stunning ceremony space with a capacity of 200. With its beautiful architecture and decor, your guests will surely be impressed.
Forest Park
Located in Saint Louis, MO, Forest Park Golf Course is a wedding venue known for its picturesque surroundings, reliable service, and simple planning process. With inclusive packages available, it's the perfect spot for your big day!
Nearby, couples and guests can discover some of the most popular attractions in St. Louis. These include The Loop, Central West End, Missouri Botanical Garden, City Museum, Busch Stadium and Ballpark Village, and The Gateway Arch and Park. A wide range of hotels are within five miles of each other, with the St. Louis Lambert International Airport just 10 miles away. This makes traveling to all your out-of-town loved ones easy!
Can you get married at the courthouse in St Louis Missouri?
Yes, you can marry at St Louis, Missouri courthouse. But if you're searching for a more traditional venue to host your wedding, consider the many reception options in St Louis, Missouri. You'll want to ensure your wedding venue has enough space for the number of guests you plan to invite, and you can control how much budget to allocate to certain aspects of your big day.
What is the origin of the wedding arch?
A wedding arch is a powerful symbol of two people joining together in marriage. It is a timeless representation of the commitment of two individuals to one another, and the arch serves as a symbol of protection, love, and unity.
St. Louis Arch for Your Wedding Vows
The iconic St. Louis Gateway Arch, which dominates the city's skyline, is a perfect backdrop to say your vows and signify the joining of two lives. It is a beautiful reminder of the importance of love and the power of marriage. P.S. – only very informal ceremonies are allowed on the Arch grounds; a permit is required.
Wedding Venues in STL
STL (St Louis) has various wedding venues, from outdoor gardens to historic buildings. Couples in the area can find the perfect space to host their wedding day, with plenty of options to fit their exact needs, personalities, and interests. On Google, couples can easily find the most suitable venue to host their special day in the city. So plan your wedding easily and explore all the amazing venues St. Louis offers!
Wedding Venues in St Louis MO
There is no shortage of wedding venues in St Louis MO, with various great options to suit any budget or capacity needs. From ballrooms to banquet halls and chapel wedding venues, you can find the perfect space to host your ceremony, reception, rehearsal dinner, or bridal shower. If you're looking for a venue that allows outside vendors, you can also control how much budget to allocate to certain aspects of your big day. With so many great venues available, St Louis is a great city for your wedding!
Outdoor Wedding Venues in Missouri
Are you looking for an outdoor wedding venue in Missouri? There are plenty of beautiful options to choose from! From the stunning Missouri Botanical Garden to the many outdoor gardens and historic buildings in the area, you can find the perfect venue for your special day. With Wedding Spot, you can discover detailed information about wedding venues in St. Louis, Missouri and make the best choice for your wedding day. Make sure to consider budget and capacity when choosing your wedding venue, as some can accommodate up to 500 guests, while some only allow a maximum of 100. You can also look for venues that allow outside vendors, such as bartending services, so you can control your budget.
We hope you enjoyed reading our article detailing our favorite venues in the St. Louis area! Choosing a venue is difficult, so we recommend narrowing it down to 3-5 online before you take a tour. We are confident you will find the perfect venue for your special day in St. Louis!