Wedding venues are a question that many couples face when getting married. Here in the St Louis area, we have nine top choices for wedding venues.
Staying true to your personal style is important when looking for the perfect location so I thought it might be helpful if you had an idea of what each venue looked like before deciding on one or two. So we'll include some pictures!
What are the nine must-see outdoor wedding venues in St. Louis?
Sandy Creek Farms
Kuhs Estate & Farm
The Larimore
Anew
Haue Valley
Anheuser Busch Biergarten
The Piper Palm House
The Highlands Golf and Tennis Center
Oliva on the Hill
Four Seasons St. Louis
Sunflower Hill Farm
Keep reading for more details about each gorgeous venue!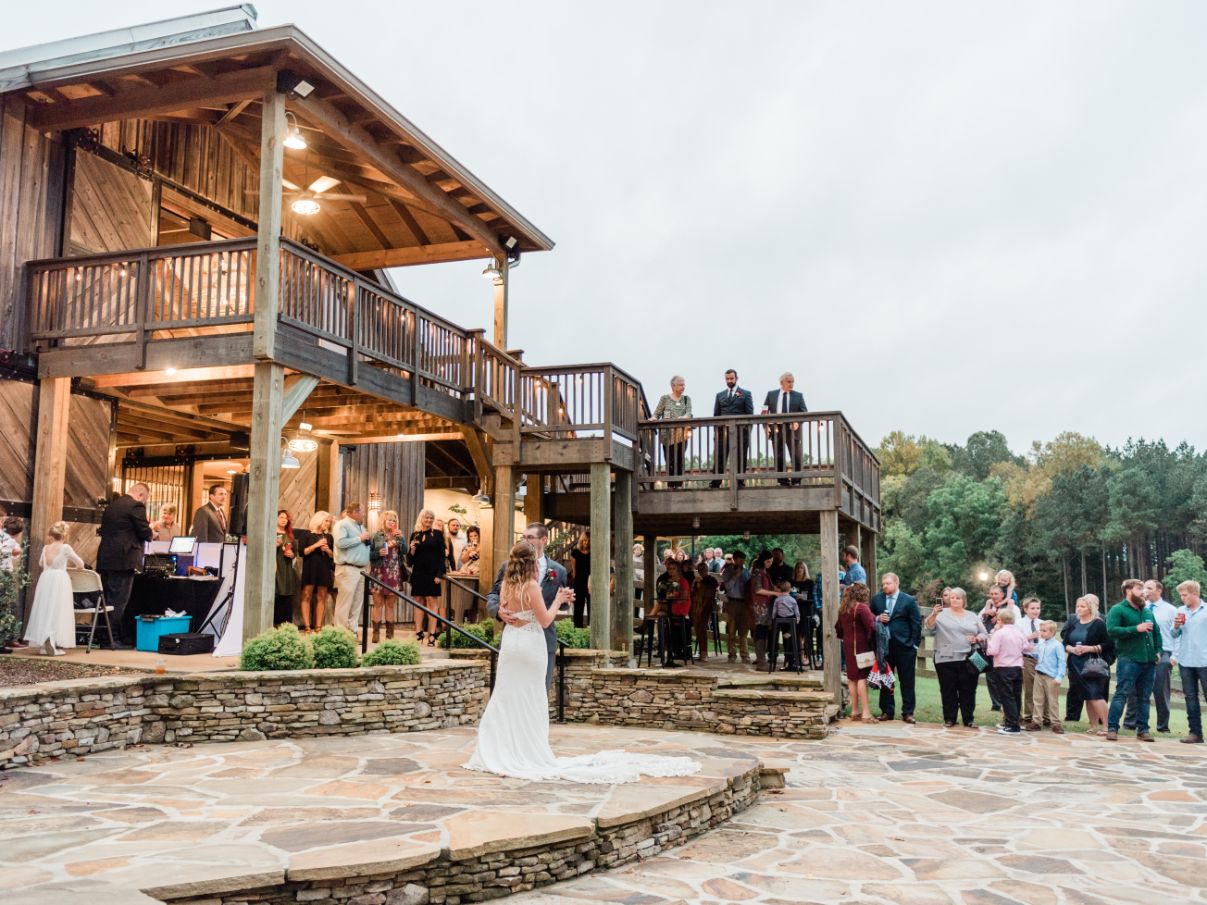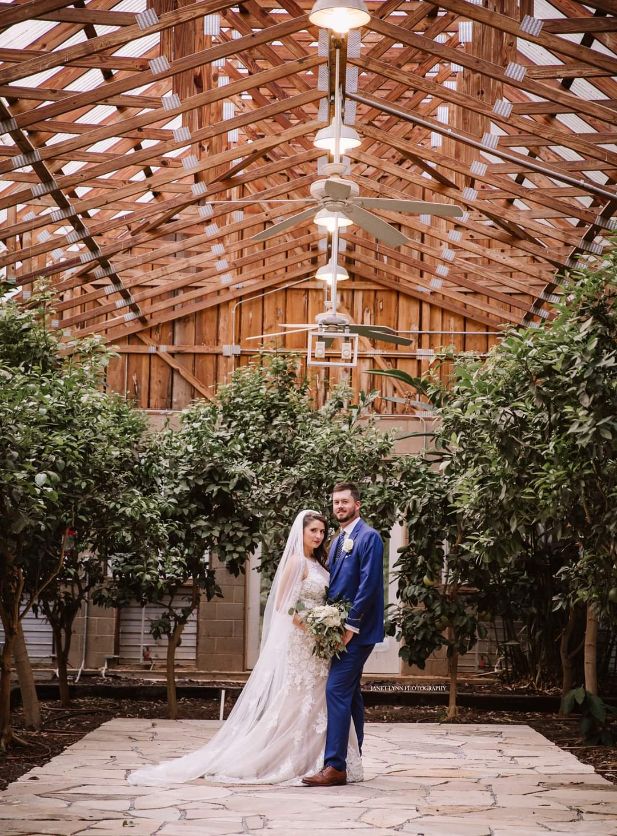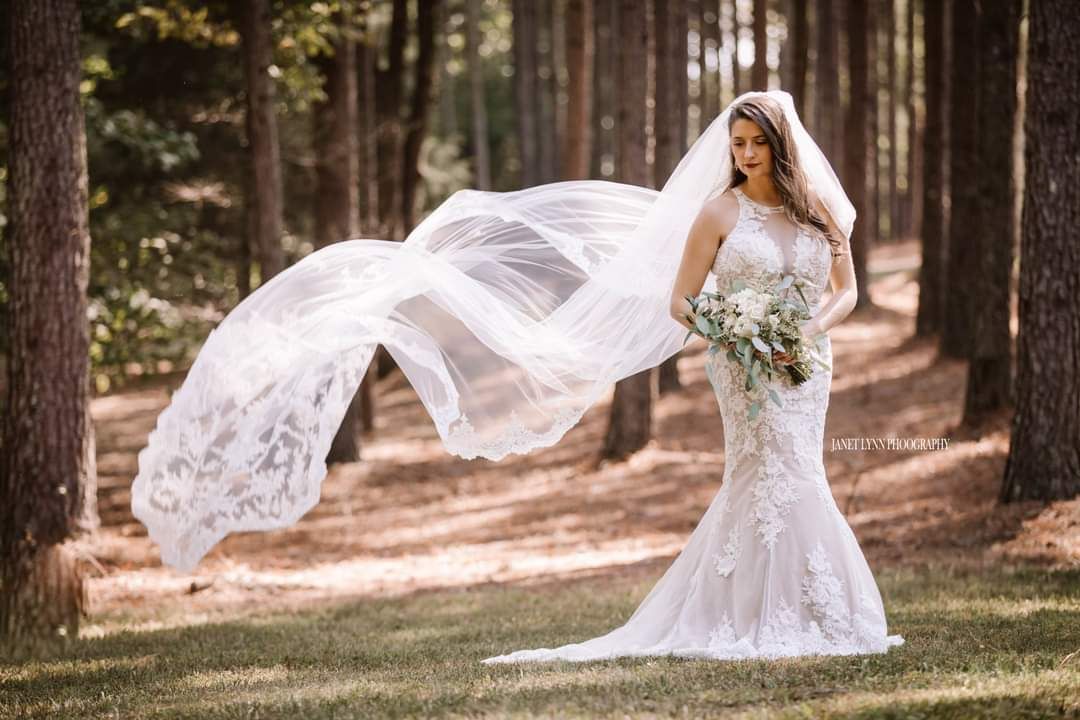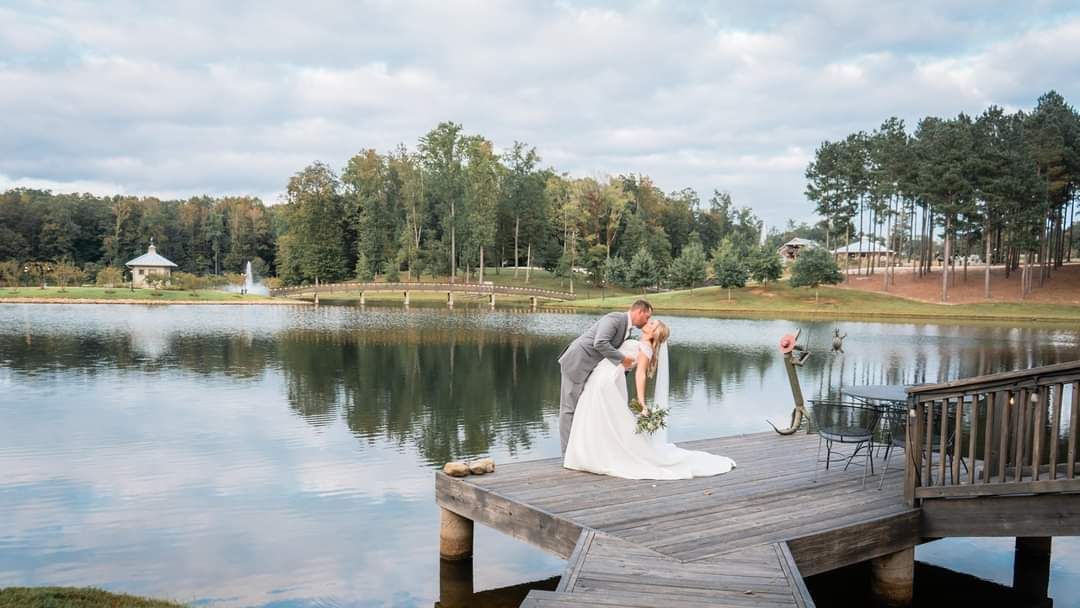 Sandy Creek Farms
Our wedding venue is three hours from St. Louis and is the top destination wedding choice for St. Louis brides who want a destination wedding that isn't too far away from home. Our venue features 430+ private acres, an Island for your ceremony, acres of Pine trees, a private lake, 6 lodging options for your and your guests, a bridal suite and grooms suite, and so much more. Of course, if you must have your wedding in St. Louis, it isn't a good option. But if you're looking for a one-of-a-kind experience weekend wedding, we're the best fit!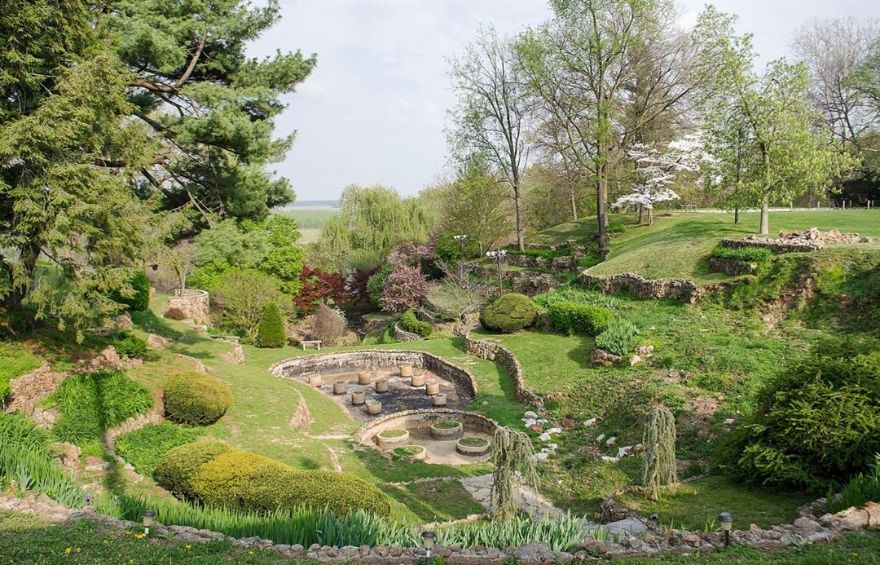 Kuhs Estate & Farm
Kuhs Estate and Farm is a beautiful outdoor wedding venue located in St. Louis, Missouri. It offers couples stunning views of the surrounding countryside and a rustic barn for their reception. There are also several acres of land for guests to explore before and after the ceremony.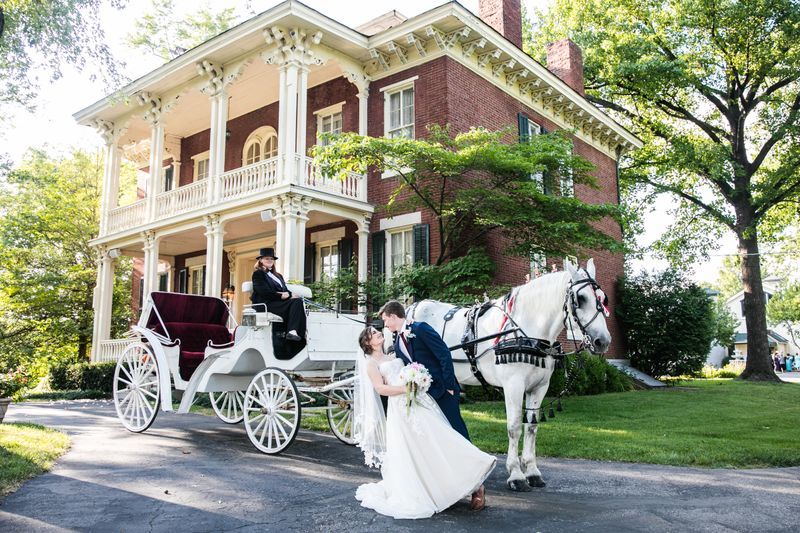 The Larimore
The Larimore offers charming, rustic wedding venues that allow for an elegant and classic celebration. Ceremonies start at $1800 and receptions start at $2400, with all-inclusive packages available. The Larimore is located about 13 miles north of central St. Louis, just far away enough to provide a beautiful backdrop for your big day.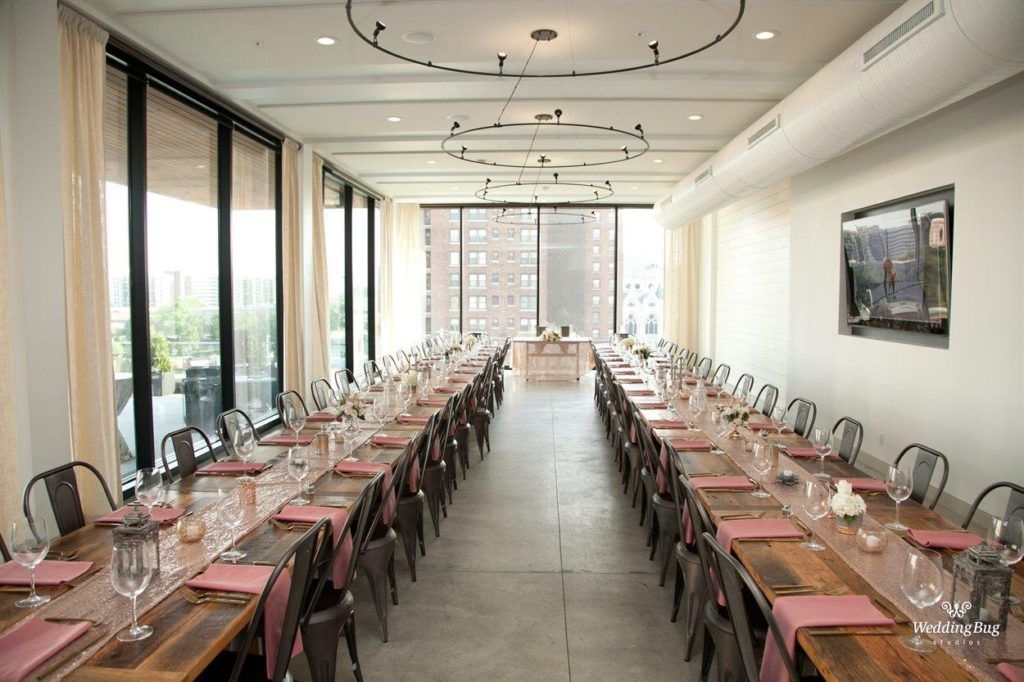 Anew Rooftop
The rooftop has amazing views of the cityscape and is a great place for a wedding if you want a city feel for your big day.
ANEW is a unique event venue located in St. Louis, Missouri that offers indoor and outdoor spaces as well as space for up to 100 people. They are perfect for people who are looking for an interesting and unique location to host their wedding, conference, birthday celebration, holiday party, business meeting, or class reunion. ANEW makes it easy to plan events around the city's attractions or other activities outside of their venue.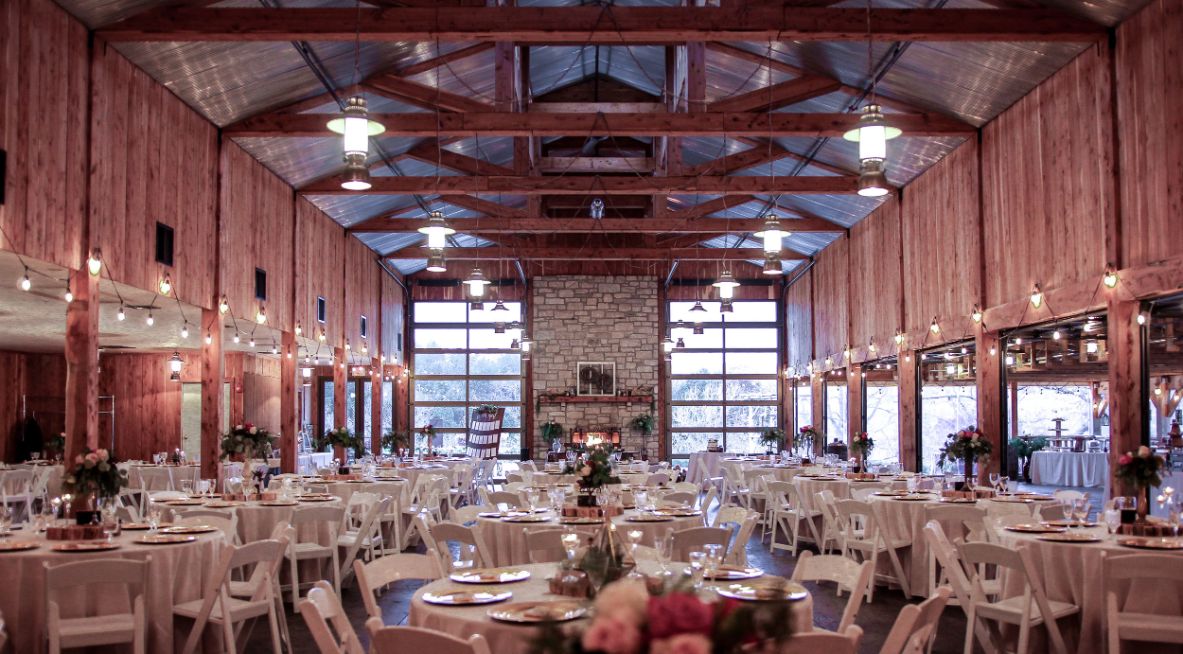 Haue Valley
Haue Valley is a beautiful wedding venue located in Pacific, Missouri. It offers elegant charm with modern accents, which makes it very popular among couples getting married. The venue is booking up quickly, so be sure to get your date soon!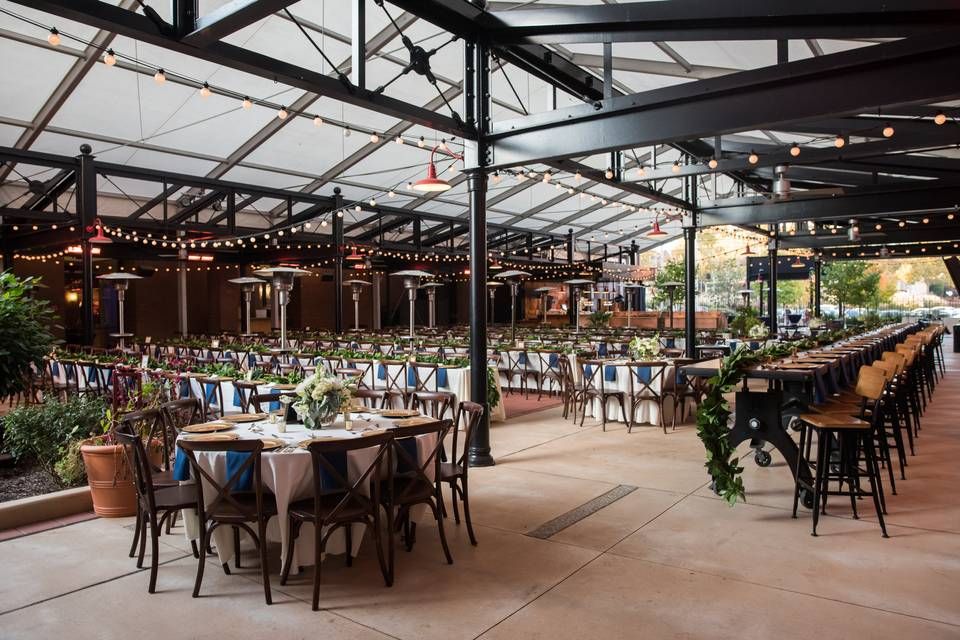 Anheuser Busch Biergarten
The Anheuser Busch Biergarten is a beautiful brewery wedding venue that offers two different biergartens- one indoors and one outdoors. They also have a lager room, schoolhouse, and more that can be used for your event. Alcohol is provided as part of the wedding packages, and catering can also be arranged through them.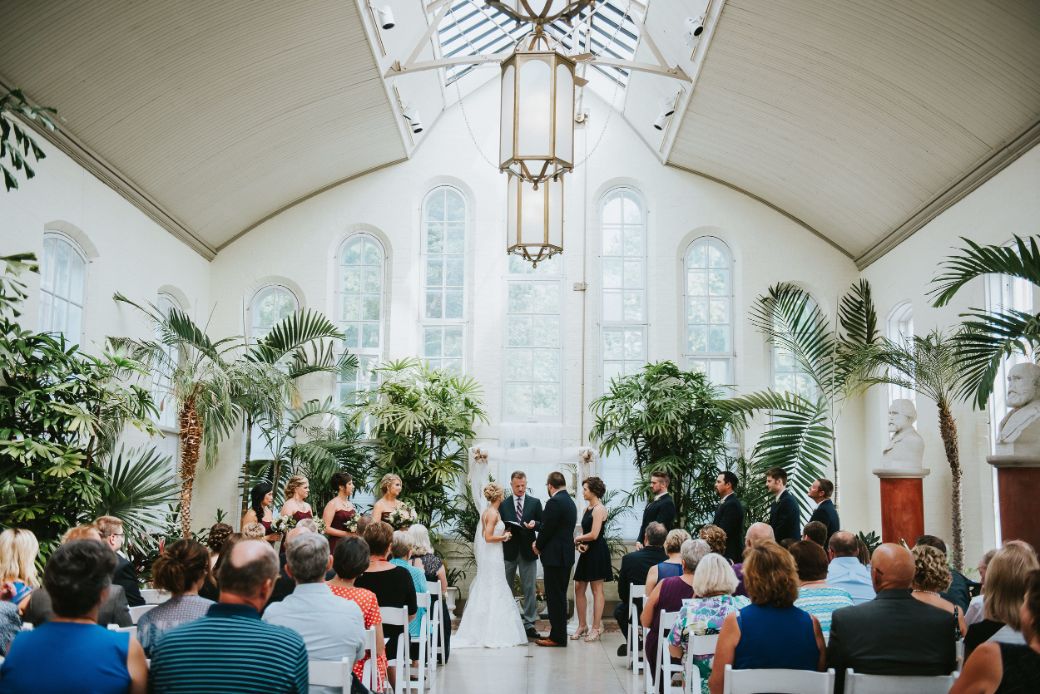 The Piper Palm House
The Piper Palm House is a great event space located in the heart of Tower Grove Park. They offer a variety of services, such as tables, chairs, tents, security, and more. If you're looking for an idyllic location for your wedding or other special events, the Piper Palm House should be at the top of your list!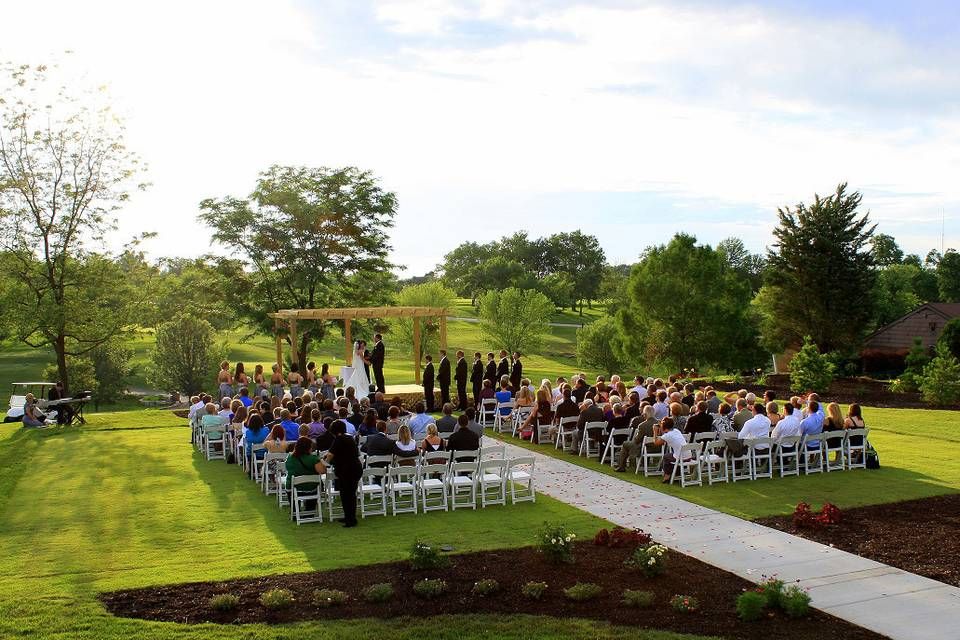 The Highlands Golf and Tennis Center
The Highlands Golf and Tennis Center is a popular wedding venue for couples who love nature and outdoor activities. The center has a manicured lawn for an outdoor ceremony, as well as a stone patio for an outdoor wedding. It also has indoor and outdoor tennis courts, as well as a golf course. The Olympic-sized pool and spa facilities are perfect for relaxation after the big day.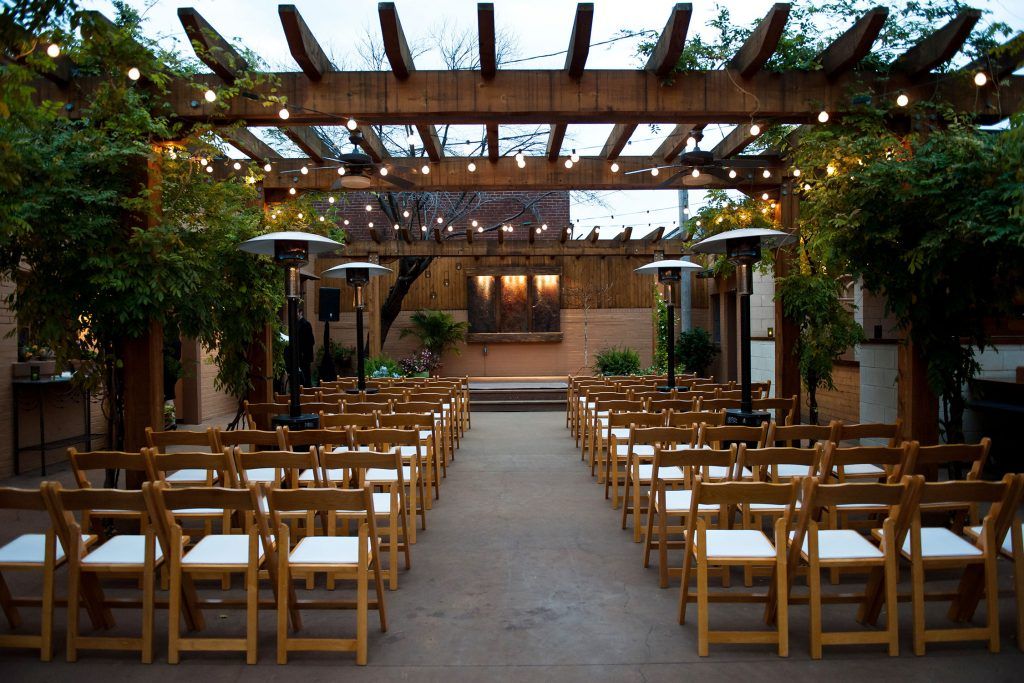 Oliva on the Hill
Oliva on the Hill is an event space located in the heart of St. Louis that takes its inspiration from Tuscan architecture. With high-beamed ceilings, a beautiful cherry wood bar, graceful archways, and glass windows, it provides a relaxing and intimate setting for your guests. It can accommodate up to 100 people.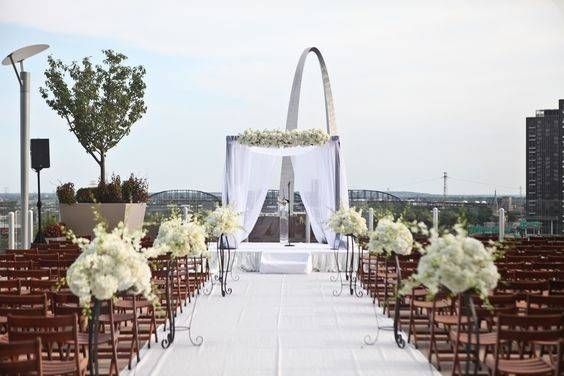 Four Seasons Hotel St. Louis
Perhaps most notable about this venue is that you can view the Gateway Arch and Mississippi river.
The Four Seasons Hotel in St. Louis offers guests a luxurious and relaxing experience, complete with an indoor pool, sauna, and wellness center. The hotel has been awarded five-diamond awards by AAA, making it one of the most highly-rated hotels in Missouri and across the United States. Guests can also enjoy a variety of dining options onsite, including a steakhouse and sushi bar.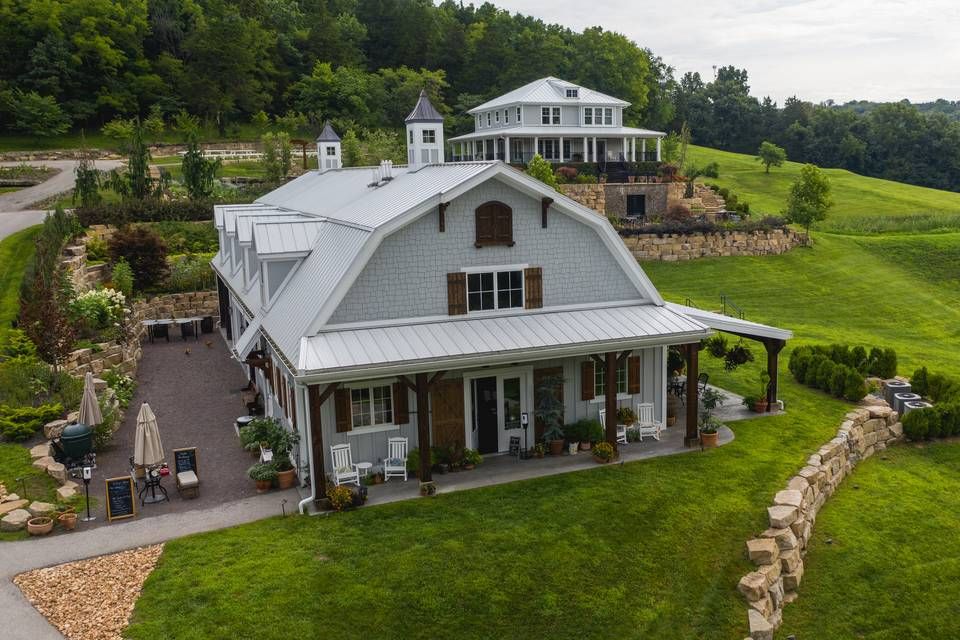 Sunflower Hill Farm
Sunflower Hill Farm is a family-owned venue that offers a breathtaking backdrop for your photos. They are perfect for weddings, conferences, and other events. In addition to providing a great space, Sunflower Hill Farm also grows fresh produce and eggs. You can choose from a variety of fruits and vegetables depending on the time of year. It's located a short 20 minutes from Chester Valley.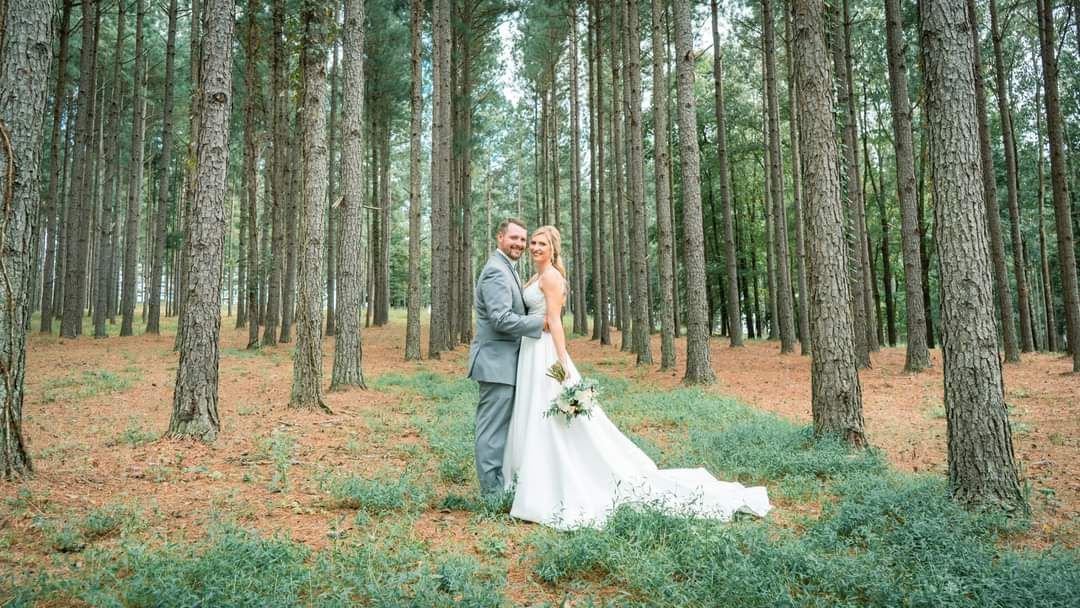 Which wedding venue should you choose if you are looking for an outdoor wedding in St. Louis?
If you are looking for an outdoor wedding in St. Louis, our opinion is that the best venues feature a gorgeous outdoor feature, such as a lake or garden, or a city view. However, the best option for you may depend on the type of wedding you are planning and your budget.
What are the benefits of choosing a particular wedding reception venue in St. Louis?
A benefit of choosing a seasoned wedding venue in St. Louis is that they have the experience, resources, and expertise to help make your event special. They have a variety of services that are designed to help you plan and execute your wedding day, from the ceremony to the reception.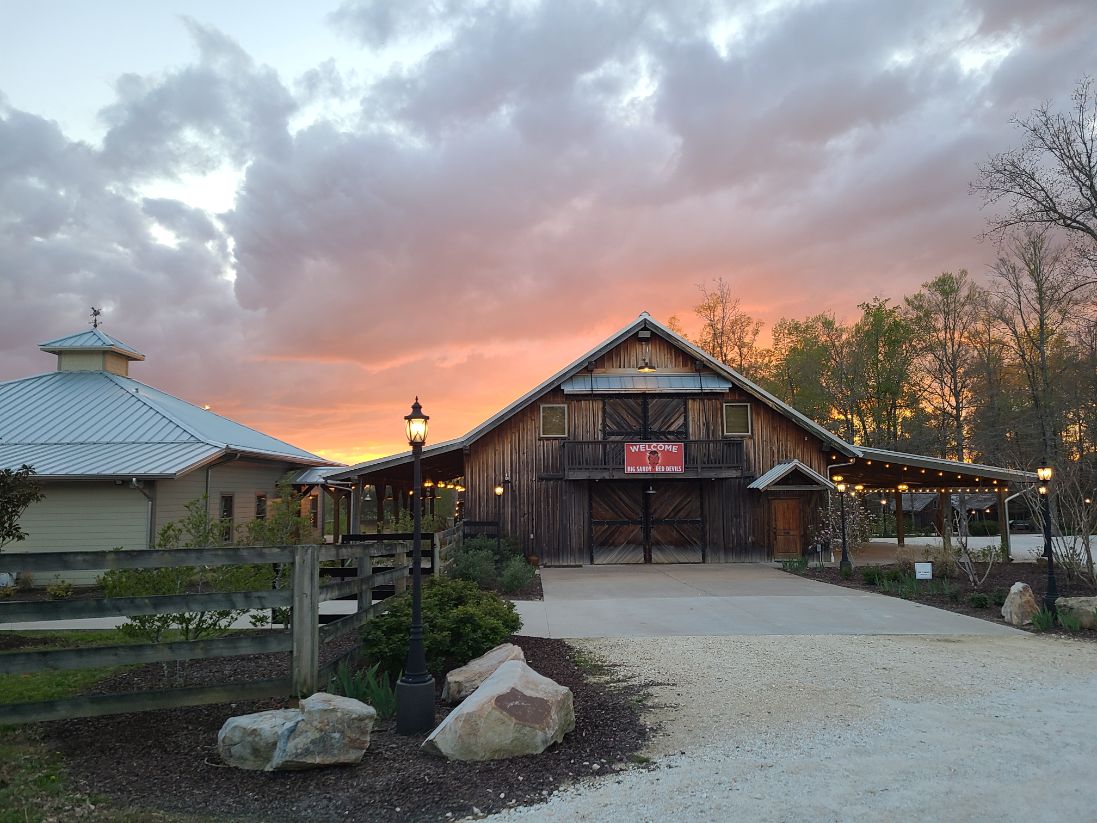 Are there any disadvantages to choosing a particular ceremony wedding venue in St. Louis?
If there are any disadvantages to choosing a particular wedding venue in St. Louis, they would have to be the cost of renting out a space and the amount of time it may take to plan an event.
What are some of the similar event venues that you may want to consider if you are looking for an outdoor wedding in St. Louis or the city?
There are many different types of wedding venues. Outdoor, barn, and rustic weddings can be found in St. Louis, but there are also other themes that have become popular recently such as city-themed weddings, aquatic-themed weddings or winter wonderland-themed weddings.
The most popular wedding venues in St. Louis are outdoor and barn formats with a mix of rustic theme venues that have been steadily gain popularity.
Here are a few wedding spot and setting ideas:
Silver Oaks Chateau
Boo Cat Club
Wild Carrot
Loveland Estates
Little Piney Lodge
Buffalo Lodge
The Coronado
The Christy Banquet Center
Kuhs Estate and Farm
The Venue at Maison du Lac (Catawissa Stone House)
Sweet Clover Farm Events
Moulin Events
We hope you enjoyed reading our article detailing our favorite venues in the St. Louis area! We understand that choosing a venue is difficult, so we recommend narrowing it down to 3-5 online before you go to take a tour! We are confident that you will find the perfect venue for your special day here in St. Louis!