Here's why we're the best option for cabins outside of Nashville
Private rustic log cabin and other lodging options
We'll be honest with you: the city can be great. It's full of life, energy, and excitement. But sometimes, it can get a little too much. If you're looking for an escape from it all (but don't want to go too far), stay in our Nashville cabins!
Our stunning cabin nestled in west Tennessee are the perfect retreat.
Our cabins are located in a beautiful wooded area that offers peace – but there are still plenty of things nearby for those who need more stimulation than a walk through the forest can provide.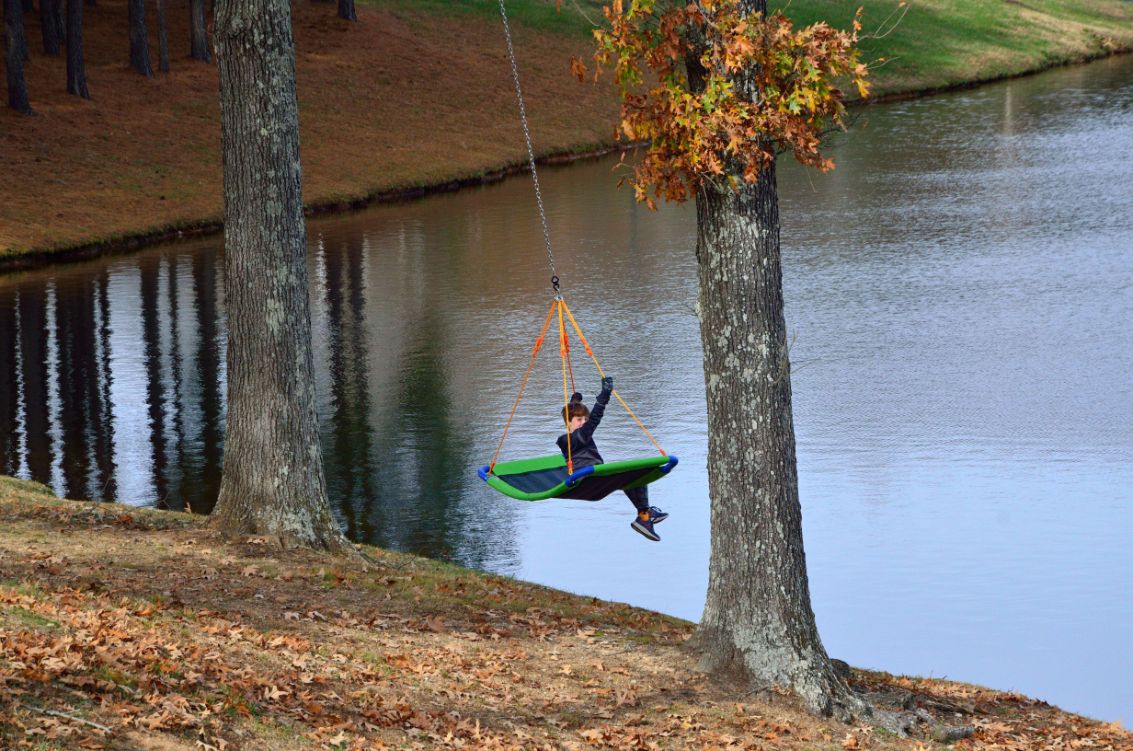 You're probably tired of the traffic, cramped spaces, and lack of fresh air.
That's why you need to escape and spend a weekend in our cabins near Nashville, TN!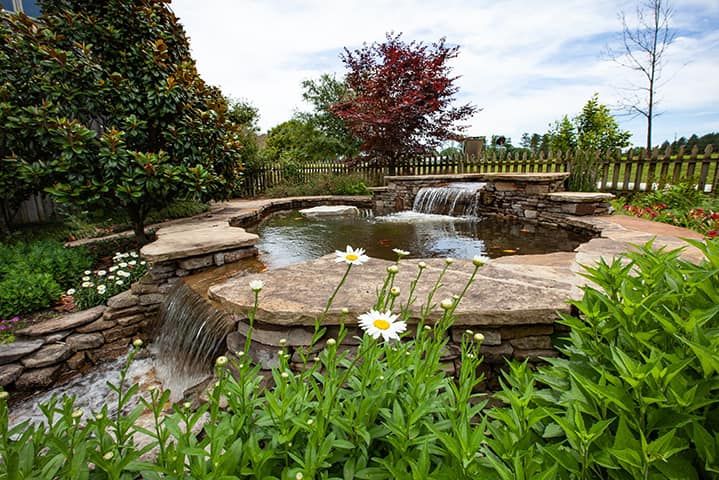 Here are our six vacation rentals.
The Bungalows: The Bungalows sleep four people and include a back patio, kitchenette, full bath, living room, and fire pit.
The Chef's Cottage: The Chef's Cottage features a deck, gazebo, full kitchen, indoor and outdoor sound system, and sleeps six.
The Farm Cabin: The Farm Cabin is pet friendly, has a wood-burning fireplace, full kitchen and bath, a grilling area, pond, and sleeps four.
The Lakeview Cabin: The Lakeview cabin is a nature sanctuary with a screened wood gazebo, a stone fountain, and a brook, and sleeps two.
The Library Loft: The Library Loft features wooden decks, a kitchenette, a small living room, a library, and sleeps two.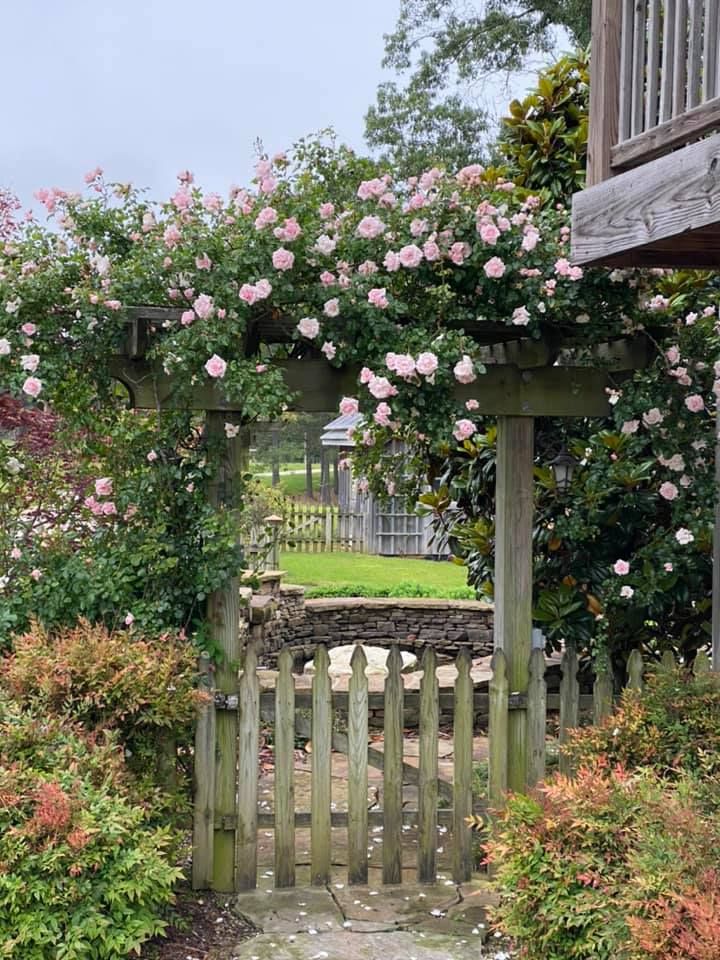 Some of our amenities include:
Internet and office
Wifi Available throughout some listings
Dedicated workspace
Kitchen and dining
Kitchen
Space where guests can cook their meals
Refrigerator
Microwave
Cooking basics
Pots and pans, oil, salt, and pepper
Dishes and silverware
Freezer
Dishwasher
Stove
Oven
Coffee maker
Wine glasses
Toaster
Barbecue utensils
Dining table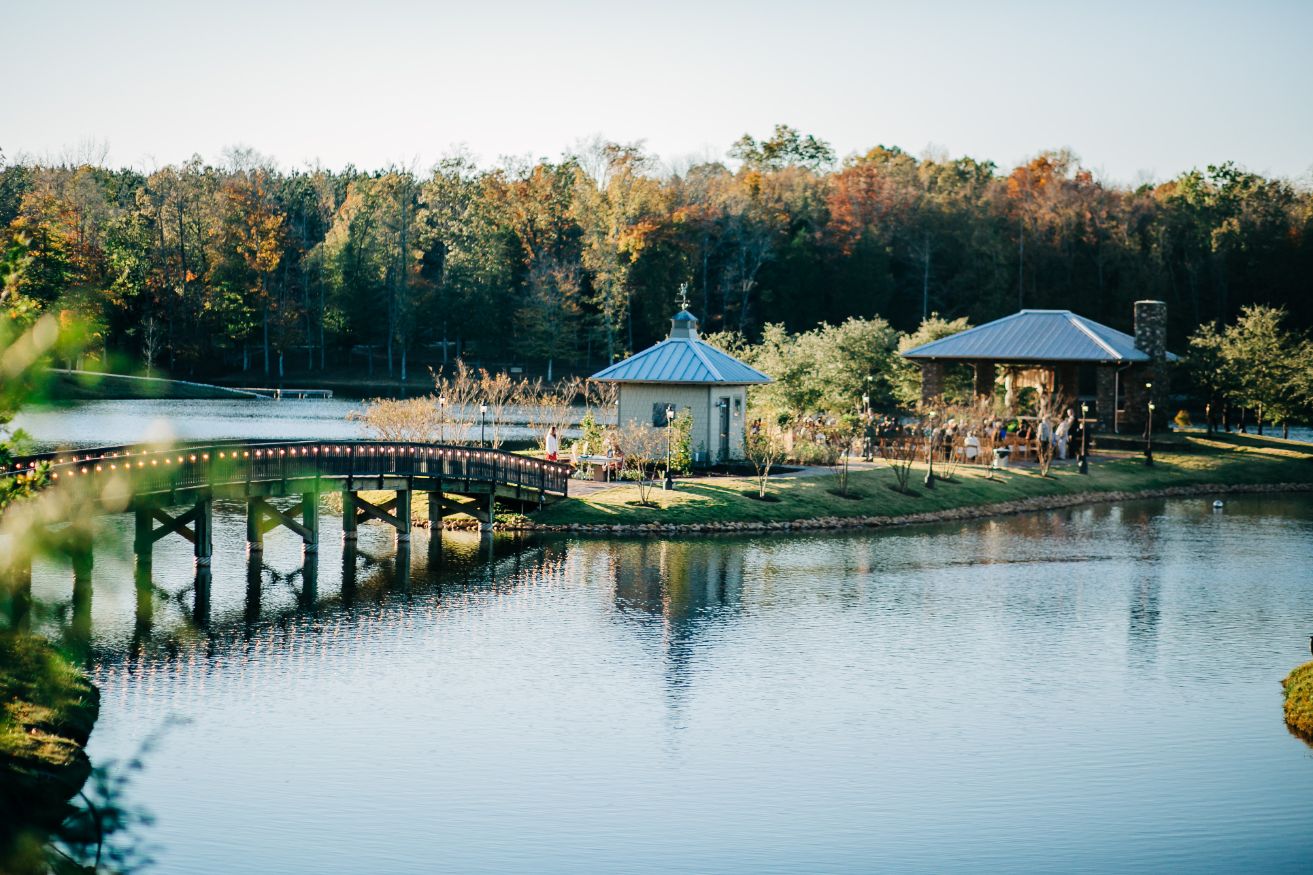 Location features
Waterfront
Right next to a body of water
Lake access
Guests can get to a lake using a path or dock
Private entrance
Separate street or building entrance
Laundromat nearby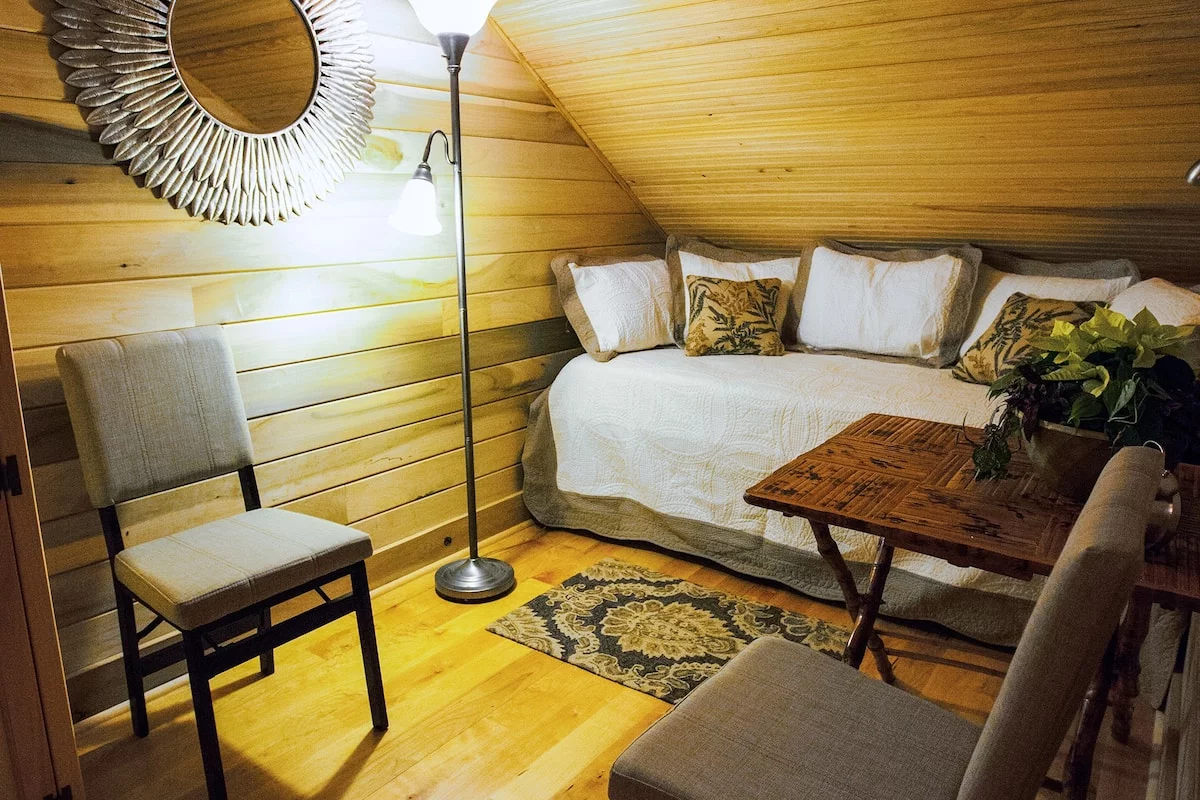 Outdoor
Patio or balcony
Firepit
Outdoor furniture
Outdoor dining area
BBQ grill
Parking and facilities
Free parking on premises
Shared gym in the building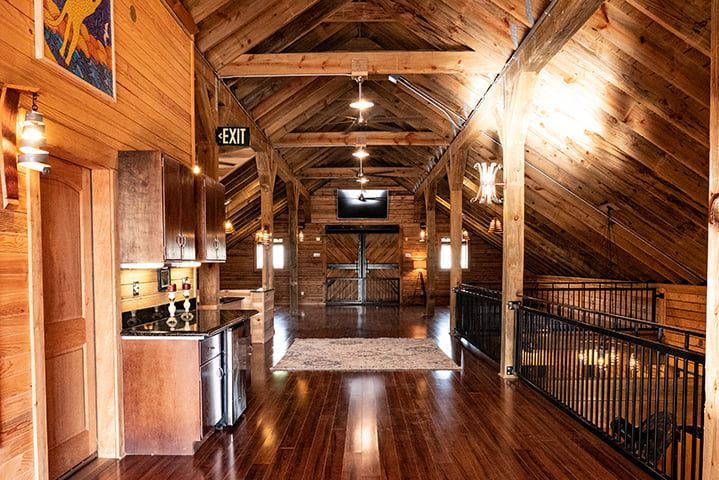 Some more features of our vacation rental property:
There are plenty of cabins near Nashville that offer peaceful getaways, but at Sandy Creek Farms, we'll help you forget about your worries and enjoy what nature has to offer in peace:
– Enjoy fishing on our stocked lake
– Take part in one of our many outdoor activities like biking or hiking along our trail system
– Relax inside at any time thanks to central heating/AC throughout each cabin (even the porches!)
– Some of our nicely appointed cabin options are also pet-friendly!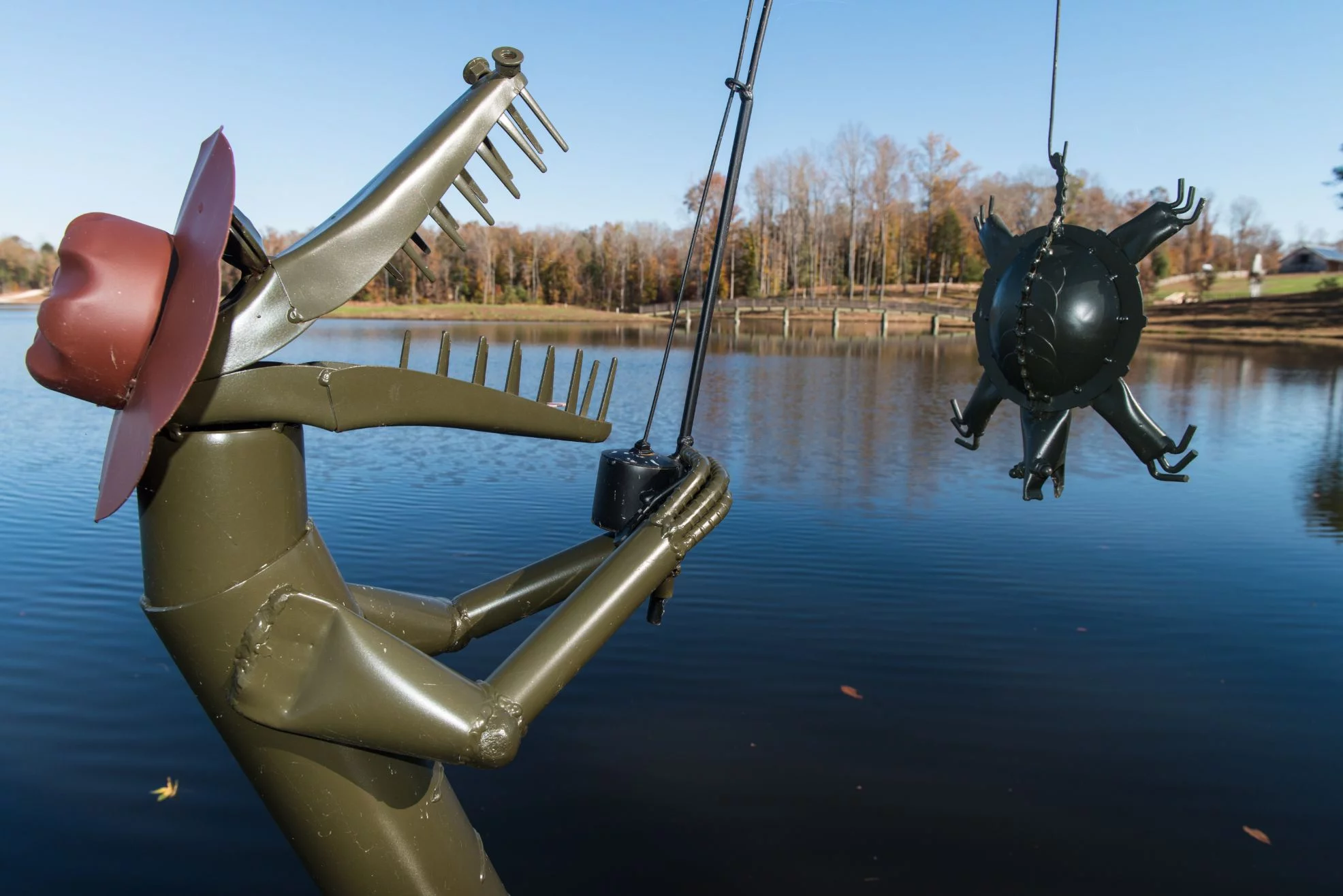 We're less than 2 hours from downtown Nashville TN.
Our Tennessee cabins are just 115 miles from the city, meaning that you'll be in nature, but not too far from home.
It's essential to do something in the great outdoors. It's just good for the soul, isn't it? Wouldn't you love a private, quiet log cabin to rock on the front porch, grill some meat and veggies, and roast marshmallows at the fire pit? A garden and barbecue grills with a scenic setting make for a great family vacation or romantic getaway.
Guests that are searching for Nashville cabin rentals love how close our secluded cabin options are to Nashville, TN.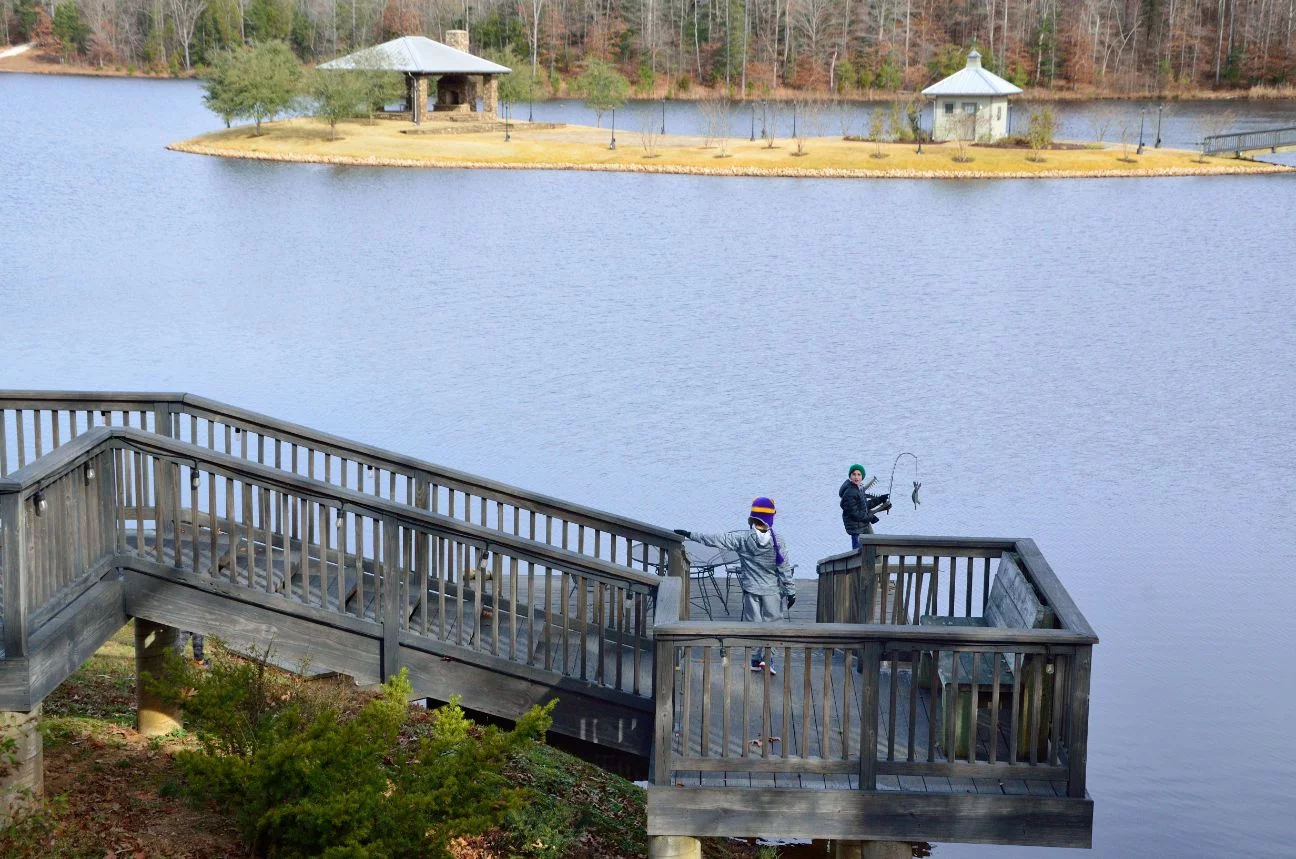 The city life can get old.
Living in a city like Nashville can be a headache. Traffic, noise, and the never-ending hustle to get things done. If you're in Nashville and searching for cabin rentals, that's a good start!
A vacation rental outside of Nashville is a great escape from city life.
At Sandy Creek Farms, with acres of land for you and your family to explore as well as hiking trails in all directions, there is plenty to do just out our front door or around the corner at our private lake.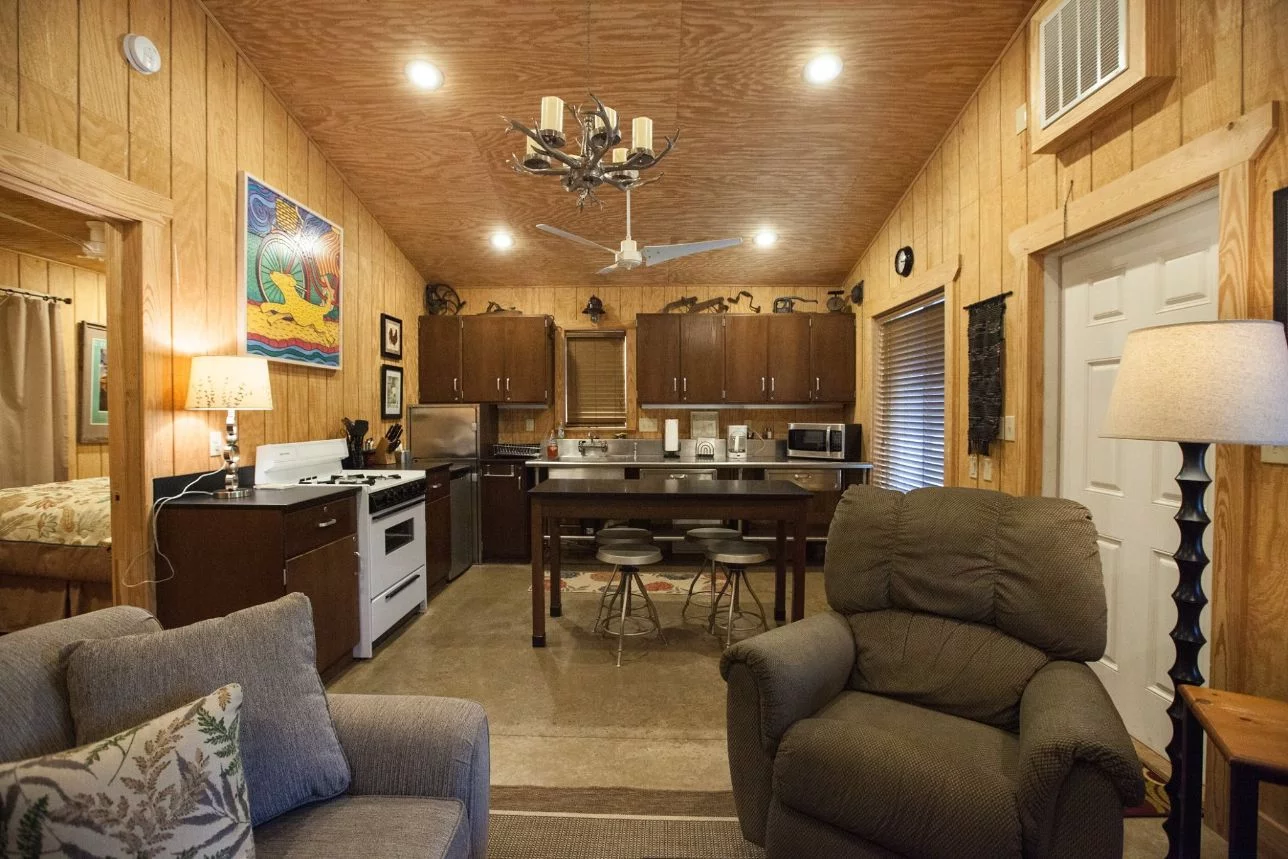 Are there mountains near Nashville, with Tennessee?
Nashville is in the middle of a flat plain and there are no mountains to be found anywhere nearby. Nashville is almost four hours away from the mountains in East Tennessee!
That's why a vacation rental outside Nashville can provide an escape for those wanting some fresh air and nature without having to go too far from home!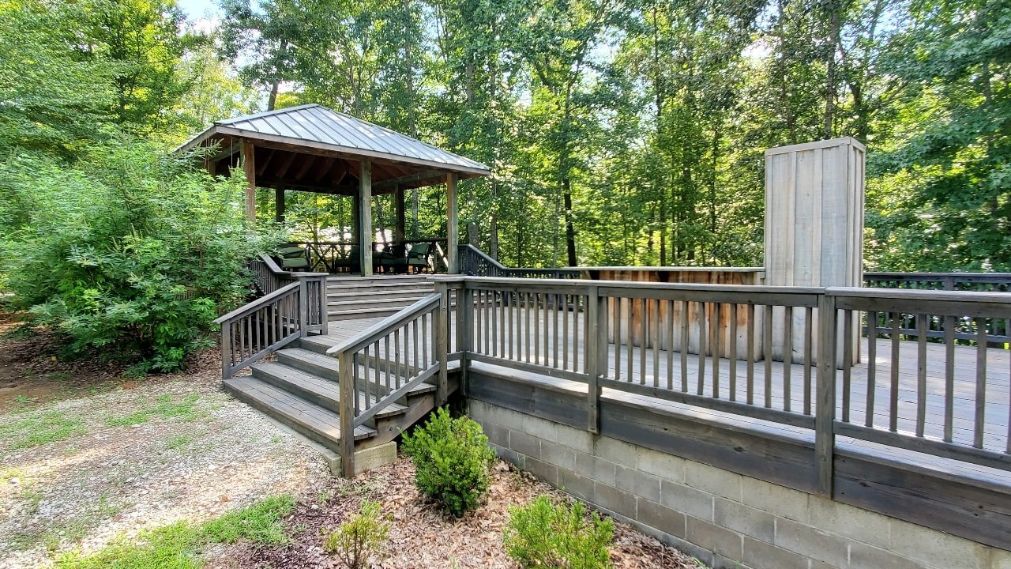 Does Nashville have cabins for rent?
Yes, there are cabin rentals in Nashville, but they won't offer you a peaceful sanctuary away from the city. Nashville cabin rentals are more like condos with a kitchenette, but no nature and privacy.
If you're looking for a DOWNTOWN Nashville vacation, don't search for cabin rentals in Nashville.
Instead, you should opt for an Airbnb near downtown, which is more authentic and close to all the downtown action.
Only in cabins near Nashville (2-3 hours away) can you find peace!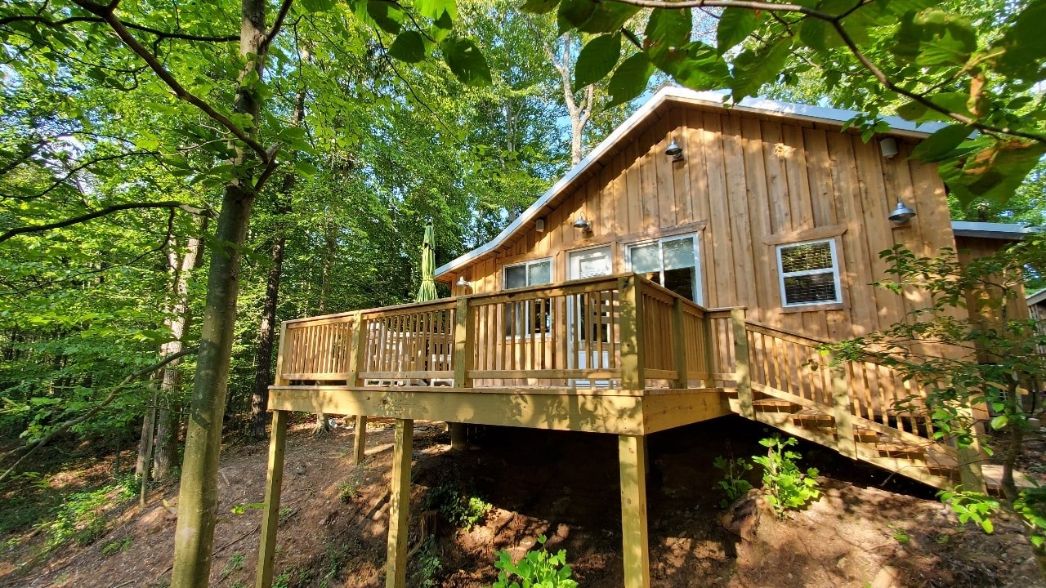 On a road trip headed to Nashville?
If you're traveling from the west and headed east, our cabins in Nashville (2 hrs east) are a great stop along your journey to rest and recover from your trip.
Things to do in Nashville, TN
There's so much to do in Nashville, AKA Music City, from live country music at the Grand Ole Opry to historical museums and restaurants. Some of our favorite Nashville attractions in Music City are:
exploring the Grand Ole Opry and other historic Nashville landmarks (Country Music Hall)
seeing live country music at a historic event venue or bar
enjoying some down-home cooking in a local diner while listening to authentic country music on the jukebox
walk around downtown Nashville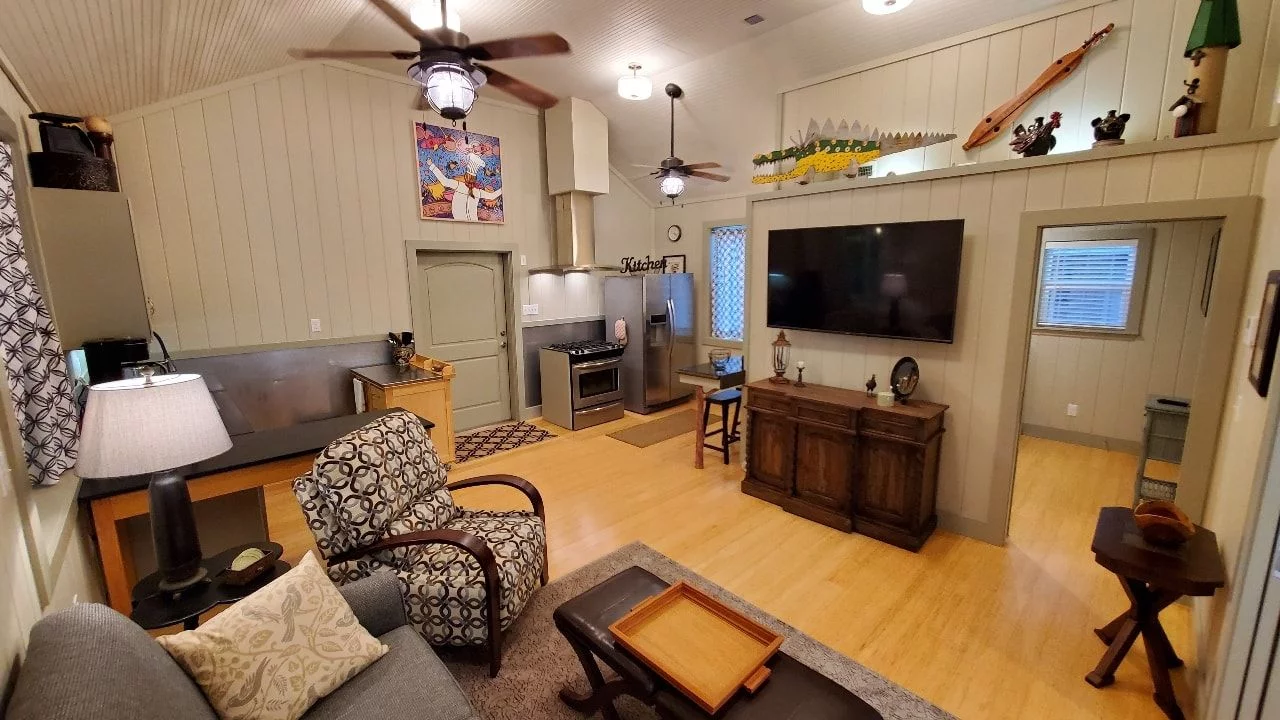 All that will be waiting for you in Nashville when you arrive (or return)!. Our cabins are located in the middle of nature, giving you a chance to breathe.
It's close enough to Nashville that it's easy to visit if you need something from town or want some city life, but we like staying here when we can and use it as our weekend getaway destination.
Cozy cabin options with modern amenities
The cabins are rustic with electricity and running water, so they're perfect for those who love being outdoors while still having all the comforts of modern living at their fingertips.
Our cabin rental has a fire pit which makes cooking outside feel even more authentic than ever before! We have a grill on-site, too, so no one has any excuses not to eat lots of delicious grilled food during your stay!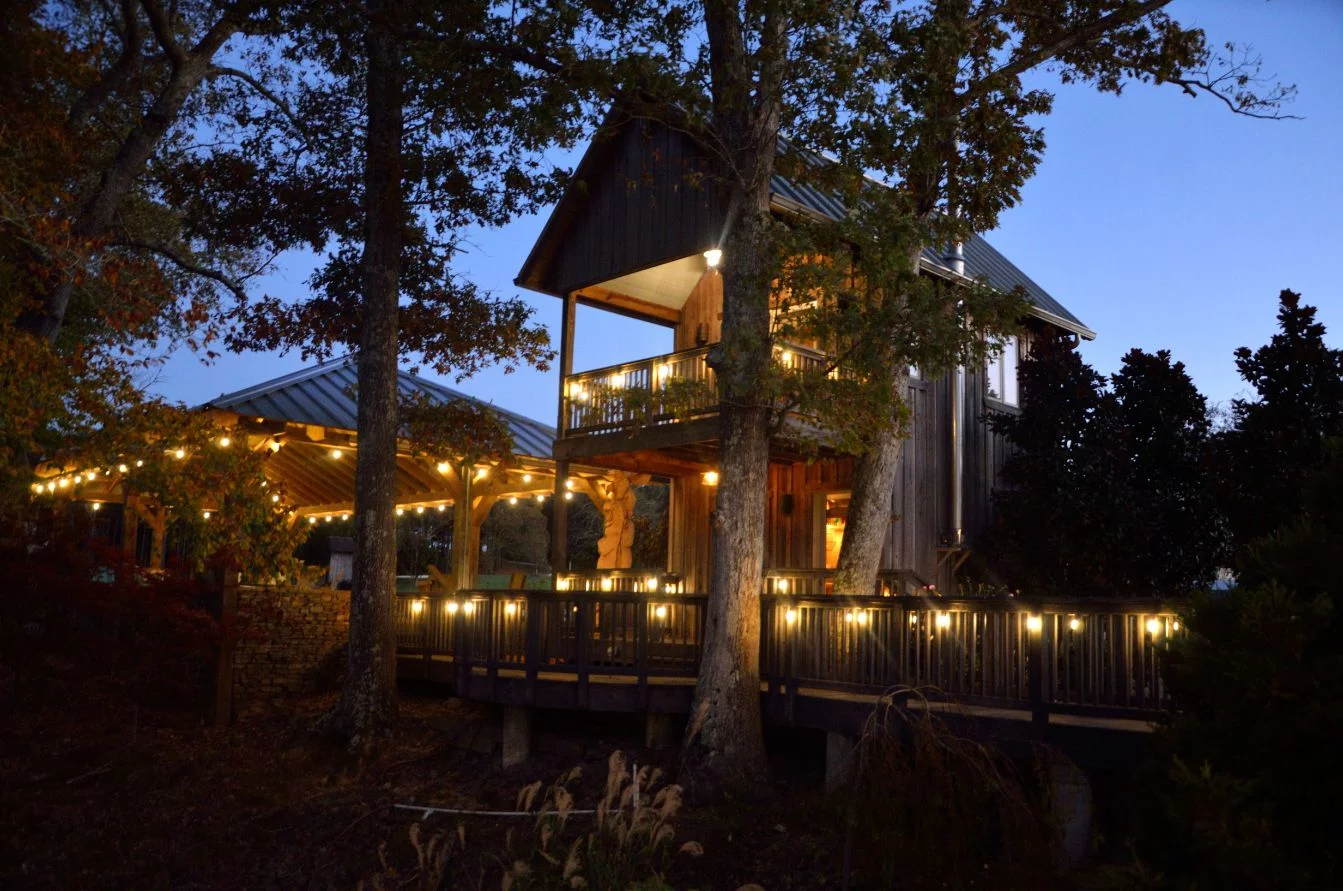 How far is Nashville from Pigeon Forge?
Nashville is 213 miles to Pigeon Forge – that's quite a long distance to drive to escape the city! Our cabins are located much closer in Springville, TN, only 2-2.5 hours away from Nashville.
Pigeon Forge is a very crowded, busy tourist town and not a great escape from the city.
Many tourists search for a vacation rental here, not knowing how busy and crowded it can get. Sandy Creek Farms is a much more peaceful, relaxing cabin retreat.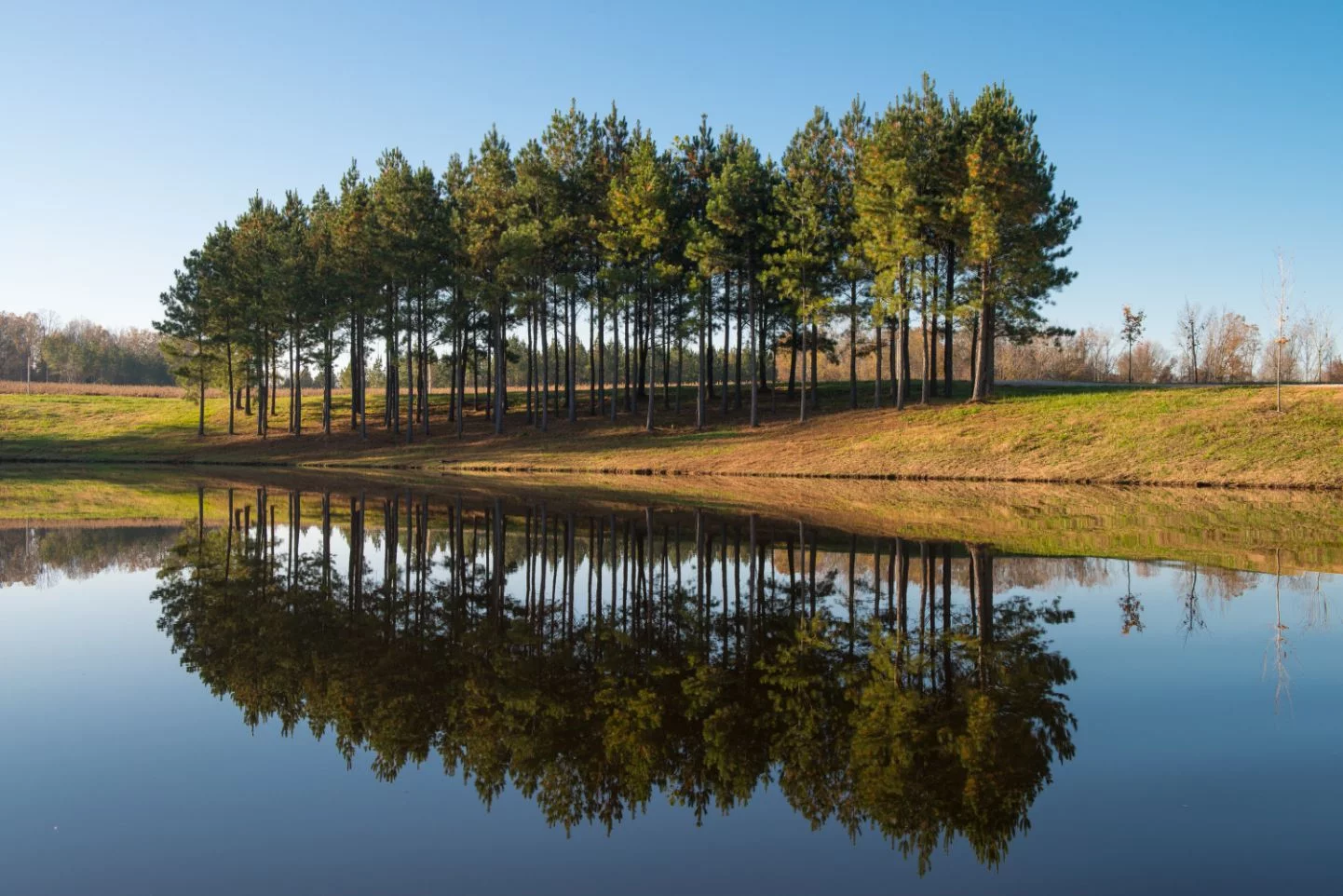 Distance from Sandy Creek Farms to:
Nashville, Tennessee: 1 hr 56 mins (116 miles)
Brentwood, Tennessee: 2 hr 3 min (123 miles)
Franklin, Tennessee: 2 hr 2 min (110 miles)
Hendersonville, Tennessee: 2 hr 8 min (120 miles)
Murfreesboro, Tennessee 2 hr 23 mins (143 miles)
Jackson, Tennessee: 1 hr 22 mins (69 miles)
Memphis, Tennessee: 2 hr 34 mins (152 miles)
Clarksville, Tennessee: 1 hr 14 mins (62 miles)

What is a vacation rental?
A vacation rental is a type of lodging where the renter rents out their home or cabin for others to stay in while they are on vacation. It's like having your full hotel suite, but you get to experience living at that location fully and not just sleeping there! A vacation rental is an excellent option for people who want to travel but don't want the hassle of having to book a hotel.
Our features
The vacation rental options at Sandy Creek Farms outside of Nashville offer all sorts of amenities such as flat-screen televisions with DVD players, free WiFi access, fire pits, full kitchens with an oven/microwave combo dishwasher refrigerator; even washer/dryer combination units on-site! And now we have cabins that can accommodate up to 6 people so big families can enjoy our cabins.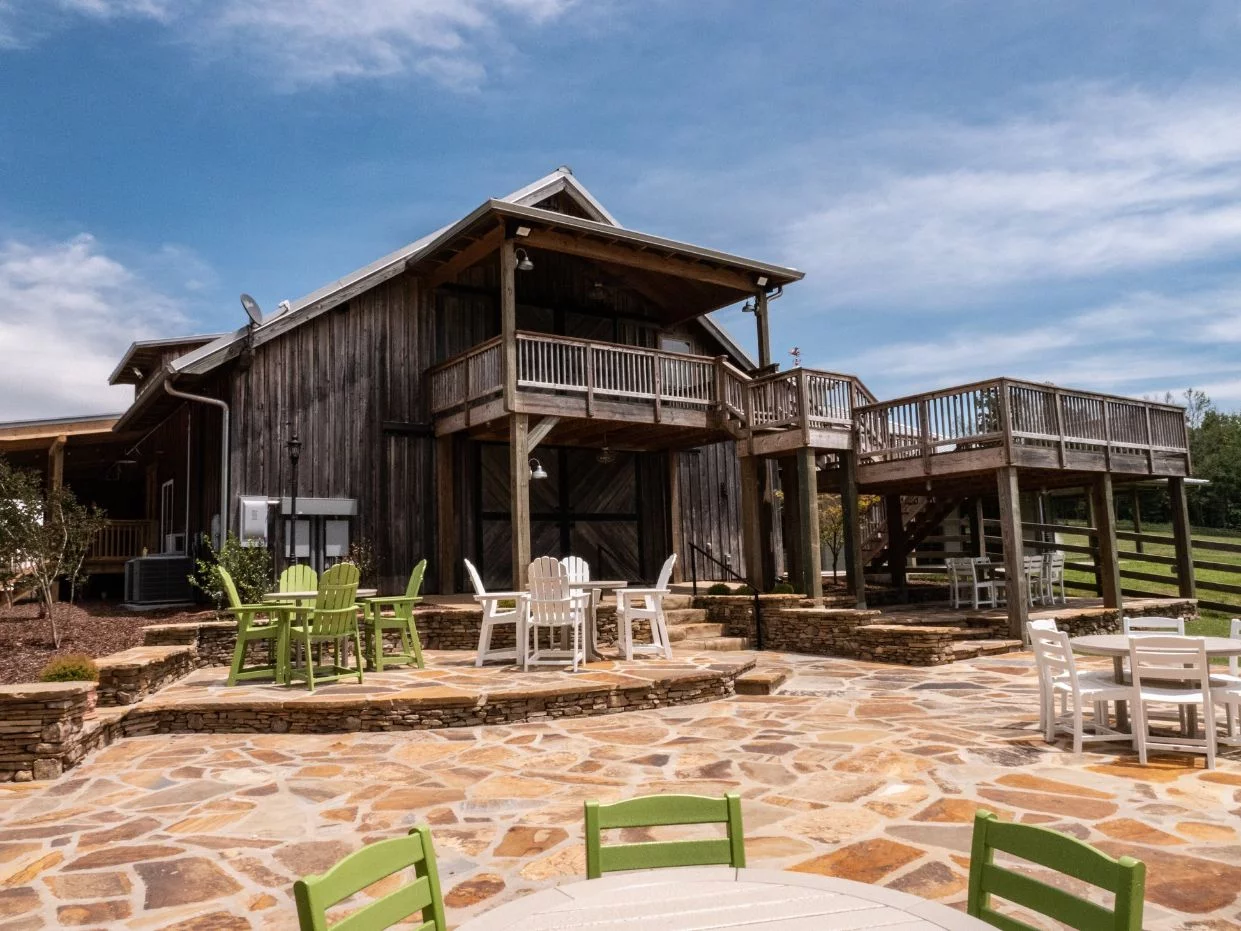 Good luck in your vacation rental search!
We hope this article helps you in your vacation rental search. If you have any questions, don't hesitate to reach out to us!